Elizabeth Warren's Early Impact on the Senate Majority Fight
Facing primaries, establishment favorites are highlighting their common causes with the liberal hero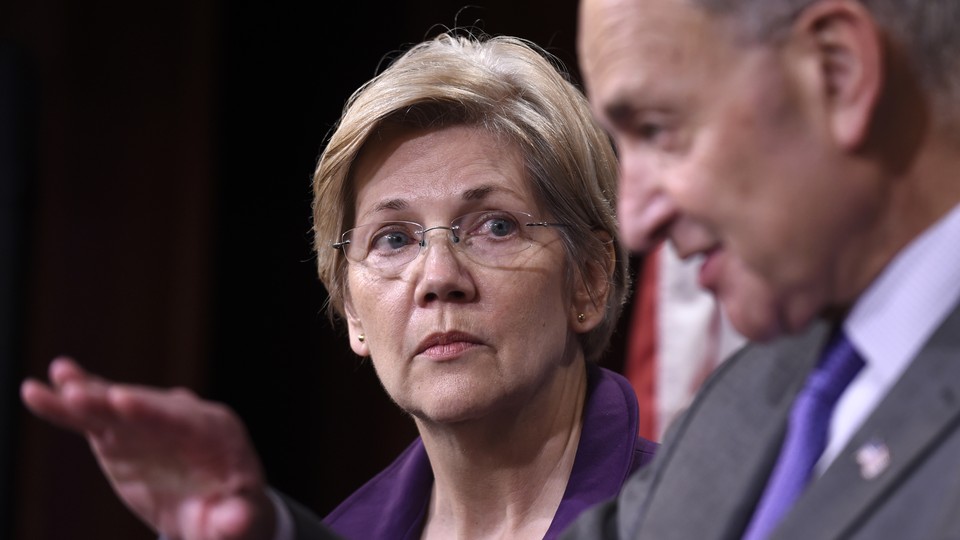 As Democrats contend with a handful of primaries in key Senate races, the likely standard-bearers are leaning on a hero of the Left to help shore up liberal support.
While they are all expected to prevail against insurgent challengers, the party's preferred nominees in the battleground states of Illinois, Florida and Ohio are highlighting their ties to Sen. Elizabeth Warren — and in doing so, sending a clear message to her loyal following of progressive groups and activists.
Of the three, Warren has only endorsed former Ohio Gov. Ted Strickland, but the first-term senator's influence can be felt in the other two battleground states in less overt ways. Reps. Patrick Murphy of Florida and Tammy Duckworth of Illinois cosponsored the House companion bill to Warren's Seniors and Veterans Emergency Benefits Act last week.
"I'm proud to work with Senator Warren to ensure seniors and those who have sacrificed for our nation receive the respect and support they deserve," Duckworth said in a press release last week announcing the bill.
All three states are vital stepping stones in the path back to Senate control for Democrats, who must net five seats to ensure the majority. As the general election races kick off, expect to see plenty of Warren, who told The Boston Globe last week she is "committed to doing whatever I can to help Democrats retake the Senate."
But that includes getting involved now, as she has lent her name to the Democratic Senatorial Campaign Committee for fundraising solicitations and rallied Wisconsin Democrats in September for former Sen. Russ Feingold in one of the party's top pickup opportunities. And Warren chief of staff Mindy Myers was recently chosen to lead the DSCC's independent expenditure arm.
Like Murphy, Duckworth has been endorsed by the DSCC but must contend with a primary opponent seeking space on her left flank. Party strategists say collaboration with Warren on one of her signature pieces of legislation could serve as a dog whistle to liberal outside groups and activists that might have aided their primary challengers.
"I think there are plenty of donors and activists that are motivated to engage based on Elizabeth Warren," Democratic consultant Matt Canter said. Regarding Florida and Illinois, "She hasn't weighed in on any of these primaries, but clearly she has tremendous appeal among Democratic primary voters across the country, so trying to invoke her name and her policies and her message in the primaries, you're seeing candidates try to do that."
Indeed, leaders within the progressive movement say they follow Warren's moves closely.
"There's no doubt that moving forward, Warren's endorsement will carry weight with the activist Left," said Markos Moulitsas, founder and publisher of the liberal blog Daily Kos. "She's the de facto leader of the Senate liberal wing, and it's an honor she's well-earned."
Democracy for America spokesman Neil Sroka said his group, which endorses and raises money for candidates in federal elections, strongly considers Warren's opinion when it comes to Democratic primaries. In California, for instance, DFA is backing state Attorney General Kamala Harris over Democratic Rep. Loretta Sanchez, largely because of Warren's early support for Harris.
"It was really important in that race to see that Senator Warren was already there," Sroka said of the Harris endorsement. "In some of these primary fights, Senator Warren's voice is tremendously helpful in showing grassroots progressives which kind of candidate she thinks would have her back in the fights she needs."
Sroka said DFA is still closely considering its options in both Illinois and Florida, as well as Ohio, where former Gov. Ted Strickland is up against a 31-year old Cincinnati Councilman P.G. Sittenfeld.
In Florida, Murphy faces Rep. Alan Grayson, the liberal firebrand and long-time ally of these groups. Grayson has already attacked Murphy, who was once a registered Republican, as a "Democrat in name only." Duckworth's challenger, former Urban League CEO Andrea Zopp, is taking aim at the congresswoman's evolving position on LGBT issues. And in Ohio, Sittenfeld has based his candidacy around gun-control issues, criticizing Strickland for once having the endorsement of the National Rifle Association.
Murphy, Duckworth, and Strickland's campaigns contend that they have plenty of progressive chops to stand on on their own, but party strategists maintain that having Warren's help can take the bite out of their challengers' attacks.
"Absolutely, having her support definitely bolsters a candidate's credentials with some voters who may or may not be hearing some stuff from their opponents," said one national Democratic strategist who requested anonymity to speak candidly. "There's a reason why these candidates are seeking out her support; it adds a level of credibility with the party as a whole that only someone like Elizabeth Warren can provide."
While Strickland is the only one of the three to tout an official endorsement from Warren, who has also donated to his campaign from her leadership PAC, national Democrats say it's not surprising she would go out of her way to help candidates the DSCC recruited, like Murphy and Duckworth.
For example, Grayson also introduced a House version of the SAVE Act several weeks before Duckworth and Murphy, but Warren didn't acknowledge it. The version Duckworth and Murphy introduced received praise from Warren on the Senate floor. Warren's office did not respond to multiple requests for comment.
Sroka said even without a formal endorsement, that move spoke volumes with progressive activist groups, dozens of which were listed as supporters of the SAVE Act.
"When a candidate for Congress or Senate stands up and fights with Elizabeth Warren on something that matters, the grassroots takes notice," said Sroka. "The kind of work that they're doing together on this SAVE Act is reflective of what grassroots progressive groups would love to see. ... The only thing better than having one Elizabeth Warren is having an entire Senate caucus of Elizabeth Warren fighting for her issues."
Democratic consulting firm Devine Mulvey Longabaugh counts Sittenfeld and Zopp as clients, as well as Sen. Bernie Sanders's presidential campaign. Asked whether Warren's support for DSCC-backed candidates makes things tougher for their challengers, Mark Longabaugh downplayed the effect.
"Yes I think P.G. Sittenfeld would have been a better candidate to get behind in Ohio than Ted Strickland," Longabaugh said. "But the important thing is the way in which the party broadly and every Democratic Senate candidate recognizes where the energy of the Democratic Party is—inside the grassroots, and it is inside of a progressive message. Candidates that have not been as progressive over time are tying themselves to her."