Donald Trump Breaks With the GOP on Israel
The Republican frontrunner was booed by a crowd and criticized by a rival after he questioned Israel's commitment to peace.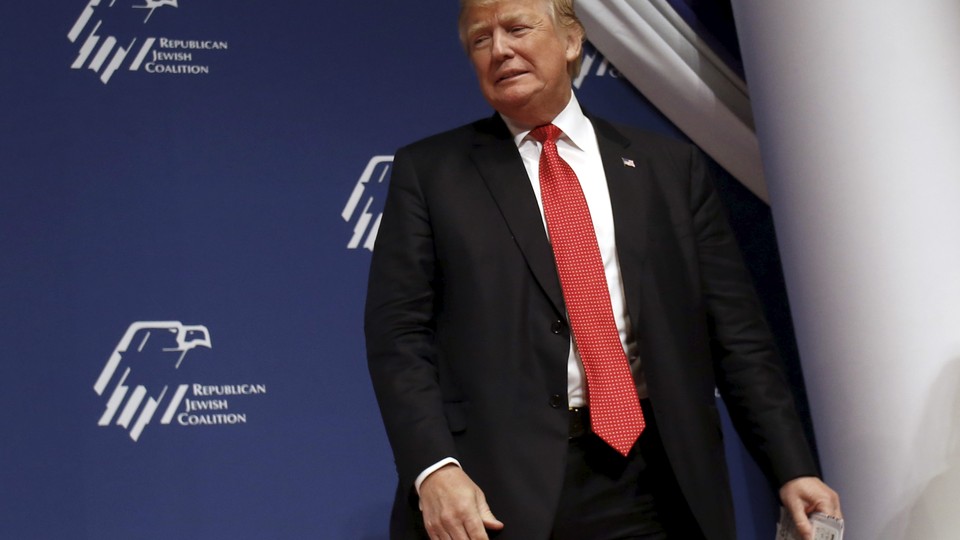 To the eternal chagrin of the Republican establishment, Donald Trump's flair for the vague, insensitive, or unorthodox remark has still not cost the candidate his frontrunner status. As my colleague David Graham noted in October, Trump has been well-served by his twinning of immigration tough-talk with a refrain about raising taxes on the wealthy, embodying a populism otherwise unheard in the Republican Party.
But in recent days, Trump appeared to stray across an inviolable line in the modern GOP platform: a robust, if not unflinching, support for the State of Israel. In an interview with the AP on Wednesday, Trump seemed to lay the onus for securing a long-elusive peace agreement at the feet of the Israelis, and not the Palestinians.
"I have a real question as to whether or not both sides want to make it," Trump said, before explaining that his concerns predominantly reside with "one side in particular." He then added:
A lot will have to do with Israel and whether or not Israel wants to make the deal — whether or not Israel's willing to sacrifice certain things. They may not be, and I understand that, and I'm OK with that. But then you're just not going to have a deal.
This is by no means a pro-Palestinian sentiment. If anything, it's a rhetorical inversion of the frequent argument, especially among conservatives, that Israel has no viable negotiating partner on the Palestinian side and that it shouldn't be pressured to agree to a peace deal that would compromise its security concerns.
What's particularly notable here is the ominous coda. By (vaguely) interjecting the idea that without a peace deal Israel will continue its occupation of the West Bank and its growing Palestinian population, Trump is echoing the frequent admonishments of President Obama and John Kerry (as well as other Democrats, and a number of Israeli leaders), who continue to warn that without a comprehensive peace deal, Israel will cease to be a Jewish and democratic state.
Even Trump seemed to realize that this time, he might have gone further than voters were prepared to follow. On Thursday, Trump blustered to the Republican Jewish Coalition that President Obama "is the worst thing that's ever happened to Israel." He also promised to visit the country after Christmas.
Trump also clarified that, "Israel has given a lot, and a lot of people don't know that," he said. "I think the public relations for Israel hasn't been so great … Israel's given a lot, but hasn't been given a lot of credit for what they've given."
And yet, he also doubled down on his earlier remarks, casting doubt on Israel's desire to make peace.
Trump doubles down at RJC: "I don't know that Israel has the commitment to make it" You can hear a pin drop

— Zeke Miller (@ZekeJMiller) December 3, 2015
Later, Trump was actually booed by the crowd when he refused to clarify his position on Jerusalem as Israel's capital, which is Israel's policy and another common talking point among Republicans.
"When it started, they were skeptical, and you could feel the room warming to him," noted conservative Gary Bauer told The Washington Post. "I think he turned a lot of people. And then he lost them, because he couldn't just say, 'of course, Jerusalem is the capital, we won't negotiate on that.'" (Trump was also accused of trading in anti-Semitic stereotypes in his remarks.)
There may be an underserved bloc among the Republican faithful for raising taxes on the wealthy, but if there's a constituency within the GOP with ambivalent feelings toward Israel, the polls certainly don't show. Republican support for Israel has steadily grown over the past 20 years and, according to a recent Gallup poll, 83 percent of Republicans expressed more sympathy for Israel than the Palestinians.
Senator Marco Rubio immediately seized on Trump's comments on Thursday. "Some in our own party have actually called for more sacrifice from the Israeli people. They are dead wrong." Less ambiguously, he added, "This is not a real estate deal where the two sides argue over money."