Dick Cheney Is Memorialized in Marble
The former vice president took his place in the Capitol's pantheon on Thursday.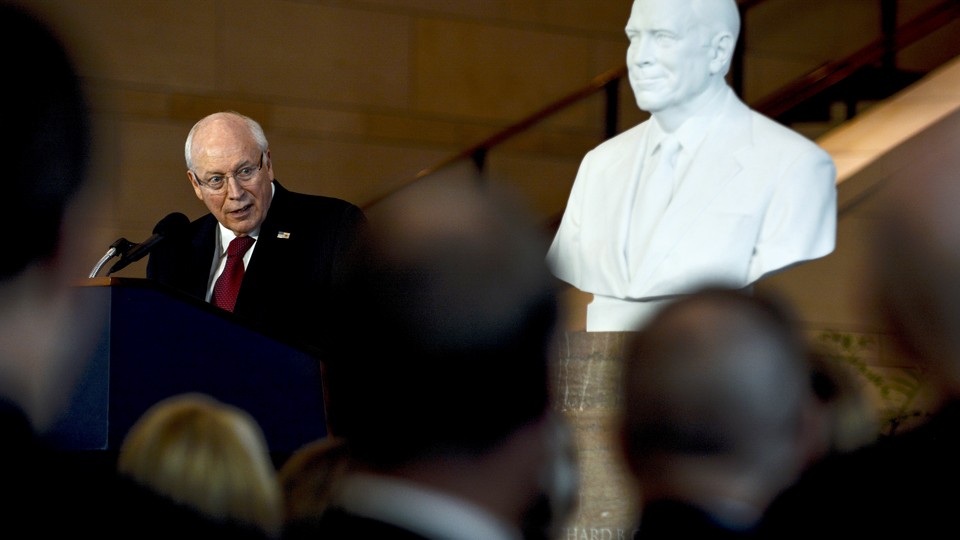 As Vice President Joe Biden helped introduce Dick Cheney on Thursday, he expressed his gratitude to the assembled crowd. "Thank you for letting me crash your family reunion," he said.
And that's what it felt like. Not only was the Cheney brood in attendance, but the crowd was all hugs, smiles, and handshakes as it prepared for the show-and-tell segment of the morning's festivities. They were there to watch the unveiling of a marble bust of Cheney in the U.S. Capitol's Emancipation Hall.
His bust joins a pantheon of disembodied heads scattered around the Senate wing, including a scowling John Calhoun and heavily mustachioed Theodore Roosevelt. Since 1885, 44 former veeps have been enshrined in the Capitol as part of the Senate's official Vice Presidential Bust Collection, to commemorate their service as presidents of the Senate. Al Gore is the only one who hasn't yet made it onto the Hill.
Cheney called the bust collection a vice president's "one shot at being remembered"—or a shot at being stumbled upon in the future by a wandering Capitol visitor.
For most of the morning's event, Cheney's bust stayed shrouded in a beige cloth as a rash of speakers honored the former vice president. Senator Roy Blunt, whose Rules Committee was in charge of the event; Majority Leader Mitch McConnell; House Speaker Paul Ryan; former President George W. Bush; and Biden were all tasked with sharing a few words about Cheney's long career.
The steady stream of praise is something Cheney has seldom experienced of late. He's more often been vilified by the left, portrayed as a divisive, war-mongering, real-life Darth Vader. (The Vader thing was joked about Thursday. Ryan shared Lynne Cheney's response to her husband when he asked how she felt about the comparison: "It humanizes you.")
And Cheney hasn't faded into history like many other former West Wing occupants allowing the collective amnesia of the American public to soften his image. Instead, he's co-authored three books in the last four years, launched a conservative advocacy group with his daughter, Liz, and given the occasional interview. In Blunt's words, he "continues to engage passionately in the events of the day."
Blunt told me that those who know Cheney "know him to be smart and humorous and self-deprecating." Similarly, Dave Rodriguez, who worked in the Cheney residence as an enlisted aide, said the "media" doesn't often portray the Dick Cheney that he knows: a "great person" who "cares about the welfare" of families.
But for all the feel-good clapping, laughing, and standing-ovation-ing on Thursday, one chunk of the Capitol's population was notably absent: Democrats. The Washington Post reports that Senate Democrats "conveniently" organized a caucus meeting during the event. Other members attended a White House criminal-justice confab. Senate Minority Leader Harry Reid was originally scheduled to give remarks, but begged off in favor of the caucus meeting. Biden wasn't assigned a speaking role until shortly before the pomp and circumstance kicked off.
Bush, who's not often seen at public events these days, came prepared with laugh lines for the hyper-friendly crowd. He said Cheney had the "character, integrity, and judgment" to be his right-hand man, and Bush knew he'd be up to the task of assuming the presidency "if I were to get hit by a bus, or choke on a pretzel." (Other crowd-pleasers: Ryan, with his new beard, "is trying out for the Abraham Lincoln lookalike contest" and "every single time Dick cast a vote, we won.")
Ticking off the events of September 11, Desert Storm, and the Gerald Ford presidency—during which Cheney served as vice president, secretary of defense, and White House chief of staff, respectively—Ryan said that "nobody could accuse Dick Cheney of living an inconsequential life."
Cheney's wife Lynne—with the help of a handful of grandchildren—whipped off the cloth covering his smiling visage when it was time for the unveiling. Cheney reflected that his ascension to the vice presidency would have "seemed like a real stretch" to the guy he was as a young man. He said that among the "distinctions" he's received, there's "none I prize more than to have my name there in the story of those years besides the name of our president, George W. Bush."
Per tradition, the former vice president chose the sculptor who tried to capture him in marble: William Behrends, a North Carolinian who previously sculpted a bust of Spiro Agnew, and who's now slated to work on Al Gore.
Cheney noted that he's jumped ahead of his predecessor in unveiling a bust; Gore is said to have taken more time to choose an artist and, according to a Rules Committee spokesman, to figure out "logistics."
Or, "it may be that I'm somehow easier to carve into stone," Cheney said.