Despite Governor's Actions, Refugee Families Find Haven in Georgia
Thousands of refugees call the town of Clarkston home.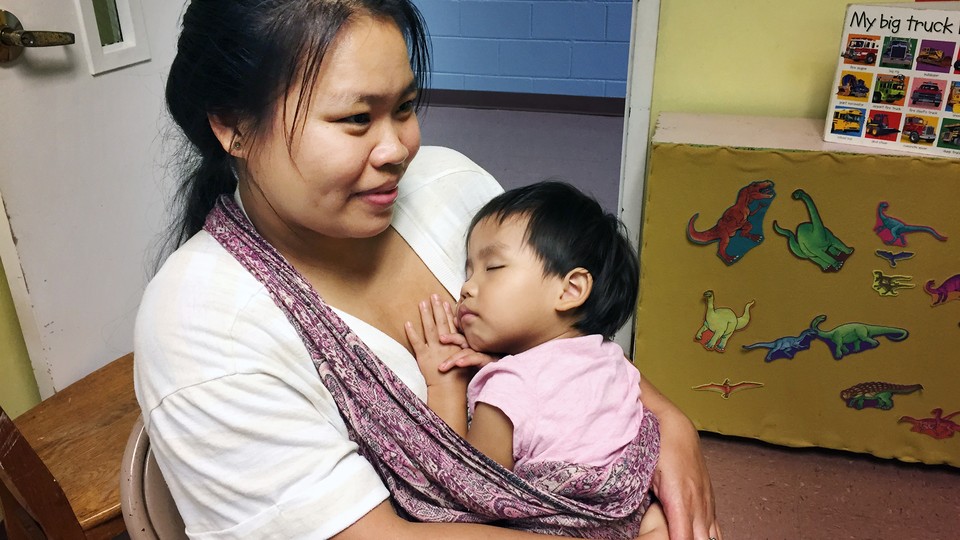 CLARKSTON, Georgia—Glassy-eyed and a little flushed, Caryn Moo clings to the collar of her mother's white tee. The 2-year-old spent her morning at the doctor's office being poked and prodded because of a bad cold. But now she is here, in the warmth of her school and her mother's arms, and soon she is fast asleep, snoring a little because of the congestion.
Nae Blut Moo, 33, peers over her youngest daughter's head as she talks to Jennifer Green, who runs a school in this suburb of Atlanta for refugee mothers and their children. What was a nebulizer? How did she turn these little slips of paper into the medications the doctor had scribbled so illegibly?
Later, Green will accompany the pair to the pharmacy and demonstrate to a group of refugee women how to give a nebulizer treatment.
Moo, along with thousands of other Clarkston residents, is a refugee. Born in Burma, she spent more than a decade in Thailand before finally making her way here, to this town of about 8,000 people from more than 50 countries.
Back in the 1980s and early '90s, Clarkston, which sits in the shadow of Stone Mountain, a Confederate memorial and rallying point, was overwhelmingly white. It had been that way since its founding as a farming community in the 1800s. Then, the town was selected as a refugee-resettlement location for its proximity to Atlanta, affordable housing, and jobs at a food-processing plant. The first arrivals were from Southeast Asia, then from the Balkans, followed by Africans and, now, Middle Easterners. In just a couple of decades, the town has shifted to around 82 percent nonwhite.
That change has not occurred without tension, and the current political climate has some refugees on edge. "Am I safe here?" is on the list of questions Green has been fielding lately. This year's Thanksgiving celebration, she said, was "tinged with irony." Right around that time, Georgia's governor, Nathan Deal, directed state agencies to halt the resettlement of Syrian refugees in Georgia.
The announcement drew a sharp reprimand from the White House, which said the order went against federal law. But in mid-December, after a recently arrived Syrian family applied for food stamps, the Georgia Department of Health and Human Services told the Atlanta Journal Constitution that it would not process the applications.
"I just want people to realize these are mothers coming to protect their families," Green said. "We would do the same thing."
Even as she navigates a world that is entirely foreign linguistically and culturally, and even as she cradles a sick baby, Moo is smiling, always smiling.
"Here is everything," she said, surveying yellow brick walls plastered with toddler-made art. In Thailand, where her other daughters, 8 and 9, spent their early years, there were few books to read or toys to play with. There was only survival.
Zulikha Yousif, also 33, is an outwardly cheerful woman who keeps most of her concerns to herself. But the Darfur native said she has been "sometimes scared" as she and her family settle into life in Clarkston. Yousif has been in Georgia about three and a half years now, but when she first arrived with her husband and two daughters, 9 and 6, finding a community seemed impossible. Then she heard about Friends of Refugees, the nonprofit where Green runs English courses for refugee women and an early-childhood learning center for their babies. She began taking English and volunteering in the childcare center, where toddlers gravitate to her bright smile and warm laugh. This year, she and Moo both became assistant teachers.
At the refugee camp in Jordan where Yousif's daughters were born, education was hard to come by. Now, when her daughters come home from their school and she sees them reading, "I feel like crying" from happiness, she said.
In her official capacity as program director, Green welcomes about 110 mothers for English lessons and their 160 toddlers and babies for early-childhood classes. Unofficially, she's a human Wikipedia, fielding question after question from refugee mothers who are trying to navigate raising a child in the United States—about how diapers work, when to enroll a child in kindergarten, whether school costs money.
In Darfur, Yousif's 9-year-old is at the age when she would be expected to watch younger siblings at home alone. In America, she says she's learned, that's not done. The country has always been one of immigrants, and differences have often been celebrated. But in recent months, Republican presidential front-runner Donald Trump and others have publicly called for a ban on some immigrants, specifically Muslims and Syrian refugees.
When Yousif was pregnant earlier this year with her baby boy, Yousif Abdel Karim, she would read the Koran to her belly as a way to talk to her baby, and so he would hear its message and feel comfort.
"Sometimes, my husband would say, 'Who are you talking to?'" she recalled, laughing.
"It's really not a scary thing," Green said, of refugees resettling in the United States. "It's so incredible to me that people would fear these mothers and children and their families, who are really making such contributions to our community."
The children who come to the center gravitate toward Moo and Yousif for their warmth and cheerfulness, regardless of background. For the children growing up in Clarkston today, going to school with people from a variety of backgrounds and cultures "is just normal," Green said, and that gives her hope that refugees will be celebrated, not feared, in the future.