Democratic Super PAC Targets Toomey
Group wants to persuade voters that the Pennsylvania Republican votes only with GOP leadership.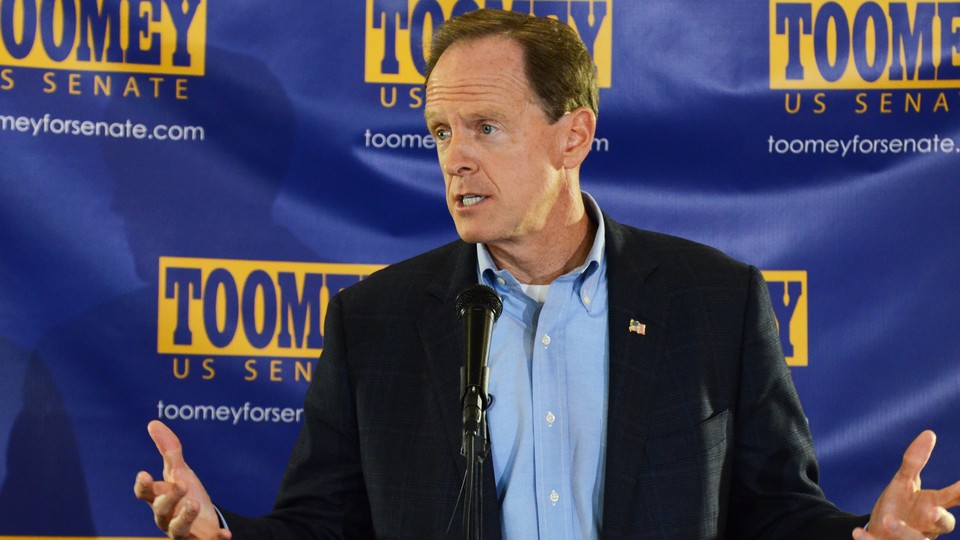 Senate Majority PAC began running a series of digital ads Thursday targeting Sen. Pat Toomey of Pennsylvania—the first salvo, the group says, of a more than $1 million online campaign to target vulnerable Republican senators from now until Election Day.
The ads, which will run on Facebook, Google, and Twitter, accuse Toomey of voting in lockstep with Republican leadership.
"The Republican agenda puts special interests and partisan ideology ahead of what's best for everyday Americans, and Pat Toomey is the poster boy for those misplaced priorities," said Shripal Shah, spokesman for Senate Majority PAC. "While Pat Toomey has been loyally voting for his party's agenda in Washington these past five years, Pennsylvanians have been left behind."
The first-term senator faces a tough reelection in 2016 in a state that traditionally goes blue in presidential years. Toomey, former head of the conservative group Club for Growth, has tried to carve out a reputation as a pragmatic lawmaker since arriving in Washington in 2011, backing moderate compromises on issues like gun control. His team hopes that effort will persuade enough independent-minded voters in the state, even those who plan to back the Democratic presidential nominee, to vote for Toomey.
The ads are the first of a $1.5 million digital campaign from the super PAC, which is aligned with Senate Democrats. The campaign, running until November,  will target vulnerable Republican senators, and the amount invested in it could increase, a spokesman for the group said.
The Toomey campaign dismissed the attacks as ill-conceived.
"The Allentown Morning Call said it well when it wrote, 'Pat Toomey puts principles over party-line obedience'– whether it's on background checks for gun purchases, job creation, or keeping predators out of schools, Pat is proud of his work across party lines to make our communities safer and our economy stronger," said Toomey campaign spokesman Steve Kelly. "Suggestions to the contrary are nothing but election season political attacks."