A Guilty Verdict for Daniel Holtzclaw
A jury convicted the former Oklahoma City police officer of rape and sexual battery after 13 black women came forward to accuse him.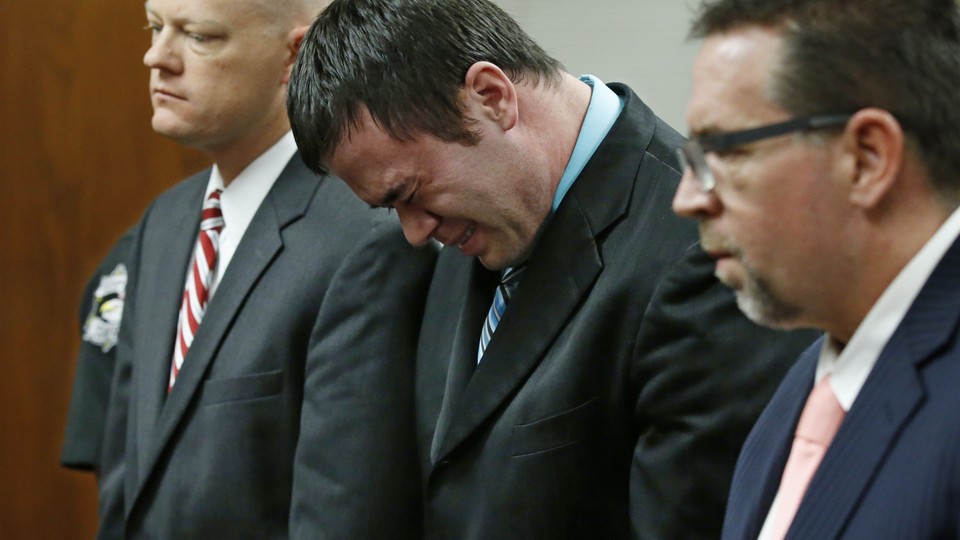 An Oklahoma County jury handed down a series of guilty verdicts on Thursday night in the trial of former Oklahoma City Police Department officer Daniel Holtzclaw, who allegedly raped and sexually assaulted at least 13 black women in the neighborhood he patrolled.
Holtzclaw, who turned 29 years old on Thursday, faced 36 charges in total. The jury found him guilty of 18 of them, including four of the six counts of first-degree rape. For each of those charges, the jury recommended a sentence of 30 years. The other charges against him ranged from indecent exposure to sexual battery and forcible oral rape. Jurors deliberated for four days over the extensive indictment before rendering their verdicts.
The 13 women who brought allegations against him shared their stories with BuzzFeed. Taken together, they describe a pattern of predatory behavior in which Holtzclaw used his status as a police officer both to coerce his victims during their assaults and to intimidate from coming forward afterwards. Prosecutors also noted a tendency to target women whose credibility would be questioned by both law enforcement and society in general.
By allegedly focusing on poor black women with criminal records, Holtzclaw kept himself from being caught—until he met J.L., a black woman who was just passing through the neighborhood he patrolled. "Not only is this individual stopping women who fit a profile of members of our society who are confronted rightly or wrongly by police officers all the time," said the [Oklahoma County] prosecutor, [Gayland] Gieger. "He identifies a vulnerable society that without exception except one have an attitude for 'What good is it gonna do? He's a police officer. Who's going to believe me?'"
During the trial, defense attorneys tried to challenge the victims' credibility by emphasizing their criminal records to the jury and asking about their past drug use. Holtzclaw's family also accused the victims of fabricating their stories.
The case highlighted challenges in uncovering sexual misconduct by law-enforcement officials, which is believed to be widely underreported. A yearlong investigation by the Associated Press published last month discovered over 1,000 police officers nationwide who lost their badges in the past six years for offenses including rape, sexual assault, and possession of child pornography. Since reliable comprehensive numbers do not exist, the actual number of officers fired during that period could be even higher.
Although the Holtzclaw trial received relatively little national media attention, it caught the attention of activists from the Black Lives Matter movement, who followed the case through social media and helped elevate its profile nationwide.
I can't believe I'm watching some form of Justice. Like can not believe it. Wow.

— Johnetta Elzie (@Nettaaaaaaaa) December 11, 2015
The #DanielHoltzclaw verdict is important as it will prevent him from harming anyone else. It will not, however, repair the damage done.

— deray mckesson (@deray) December 11, 2015
Holtzclaw sobbed and rocked in his chair as the judge read one guilty verdict after another and the sentences attached to each one of them. In total, the jury recommended a total of 263 years in prison. His final sentencing is set to take place in January.