Crude-Oil Exports Emerge as Wild Card in End-of-Year Frenzy
Negotiations over major spending and tax bills include lifting a decades-old ban, but the hurdles are very high.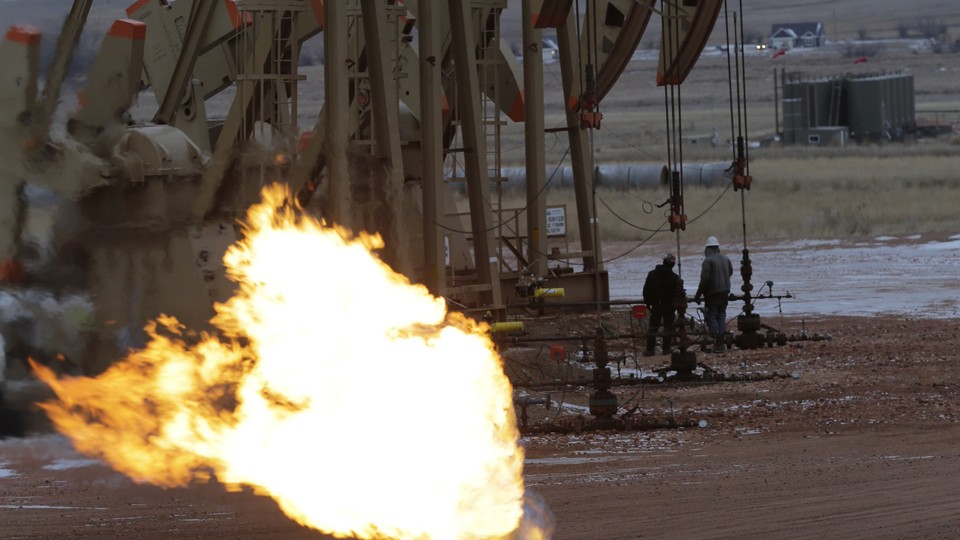 An oil-industry priority that has been stymied by Democrats could be revived in Capitol Hill negotiations over tax policy and legislation to fund the federal government beyond mid-December.
Republicans are seeking a way to end major, decades-old restrictions on the export of crude oil produced in the U.S. The nation's oil-production surge has led oil companies, eager to take advantage of higher prices on world markets, to argue that the ban is a relic that's no longer needed.
Sen. Dick Durbin, the chamber's No. 2 Democrat, said it's a "priority" for Majority Leader Mitch McConnell. But it's unclear if there's any political space for a deal that would end the de-facto export ban while doing enough to advance Democratic priorities on low-carbon energy and other issues.
"There is a wide range of opinion [in the Democratic caucus], some pro, some con," Sen. Tim Kaine, a Virginia Democrat, told National Journal. "The majority opinion is probably [that] we'd be willing to consider it if we got some very strong energy-efficiency and greenhouse-gas-reducing provisions along with it."
A Senate Democratic leadership aide signaled that Democrats would need a lot in return for agreeing to a lifting of the ban. Democrats discussed their demands at a closed-door meeting of their members Thursday.
"There is a general feeling that this is a huge, huge windfall for oil companies and something Republicans really want, and for us to exchange that, it would have to be for something big," the aide said.
The price tag would include jettisoning various GOP-backed policy "riders" on the omnibus that Democrats oppose, such as measures to curtail environmental regulations and further ease campaign-finance restrictions.
Key energy-related priorities for Democrats include long-term extensions of credits for developing solar-energy projects, which expire (or in some cases drop sharply) late next year, and wind-energy-project tax credits that lapsed at the end of 2014. They also want renewal of a lapsed program called the Land and Water Conservation Fund.
There's at least some support among Democrats to relaxing the export ban, which dates back to the oil shocks of the 1970s. In October, 26 House Democrats joined Republicans to approve a bill ending the ban. Democratic Sen. Heidi Heitkamp of North Dakota, whose state is a major oil producer, has been pushing colleagues to support lifting the ban.
Sen. Martin Heinrich, a New Mexico Democrat, said the discussions have focused largely on the annual year-end bill to extend a suite of business and personal tax breaks. He told reporters in the Capitol Thursday that there are "very active conversations going on."
Heinrich previously voted against a pro-exports bill that cleared the Energy and Natural Resources Committee on a party-line vote, but signaled that he could support exports if they're coupled with strong renewable-energy incentives.
"We are looking for things that bring people to the table from both sides," he said. "I think there is a real opportunity here. I hope we realize it."
But the sides could well be too far apart. One oil-industry lobbyist called it a "long shot." Sen. John Cornyn, the chamber's No. 2 Republican, told Environment and Energy Publishing that Democratic demands are "pretty greedy" and include renewable-energy tax credits "in perpetuity." The Democratic leadership aide said a five-year extension of the credits would be a "floor, not a ceiling."
Still, environmentalists who oppose crude-oil exports are concerned enough to ramp up efforts to prevent a deal. The Sierra Club, Public Citizen, and the United Steelworkers pressed Senate leaders to oppose provisions on the extenders package or omnibus.
The White House declined comment. The administration has previously said it would veto legislation that lifts the export ban, and argued that such decisions should be left up to the White House.
But backers are not giving up.
Republican Sen. Dan Sullivan of Alaska said that while he's unsure of the status of the talks, he's hopeful about finding space in the package to continue federal spending after Dec. 11, when current appropriations lapse.
"If you look at the trajectory of where this has been, at least for my 10 months in the Senate, it has gone from kind of 'no way' to a lot of interest in it," the freshman senator said in a short interview. "I think there's a decent shot in terms of the omnibus. I am hopeful."