The Life-Saving Train Technology That Congress Isn't Fully Funding
The omnibus budget bill allocated money for a railroad-safety measure that prevents accidents. But not enough.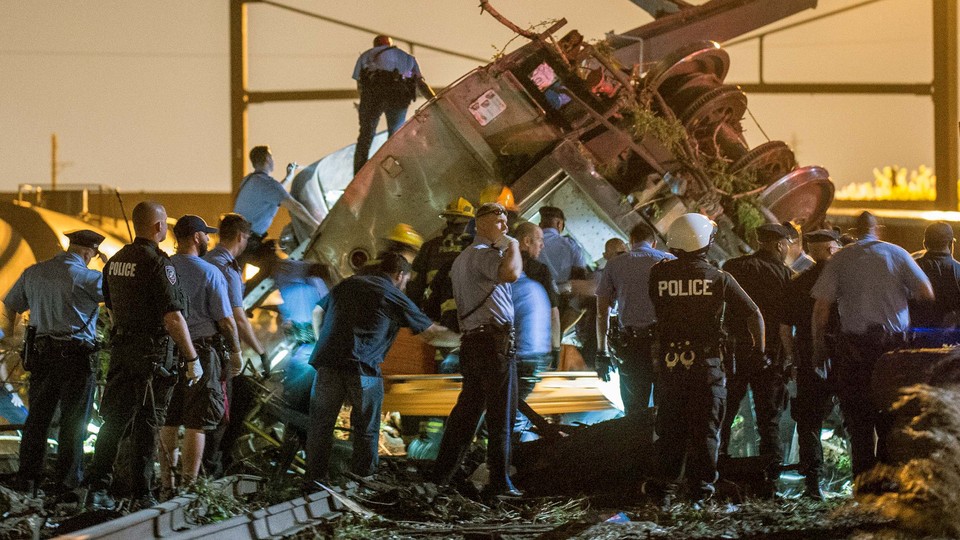 The derailment of Amtrak train 188 in Philadelphia earlier this year, which killed eight people, introduced many Americans to a safety technology that could have prevented the crash in the first place: positive train control. Now, Congress has allocated $25 million in funding in the omnibus bill to help railroads implement the technology—but some of Washington's most ardent supporters of PTC are still let down.
"A $25 million investment in PTC is clearly not enough, but it is infinitely more than we have invested in recent years," Representative Sean Patrick Maloney of New York said in a statement. The omnibus funding represents a "small step [that] continues to move us in the right direction toward universal implementation of this life-saving technology—but we must do more."
The insufficient installation of PTC across the country has generated an emotional debate on the Hill in recent months. The technology prevents train-on-train collisions and speed-induced derailments by controlling the train or stopping it altogether. As a result, PTC is widely considered a life-saving technology. At a House Transportation and Infrastructure Committee hearing earlier this year, Federal Railroad Administrator Sarah Feinberg repeatedly emphasized the railroads' grave need for PTC, which she called a "long-overdue technology," but said railroads are hampered by meager funding from Congress. The new omnibus support is certainly welcome; it just isn't enough.
"The funding in the recently passed transportation bill and in the bill that funds the government for the next year are good starts," Feinberg said in a statement, "but more is needed for commuter railroads."
That's because PTC is mandatory for commuter rails and those that transport hazardous materials, both of which make up a big chunk of the country's total rail network. But meeting that mandatory rule is in doubt. In the comprehensive transportation bill Congress passed earlier this month, $199 million was allocated for PTC on commuter rails, the first time Congress had dedicated funding specifically for the technology. But that money, combined with the omnibus allocation, still falls a staggering $600 million short of the figure the Federal Railroad Administration has requested in the last two years: $825 million "to assist commuter railroads with the implementation of PTC and additional funding to aid with the implementation of PTC on Amtrak's national network," according to testimony Feinberg gave in June. Meanwhile, the omnibus allocation doesn't even specify that funding must be used solely for PTC; it could be used to implement other safety measures, too.
The railroads' deadline for installing PTC has also been controversial. Until recently, the railroads had a December 31, 2015, deadline to implement the technology, per the Rail Safety Improvement Act of 2008. But a majority of rail lines weren't on track to meet it. In October, Congress granted the railroads a three-year extension, with "wiggle room" for an additional two more years after an intense lobbying push by the industry and threats of a commuter-rail and freight shutdown. Northeast Democrats strongly disapproved of the extension: They want more funding for PTC, but they also don't want the railroads to get away with not installing it for many more years. According to a report in The New York Times, proponents of the extension say the extra time will help because "the equipment is costly and time-consuming to install across thousands of miles of track."
But Feinberg warned railroad officials at a conference last month that they must not assume Congress will push back the deadline again, and she emphasized PTC's life-saving implications—just as she had back in June, when she predicted more accidents to come: "If PTC is not fully implemented by January 1, 2016, we can and should expect there to be accidents in the months and years to follow that PTC could have prevented."
After the Philadelphia crash last spring, lawmakers held a hearing to find out what went wrong on train 188 and how PTC could have helped. (Though PTC wasn't fully implemented on the Philadelphia track at the time, Amtrak is now on target to finish it on the entire Northeast Corridor, the country's busiest rail line, by the end of the year. Amtrak isn't eligible for the omnibus funding.) At the hearing, Representative Maloney cited an ac­ci­dent on the Metro-North com­muter rail line, where a 2013 de­rail­ment killed four people. He blamed Congress itself for not giving railroads the tools they need to make safety improvements: "Of all of the people who ought to be apo­lo­giz­ing for these ac­ci­dents that keep hap­pen­ing be­cause we don't have the safety sys­tems in place, the United States Con­gress maybe ought to be at the top of the list, wouldn't that be fair to say?" he asked Feinberg. "I think that would be fair to say," Fein­berg answered.
Democratic lawmakers from the Northeast, like Maloney, have been the most vocal about PTC. A couple weeks before the House hearing, 23 Democratic senators sent a letter urging the Appropriations Committee to allocate more funding for it, though they didn't call for a specific dollar figure. Democratic Senator Bob Casey of Pennsylvania, the chief author of that letter, said the omnibus funding could "substantially increase" rail safety. "Since the devastating Amtrak 188 crash, we have learned that PTC truly [affects] the safety and lives of those traveling on our country's railways," Casey said in a statement.
Democratic Senator Richard Blumenthal of Connecticut, who has had strong words for the railroads for not yet implementing PTC, said he's pleased the omnibus "includes a small down payment" for the technology. But "$25 million is just a drop in the bucket given the large scale and scope of rail-safety measures needed immediately," he said in a statement. "Congress must appropriate far more to rebuild a crumbling rail network that today is ill-prepared and ill-suited for our 21st-century needs."