Congress Finally Does a Highway Bill, But Can't Clear Decks For The Next President
A five-year measure sets up a whole new spending issue for the 2016 race.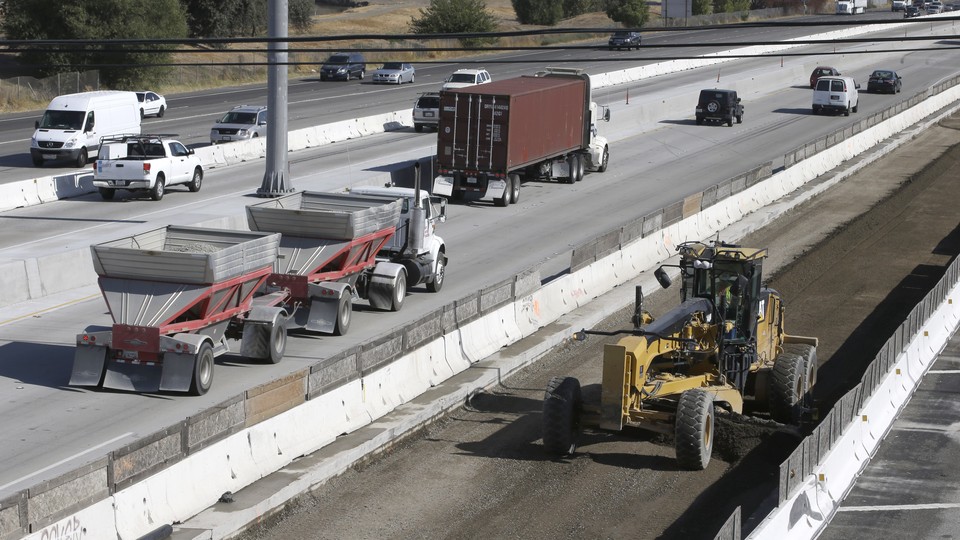 For a candidate looking to make a splash with a jobs plan, the words "repair," "crumbling," and "infrastructure" in some combination usually makes for a good applause line.
Here's Hillary Clinton at an event in Massachusetts on Monday: "To build a strong economy for our future, we must start by building strong infrastructure today." Bernie Sanders has compared low spending on infrastructure to the cost of the Iraq War. Even Donald Trump boasted on Twitter "I know how to build, other pols only know how to talk" after a deadly Amtrak crash last spring.
With the passage of a five-year, $305 billion transportation bill, Congress says it's addressed the problem—for now.
The Fixing America's Surface Transportation Act is the first long-term transportation bill in more than a decade, offering a measure of security for state agencies and even slightly increasing spending. In a joint statement, the bill's Senate and House sponsors said the bill "provides long-term certainty for states and local governments, and good reforms and improvements to the programs that sustain our roads, bridges, transit, and passenger-rail system."
After dealing with the transportation reauthorization bills on-and-off for the better part of a decade (since 2005, Congress has passed more than 30 short-term extensions, the longest one just 18 months), the issue will finally be off the floor for several years. So does this make infrastructure an out-of-sight, out-of-mind issue?
"Human nature and the nature of politics is such that if an issue is festering and it doesn't look like anyone's dealing with it, then it's current. Once the president signs that bill, I think it takes the heat out of this issue," said former Rep. Jim Walsh. "But it shouldn't. This bill doesn't solve all of our problems … and the candidates need to lead the debate."
Indeed, while the FAST Act patches a hole in the leaky Highway Trust Fund for the next five years, anything after 2020 is up in the air. The bill does nothing to supplement or replace the 18.3-cent-per-gallon federal gas tax, which hasn't been raised since 1993 and has left the fund with a $16 billion shortfall.
Instead, Rep. Bill Shuster said that writers were "looking for money under every cushion in Washington and around the country" and cobbled together $70 billion from sources like a Federal Reserve surplus account and sales from the country's oil reserves. That means no relief for already-struggling transportation agencies at the end of this bill.
According to the Congressional Budget Office, the next five-year transportation bill would need upwards of $100 billion on top of gas-tax revenue.
And that bill's going to come due right at the end of the next president's first term.
Rep. Pete DeFazio, ranking member on the Transportation and Infrastructure Committee, said that meant that it was something that should bear mention on the trail, especially given the "pretend pay-fors" that were on the current bill.
"It's time for people to get real," said DeFazio. "This place can't get real and we're stuck with this crap."
Ed Rendell, former Democratic governor of Pennsylvania and cochair of the infrastructure group Building America's Future, said he'd grade the bill as "maybe a D at best, probably incomplete." But the next president, he said, had an opportunity to make it better.
"Come and say 'it's not good enough' and get what you want in," said Rendell, who has advised the Clinton campaign on the issue. "Whoever our next president is has got to address this crisis. And to think this patchwork bill is all we need, well that's just ludicrous."
America's infrastructure crisis has been well-documented—the American Society of Civil Engineers has given the country's overall infrastructure a D+ on its report card, with roads, aviation, dams, and inland waterways scoring at a D or below.
Just as well-documented, though, is the budget shortfall. In the same ASCE report, the group estimated it would take $3.6 trillion by 2020 to get back in shape. And nobody's got a reliable plan to cover that gap.
Raising the federal gas tax—which would only cover roads and transit operations—has been a political nonstarter, even as states have done it. And no candidate would reasonably propose a tax increase on the trail, which has meant that substantive transportation plans aren't usually staples in presidential campaigns.
Clinton this week has been promoting a five-year, $275 bil­lion in­fra­struc­ture plan that would go on top of in­fra­struc­ture spend­ing au­thor­ized by Con­gress. The plan would spend $250 bil­lion in dir­ect pub­lic in­vest­ment, with an­oth­er $25 bil­lion to start an in­fra­struc­ture bank that would lever­age fund­ing for large in­fra­struc­ture pro­jects. But the funding mechanism is simply a vague "business-tax reform."
Sanders has pitched a $1 trillion infrastructure spending package, backed in part by legislation that would cut down on corporate tax loopholes.
From the right, however, there's been less enthusiasm for an infrastructure spending package. Rand Paul has proposed a bipartisan bill that would use repatriation of companies' foreign earnings. Candidates such as Trump and Jeb Bush have talked about the need for infrastructure spending, but haven't detailed spending plans.
Dan Holler of the conservative Heritage Action for America said that, given the high price tag, he didn't expect Republicans to talk about transportation spending in the primary. But faced with a Democrat in the general election, Holler said a conservative candidate could use the chance to talk about spending reform and devolving money back to the state level.
"Republicans will never win a bidding war with Democrats on how much they'll spend," said Holler, whose group opposed the FAST Act. "The opportunity is for Republicans to talk about this in a way that taps into the unfairness of the way Washington deals with this."
Even Shuster, the Transportation Committee chairman who has talked up the long-term impact of the FAST Act, said that his bill shouldn't silence candidates on infrastructure.
"I sure hope Republicans and Democrats bring it up, because it's critical to America," he said. "If the Democrat and the Republican start talking about it, one's going to have to up the ante on the other. I hope Republicans take it back, because historically it's been a Republican issue … but it's hard to tell with this field."