College Graduation Gaps by Race Set To Remain for Rest of Century
The general outlook is positive, but schools must do more to address the racial disparities in their completion rates.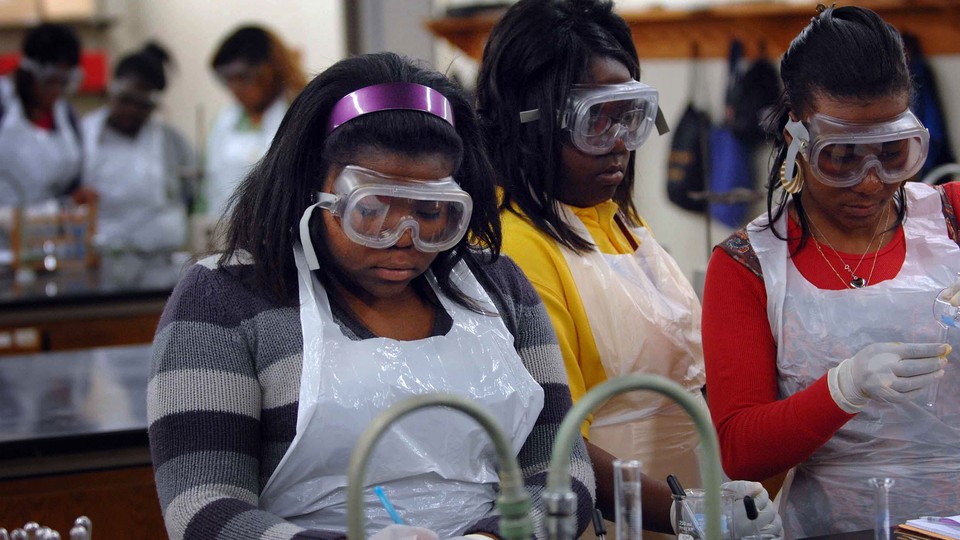 First, the bad news. Progress remains slow, and a persistent gulf of 14 points remains between the percentage of white students who graduate from college and the percentage of students of color who earn a degree.
Now the good news. Overall, universities are doing a better job of getting all of their students, not just the well-off young people who come from college-educated families, through school to graduation.
According to a new report from The Education Trust, more than two-thirds of four-year public schools in the United States raised graduation rates between 2003 and 2013, and of the more than 250 of those schools serving significant numbers of blacks, Latinos, and Native Americans, 77 percent improved graduation rates for underrepresented students of color.
At the four-year public schools that have improved graduation rates for students of color, the graduation rate for white students is around 64 percent and around 50 percent for underrepresented students of color. Latinos have made the most significant strides, increasing graduation rates by 7.4 percent. Native Americans, too, have increased rates by 6.4 percent. But progress has been slower for black students, at 4.4 percent.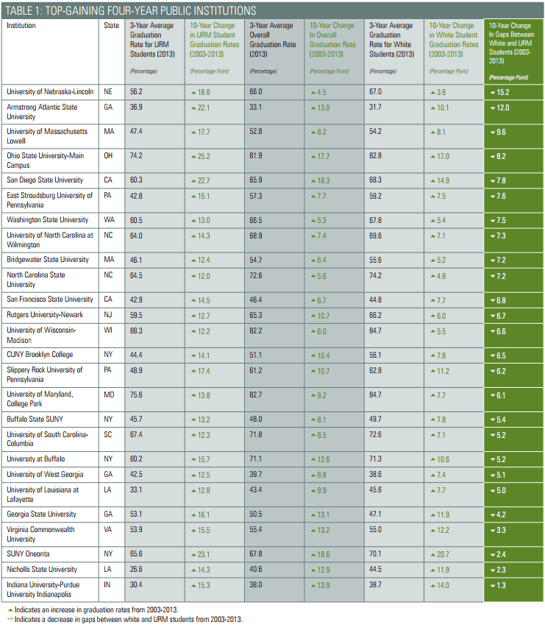 As Georgetown University's Center on Education and the Workforce, which just launched a new "Equity Initiative," recently noted, students of color are disproportionately likely to attend less-selective colleges, which spend less money on instruction and can offer less-robust networks when it comes to connecting graduates with careers.
"As access increases, stratification increases at the same time," Anthony Carnevale, director of the center, said at the initiative's unveiling earlier this month.
Nicole Smith, the center's chief economist, noted that much of that stratification has to do with the cost of attending college and a lack of resources among first-generation students, who are disproportionately likely to be students of color. Harder-to-measure factors like culture shock and stereotypes can also make completing college a challenge.
The Education Trust found that graduation gaps have narrowed by less than one percentage point in 10 years—meaning, at the current pace, the gap will not be closed in this century. The gap in graduation rates between white and black students has actually grown.
"We caution institutional leaders who celebrate their graduation rate gains to take a good look at their data and ask whether they are doing enough to get more African American, Latino, and Native students to graduation and to close completion gaps," Kimberlee Eberle-Sudré, The Education Trust's higher education policy analyst and coauthor of the report, said in a statement. "The answer for many institutions is, 'No.' Fewer than half of the institutions we analyzed raised rates for their underrepresented students and cut gaps. Institutions can and must do more to serve underrepresented minority students."
So what could be done to speed up the process and broaden its scope? It's an important question that comes as the Supreme Court again this week prepares to hear a challenge to affirmative action, in a case that could have far-reaching implications when it comes to the number of black and Latino students who are admitted to selective schools.
The report highlights 26 schools that are both raising graduation rates across the board and closing gaps, and their strategies. San Diego State University urges students who need remedial courses to take them the summer before their first fall semester, so they don't begin their college careers already behind. North Carolina State University fosters peer mentoring. Broadly, the report argues, increasing graduation rates for underrepresented students will require deliberate action by schools—it's not just going to happen on its own.