First, the bad news. Progress remains slow, and a persistent gulf of 14 points remains between the percentage of white students who graduate from college and the percentage of students of color who earn a degree.
Now the good news. Overall, universities are doing a better job of getting all of their students, not just the well-off young people who come from college-educated families, through school to graduation.
According to a new report from The Education Trust, more than two-thirds of four-year public schools in the United States raised graduation rates between 2003 and 2013, and of the more than 250 of those schools serving significant numbers of blacks, Latinos, and Native Americans, 77 percent improved graduation rates for underrepresented students of color.
At the four-year public schools that have improved graduation rates for students of color, the graduation rate for white students is around 64 percent and around 50 percent for underrepresented students of color. Latinos have made the most significant strides, increasing graduation rates by 7.4 percent. Native Americans, too, have increased rates by 6.4 percent. But progress has been slower for black students, at 4.4 percent.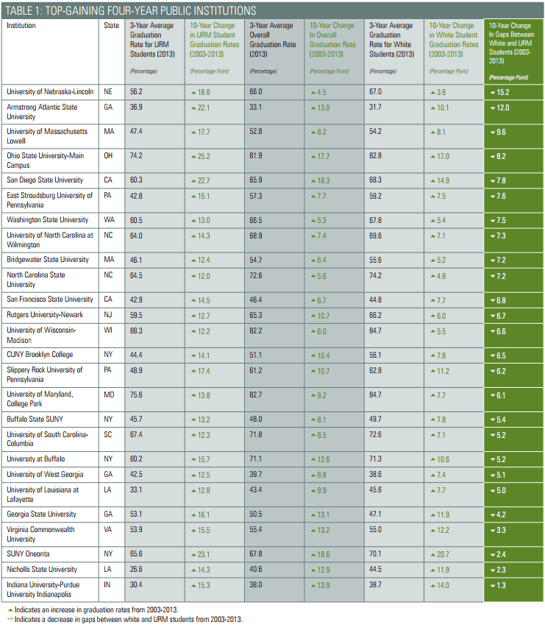 As Georgetown University's Center on Education and the Workforce, which just launched a new "Equity Initiative," recently noted, students of color are disproportionately likely to attend less-selective colleges, which spend less money on instruction and can offer less-robust networks when it comes to connecting graduates with careers.