Clinton Hits Trump on Muslim Ban—and Links the GOP Field to it, too
"The truth is, many of them have also said extreme things about Muslims"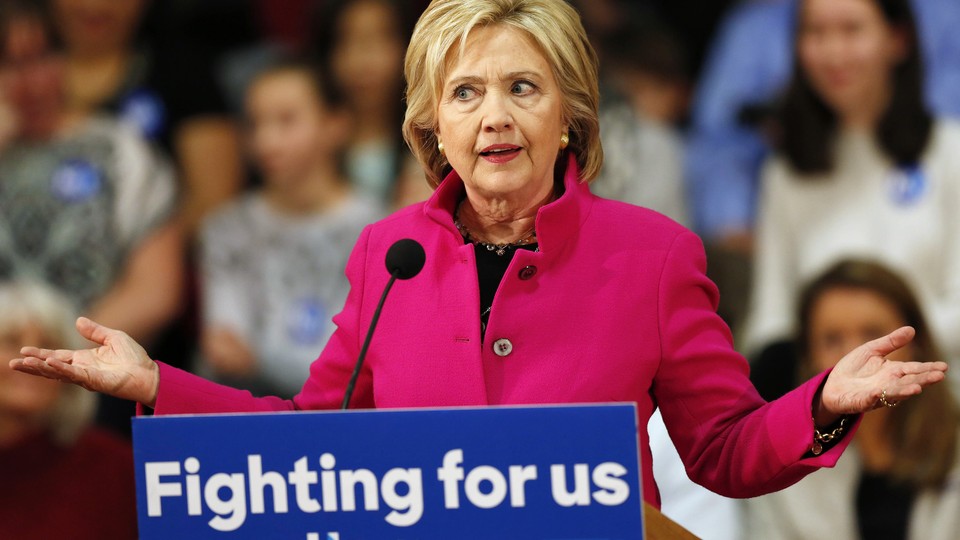 Hillary Clinton on Tuesday evening blasted Donald Trump's "ugly, hateful rhetoric" for his proposal to halt Muslim immigration to the United States, telling voters at a New Hampshire town hall that what he's saying isn't so far off from the way the rest of the Republican field wants to treat Muslims.
"Donald Trump, the Republican front-runner, has made a name for himself in the last months by trafficking in prejudice and paranoia. His latest insult is to stop all Muslims from entering the United States," she said in Salem, New Hampshire. "This is both a shameless and a dangerous idea—at a time when America should be doing everything we can to lead the fight to defeat ISIS and other radical jihadists, Donald Trump is playing right into their hands and some of these Republican candidates are saying that his latest comments have gone too far."
She continued, saying that Trump may be the only one calling for an end to Muslims entering the United States but that all Republicans are using the same kind of rhetoric to talk about Islam as a whole.
"The truth is, many of them have also said extreme things about Muslims: Their language may be more veiled than Trump's, but their ideas are not so different," she said. "They are all driving the exact narrative that jihadists want to advance: that we are at war not with barbarous violent murderers, but with an entire religion. This is a grave mistake."
What's necessary, Clinton said, is to work with Muslims both in the United States and across the world—and to avoid demonizing the Muslims who have made "great contributions" to America. "They deserve better than this," she said.
The former secretary of State isn't the only Democrat who has blasted Trump's comments since he first released his plan Monday. In a taped appearance on The Tonight Show With Jimmy Fallon Tuesday night, Bernie Sanders said of Trump's plan: "That kind of crap is not going to work in the United States of America."
And former Maryland Gov. Martin O'Malley, too, blasted Trump, tweeting that the real-estate mogul "removes all doubt: he is running for President as a fascist demagogue."