Chaka Fattah's Last Stand
With a strong primary challenger, the indicted Democrat could go out the same way he entered Congress.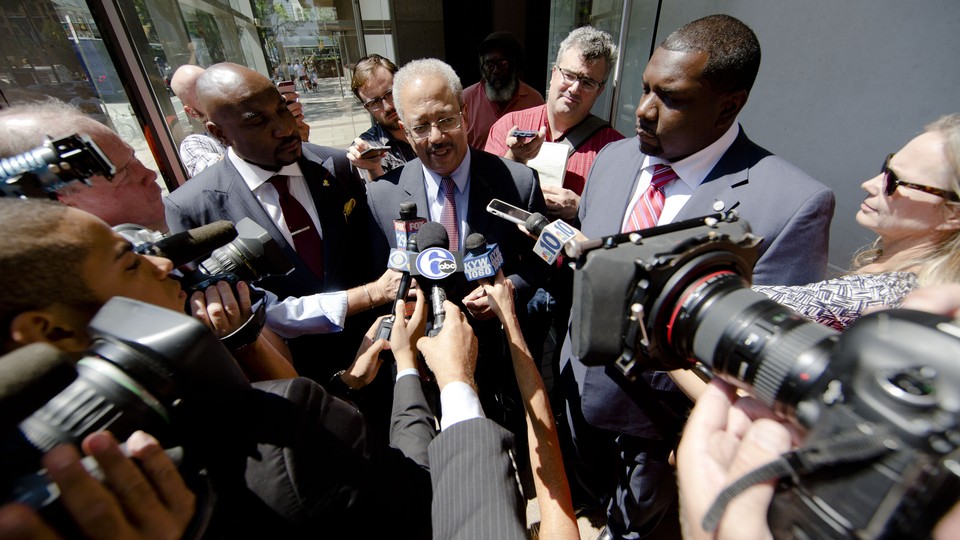 Rep. Chaka Fattah is fighting for his political survival for the first time in more than two decades in Congress.
After his July indictment in a federal racketeering case, the embattled Democrat must now fend off four primary challengers in his Philadelphia-based district. The most potent, longtime state Rep. Dwight Evans, intends to follow in the footsteps of Fattah himself, who knocked off an incumbent in the 1994 Democratic primary.
Evans's fledgling campaign sets up a high-profile clash between the two veteran politicians, each dominant players in the city's African-American community. And in a heavily Democratic district that's majority-black, Evans's candidacy threatens to chip away at the core of Fattah's base.
"It's possible that African Americans are now starting to look around for an alternative," Philadelphia Democratic consultant Ken Smukler said. "He would be the natural alternative to Fattah."
Rep. Robert Brady, Philadelphia's longtime Democratic Party chairman and Fattah's House colleague for 17 years, notably had "no comment at this time" about whether he plans to support Fattah, Brady's spokeswoman said.
Still, Philadelphia Democrats say Fattah, who has repeatedly denied any wrongdoing, remains tough to topple. Reelected last year with 88 percent of the vote after running unopposed in the primary, he's focused on housing and education issues in Congress, while using his perch on the powerful Appropriations Committee to steer money back home.
"Every time I've won an election, millions of people have been helped," Fattah told National Journal. "The voters are going to judge me based on my record of actual accomplishments."
But Fattah's political momentum has diminished, as his already weak fundraising screeched to a halt in the third quarter. After raising just $13,500 from July through September, he had less than $3,000 in cash on hand as of Sept. 30, a paltry sum anywhere but particularly in Philadelphia's costly media market.
Besides Evans, state Rep. Brian Sims, Lower Merion Township Commissioner Brian Gordon, and Democratic ward leader Dan Muroff are running in the primary. The latter three are white, competing in the state's only congressional district where most residents, 58 percent, are black.
Evans, who has served in the Pennsylvania House since 1981, has failed at past campaigns for higher office, including bids for lieutenant governor and governor. In 2007, during one of his two unsuccessful mayoral runs, he competed alongside Fattah, placing fifth while Fattah took fourth and Brady third.
But in facing each other again for the congressional seat, Evans is expected to boast two new and powerful allies: Pennsylvania Gov. Tom Wolf and Philadelphia Mayor-Elect Jim Kenney. Evans was an early supporter of Wolf in his gubernatorial primary, even appearing in a television ad on his behalf. For his congressional campaign, Evans has enlisted Wolf's prominent media consultant, Saul Shorr.
He's also set to absorb some of the political infrastructure that boosted Kenney, the former city councilman Evans helped deliver votes for in the mayoral race. Evans will have the support of Forward Philadelphia, the super PAC that spent $1.3 million in favor of Kenney, according to WHYY. Bill Hyers, the Democratic strategist reportedly aligned with the effort, did not respond to multiple inquiries from National Journal.
Kenney spokeswoman Lauren Hitt said the mayor-elect is "very supportive" of Evans's campaign and "believes having him in Congress would be a tremendous asset for Philadelphia"—though Kenney has made no formal endorsement. Wolf's office did not return a request for comment.
In an interview, Evans, who is cochairman of Kenney's transition team, called Kenney and Wolf "good personal and political friends."
"At the appropriate time, they will decide what they intend to do" for the campaign, said Evans, who entered the race last month.
Evans deflected questions about Fattah's indictment, casting himself as the candidate best suited to tackle economic and education issues. But the case promises to linger for the entirety of the race.
Fattah's trial is set to begin in May, six days after the primary. His indictment, dating back to his failed 2007 run for mayor, spans 29 counts, including racketeering, bribery, and wire fraud. Two members of his inner political circle, Gregory Naylor and Tom Lindenfeld, have pleaded guilty, and other alleged associates of his were also indicted.
In a separate but overlapping case, Fattah's son was found guilty on 22 of 23 counts of federal bank- and tax-fraud charges. He has said he plans to appeal the verdict.
Even amid those legal troubles, the 11-term incumbent isn't backing down, and Democratic strategists say knocking him off won't be easy.
Last month, Fattah brought on former Philadelphia City Manager Joe Certaine as his campaign manager, a sign he is gearing up. He's also tapped as his finance director Jeremiah Pope, who owns a Washington-based political-consulting firm.
As the race gets underway, a crowded field could benefit Fattah by splintering the anti-incumbent vote. But other candidates in the race say a packed primary could work in their favor.
"A wider and more diverse field makes the dynamics of this race much more unpredictable," said Muroff, the first candidate to announce a challenge to Fattah. "And therefore, I see opportunity for myself in this race."
As for Fattah's chances, Pennsylvania Democratic consultant Michael Bronstein cited incumbents' high rate of reelection.
"But," he added, "there's a huge asterisk in this election about making that type of prediction."