Celebrity Chef José Andrés Urges Immigrants to Become Citizens
He is one of Obama's first four 'ambassadors for citizenship and naturalization.'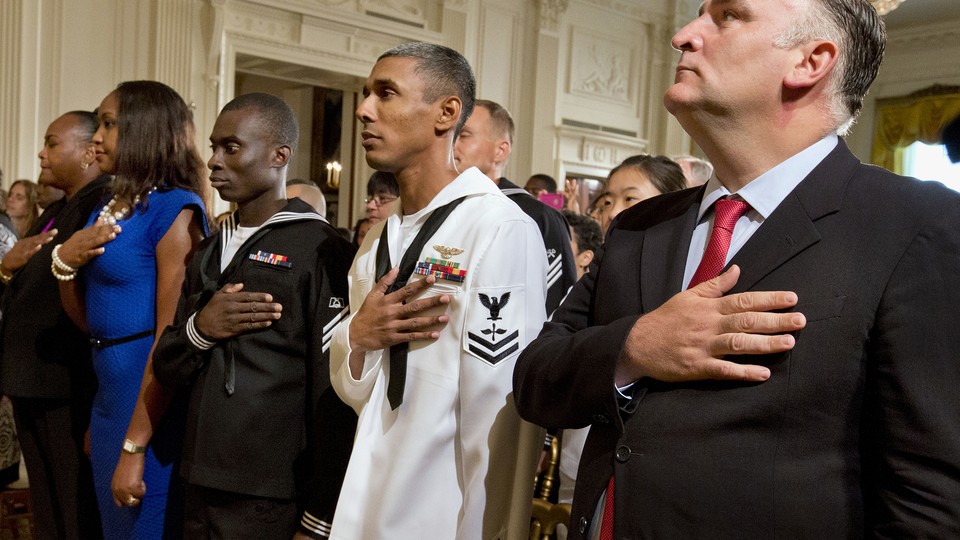 Famed Spanish restaurateur and chef José Andrés arrived in the United States in 1991 with $50 and a set of cooking knives. Now he has 21 restaurants across the country in places like Miami and Washington.
Andrés, who became a U.S. citizen two years ago, is one of President Obama's first official ambassadors for citizenship and naturalization. This pretty much means that he is tasked with inspiring and encouraging eligible immigrants to take the oath of citizenship.
The White House campaign is part of Obama's Task Force on New Americans, a new government-wide effort to aimed at better integrating immigrants and refugees into American communities (and presumably, increasing the number of eligible voters).
Recent immigration data shows that more than 8 million people are eligible to become U.S. citizens, but haven't taken the leap. That includes more than 3 million refugees who have resettled in the United States since 1975.
Andrés arrived from Northern Spain on an E-2 investor visa, and has become an outspoken advocate for immigrants and critic of Donald Trump's anti-immigrant rhetoric.
In a video released this week by the White House, Andrés urged viewers to take the step to becoming American citizens.
"Don't wait, do it," Andrés said. "You are helping move America forward. You are part of the DNA of what America is all about. You need to become a citizen because we need you to keep being a part of everything you've been fighting for."
Andrés is one of the first four citizenship ambassadors picked by the White House. These are the other three:
Grammy Award-winning singer Dave Matthews, who was born in South Africa and moved to the United States when he was 18.
Actress Diane Guerrero, known for playing the roles of Maritza Ramos on the Netflix series Orange is the New Black and Lina on Jane the Virgin. Guerrero's family is from Colombia and she grew up in Boston.
Fernando Valenzuela, baseball player and sports broadcaster. Valenzuela, a native of Mexico, pitched for the Los Angeles Dodgers in the early 1980s and led the team to the World Series. In July, he and his wife became American citizens.