Carmakers Have a New Plan: Sell Fewer Cars
With an eye towards sustainability, auto giants embrace the sharing economy.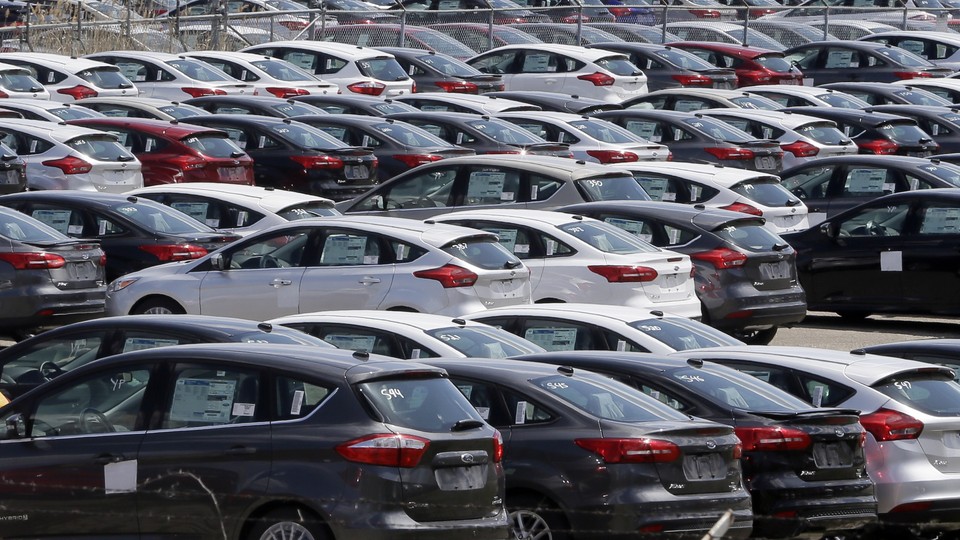 General Motors has a new pitch to young consumers: Don't buy a GM.
"Whether it's sharing vehicles or sharing rides, the potential exists to create a much more efficient opportunity for mobility," said Peter Kosak, executive director of GM's urban-mobility program. "When we talk about it in an automotive context, it's about providing access and options beyond ownership, or even as an alternative to ownership."
Automakers have increasingly embraced a role as not just manufacturers of vehicles, but as cogs within a bigger commuting mix that doesn't have to include a personal car. BMW, GM, and Ford are among those getting in on car-sharing platforms. Daimler, which already owns the car-sharing outfit Car2Go, recently acquired Uber competitor RideScout. Ford has even talked up the potential of electric bikes.
It's all under the buzzword of "mobility."
Here's Ford CEO Mark Fields in an interview with NPR this week: "We're thinking also of ourselves as a mobility company, which means, how do we make people's lives better, and how do we provide mobility maybe beyond our traditional definition?"
The move is part of a recognition that urban residents are increasingly getting around with services like Uber and Lyft, or just ditching cars entirely. It also comes as automakers are facing pressure—both socially and politically—to go green.
During the height of the United Nations climate-change talks in Paris last week, the heads of 13 global automakers and automotive-technology companies signed a letter pledging a commitment "to the vision of decarbonizing automotive transport." It was one of several business pledges to come on the sidelines of the climate talks, but a significant one given that the U.N. agreement doesn't specifically address transportation.
The automakers' letter promised more work on clean fuels, electric drive, and overhauling manufacturing facilities to reduce pollution. But the CEOs—including the heads of Ford, GM, and Volvo—also promised to work on policies including "better urban planning to reduce travel growth" and addressing congestion.
Or to put it another way: less car ownership.
To make significant strides on sustainability, there's only so much automakers can do with the cars themselves. The internal-combustion engine only has so much leeway on efficiency, and electric cars are only effective to the point that consumers buy them. Which means that to make serious progress on the issue, cars would have to come off the road.
With city residents and millennials making a lifestyle choice not to drive, or at least not to own cars, it's as much a business decision as it is a sustainability push. According to a 2014 study by AlixPartners, car sharing could replace as many as 1.2 million new-car purchases by 2020.
So automakers are taking the cars to consumers. General Motors has launched a car-sharing program with a New York City-based apartment company that allows residents to check out a vehicle from a fleet and park it in participating lots. Ford has a similar program in London that's open to the public, and the company launched a pilot in six U.S. cities with the San Francisco-based start-up Getaround that would let customers rent out their own vehicles.
Alicia Agius, who leads Ford's GoDrive program in London, said the program was designed to be as easy to use as possible, to get a passenger to think of car sharing as just another way to get around in a city where it's not always easy to park or drive.
"It's no secret that the younger demographic has reduced car ownership in recent years. We're looking for ways to engage with that demographic, to engage other than traditional ownership," she said. "Here in London, we've got the Tube [train system], buses, taxis, a bike share, and just walking. How do we add car sharing to that tool kit?"
The work is showing payoff in terms of efficiency. GoDrive has a mix of electric and gas-powered vehicles, but Agius said that the electric cars are getting more play. And the very nature of sharing vehicles is taking away one of the biggest sources of transportation emissions: congestion.
GoDrive has designated parking spaces, and GM's New York program has designated lots, which means drivers aren't circling block after block looking for an open space. And GM last year partnered with Google to encourage employees to carpool in an electric Spark, reducing the number of cars shuttling to the tech giant's Mountain View, California campus.
"Whether you're talking about time lost or air quality, these are nuts that absolutely have to be cracked," said GM's Kosak. "We can focus on things like automation and car sharing … that enable a certain quality of life and sustainability in congested environments."
"It's a potential game changer," said Deron Lovaas, senior policy adviser for urban programs at the Natural Resources Defense Council. "We've seen an interest in tackling climate change by moderating travel demand and activity, but now there are much bigger companies putting their weight behind it—companies that are going to bat for emissions reductions by changing transportation systems, not just vehicle technology."
Transportation accounted for 14 percent of global greenhouse-gas emissions in 2014, according to the Intergovernmental Panel on Climate Change, but there was no specific language in the U.N. climate agreement to tackle emissions from that sector. Individual countries, however, are tackling tailpipe emissions. The Obama administration, for example, doubled fuel-economy standards for light-duty cars and trucks between 2012 and 2025, with a final target of 54.5 miles per gallon.
But sustained low gas prices have blunted the impact of more efficient engines, as consumers are shying away from greener vehicles in favor of big trucks and SUVs. According to an EPA report released this week, the fuel economy for cars sold in 2014 did not improve from the year before, although it remains ahead of schedule under the regulations.
For automakers, though, it would seem a threat to the bottom line for people to pack into one car, or to grab one only for a few minutes when it's convenient. After all, every passenger is someone who's not going to a dealership and buying his or her own vehicle.
"I think it's clear that they don't think they're only in the car-making business anymore. There's an awful lot of other ways to use cars," said Tim Lomax, a research fellow at the Texas A&M University Transportation Institute. "They can get in on the ground floor to help people get where they need. … They know their market, and if they're interested in it, they're making money."
Kosak said that young consumers might well turn into car owners later in life, and he acknowledged that GM can try to hook them early. But for now, he said, the main push is just to figure out how to adapt to a changing world.
"Consumers love automotive mobility and personal mobility," he said. "The trick is to work ... in a different way than in the past—a design-build-sell model. People love personal mobility; we've just got to deliver."