Can Ben Carson Win Back Evangelicals?
Christian conservative voters are drifting away from the Republican candidate.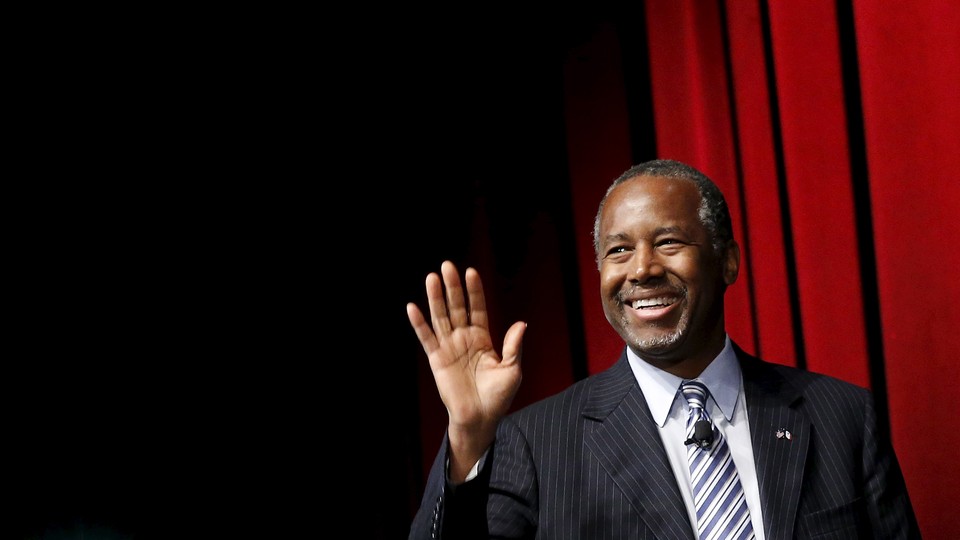 Ben Carson has something to prove.
The retired neurosurgeon has long been a favorite of evangelical voters. But national polls show that support eroding after a month in which Carson was repeatedly forced to defend his life story and his grasp of foreign policy in the wake of deadly Paris terror attacks. As Donald Trump and Ted Cruz pursue his voters, the Carson campaign is attempting to reverse the decline.
The campaign announced endorsements from nearly two dozen evangelical and Christian leaders on Wednesday at an event in Spartanburg, South Carolina. Pastors took to the stage to praise Carson. When the candidate spoke he made a clear appeal to the power of religion. "It's going to be the faith community that will help America once again understand that we do have values and principles. We do have an identity," Carson said.
Not long ago, endorsements from religious leaders might have seemed unnecessary. At the start of November, Carson enjoyed more support from evangelical voters than his rivals. That is no longer the case. A Quinnipiac poll released Wednesday showed a 13 percentage-point drop in support for Carson among white, evangelical, born-again voters in the past month. Trump and Cruz, meanwhile, have pulled ahead within that conservative voting bloc; they are tied with 24 percent, to Carson's 19.
A lot can happen in a month. Media outlets from CNN to Politico to the Wall Street Journal cast doubt on key details of Carson's life story in November, forcing the campaign on the defense. Then The New York Times published a story suggesting that Carson's own advisors doubted his understanding of foreign policy after terrorism in Paris sparked heightened security concerns.
Carson and his campaign blamed media bias for unflattering coverage, and conservative commentators chimed in to agree. But the reports called Carson's credibility as a national leader into question at a moment when foreign policy had suddenly stolen the spotlight. Evangelical voters ranked terrorism as their top concern in picking a Republican nominee in Wednesday's poll results. (Concern over terrorism tied with the economy for first place after jumping 16 percentage points in a month.)
Competition for evangelical votes has been fierce in a crowded Republican field. Trump has trotted out religion on the campaign trail and bragged about his evangelical appeal. ("They do love me," Trump has said). Mike Huckabee and Ted Cruz jostled for the spotlight at a rally for Christian conservative hero Kim Davis. Still, Carson has so far proven a formidable challenger, opening up a lead over Trump among evangelical voters in September.
That lead has now vanished as the Carson campaign struggles to prove his credibility.
Evangelicals are as diverse as any other voting bloc, but on average, they do exhibit some distinctive traits. A report released in May by the Barna Group concluded that evangelical voters pay far more attention to character and religious devotion than to time spent in office or political positions when picking a candidate.
"Evangelicals are a narrative people," Russell Moore, a prominent Southern Baptist leader, told the Washington Post in October. "They resonate with someone who went if not from being 'lost' to 'found,' then at least from poverty to success."
Carson fits that description. The retired neurosurgeon is a self-styled outsider with a popular appeal built on his life story. Religion plays a prominent role in Carson's personal narrative, as he stresses the redeeming power of the Christian faith.
"I can't tell you how many activists have come up to me and said, 'I read Dr. Carson's book,'" former Iowa Republican Party chairman Matt Strawn told the Associated Press. Strawn added that evangelical Christians especially felt that his story helped them "know who Ben Carson is as a man."
Now, voters may be left wondering how much they really know.
Attacks on Carson's credibility haven't just come from the media. During a November campaign rally, Trump attacked the candidate's story of divine intervention. "Give me a break, give me a break. It doesn't happen that way," Trump said. (Trump characterized Carson's religious conversion as "he goes into the bathroom for a couple of hours and he comes out and now he's religious.")
Truth and honesty were much-discussed topics at Carson's religious endorsement event on Wednesday.
"We need a man who is honest. We're living in a very dishonest time," David Berman, a pastor from New Hampshire said. "I'll be so excited to have someone in office that I'd say I trust that this guy's an honest man. For me, that's absolutely the most important thing."
"Ben Carson is one of the most genuine people I've met," said Bobby Schuller, a pastor from California. "That's one of the reasons Ben Carson is resonating."
It won't be easy for Carson to win back Christian conservative voters. Trump and Cruz are working hard to bolster their appeal with evangelicals. Trump held his own meeting with religious leaders on Monday in New York. The event didn't quite go as planned. The campaign initially promised that it would feature public endorsements from black pastors, but later backtracked, calling it a private meeting instead. Yet the real-estate mogul nevertheless emerged undaunted. "There was great love in the room," he declared later.
There are other signals that Carson's campaign faces headwinds. A top fundraiser for the candidate stepped down amid frustration over a failure to make changes to the makeup of the campaign staff, according to the Wall Street Journal.
Carson projected confidence when asked by a reporter if slipping poll numbers were cause for concern on Wednesday. "It's a marathon, it's not a sprint," Carson said, adding: "All I have to do is tell the truth and talk about the things that are important to the American people."