A Year of Black Lives Matter
As the protest movement evolves, activists face pushback and growing pains.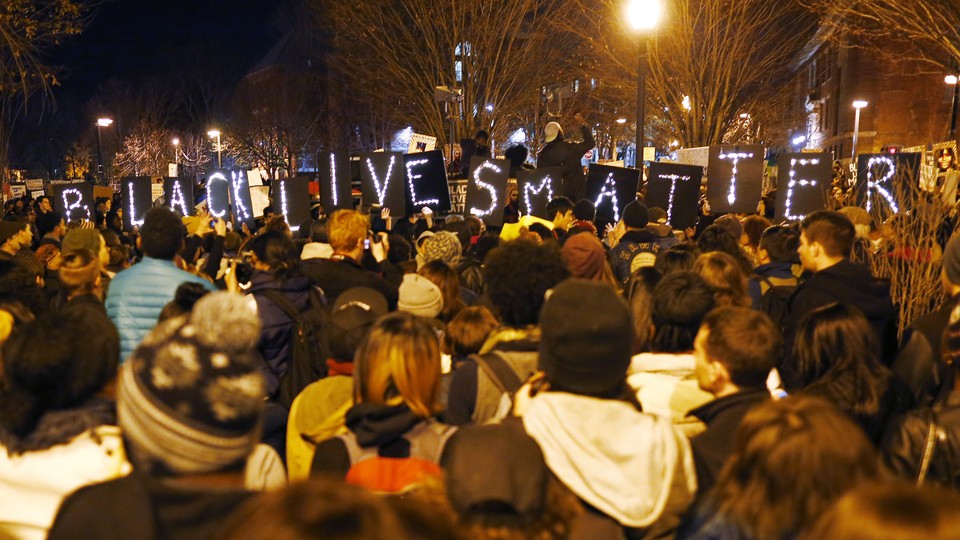 A lot changed in a year. Black Lives Matter, the civil-rights protest movement that rose to prominence after Michael Brown was shot and killed by a police officer in Ferguson, Missouri, expanded its reach onto the campaign trail and college campuses. The movement forced presidential candidates to reckon with a legacy of racism and police brutality. It inspired student protests and demands.
Along the way, the movement provoked backlash, and experienced growing pains. As protestors shout and struggle to make their voices heard, a national conversation of equal intensity is emerging over who belongs in American society—and who doesn't. When Donald Trump supporters attacked a Black Lives Matter protester at a November rally, the Republican presidential candidate responded: "Maybe he should have been roughed up."
Activists are disturbed by the dark turn the election has taken. But backlash against Black Lives Matter is virtually guaranteed to galvanize support for the movement. Videos of deadly encounters between black men and police officers have fueled calls for reform. In much the same way, reports of racial slurs at Trump rallies make it difficult to deny the problem of racism in America.
"It's terrible, but I don't think it's anything different than what's been happening in this country for a long time. This hatred has been normal for a while, it's just been in the shadows," Alicia Garza, one of the co-founders of #BlackLivesMatter, an organization that shares a name with the movement it helps support, said in an interview.
The challenge, for the movement, is to stem the tide of violence against black men and women while working to fix what activists believe is a fragmented and broken society. It's an ambition that won't be easily achieved. But as the movement evolves and expands, it has forced change.
Over the summer, activists began publicly, and unapologetically, disrupting presidential candidates at events and campaign rallies. The strategy got results. Democratic candidates Bernie Sanders and Martin O'Malley rushed to release detailed criminal-justice platforms after high-profile clashes with Black Lives Matter activists. In August, Hillary Clinton convened a meeting with activists who showed up at a New Hampshire campaign event intending to disrupt it.
The confrontations signaled the start of increasingly high-profile political engagement for the decentralized movement. They also laid bare the complicated and tense relationship between the movement and the progressive left. Liberal Americans often assume that voting Democratic and espousing a belief in equality are adequate proofs of solidarity in the fight against racism. In the past year, Black Lives Matter challenged that idea.
Some progressives questioned the logic of targeting politicians who claim to be sympathetic to the cause. What that criticism seemed to miss is that the confrontations were designed to push candidates further than they had been prepared to go. The protests were also a reminder to progressives that simply believing in something isn't sufficient to change the status quo.
"Part of what we need people to understand is that their silence, their complicity, is part of the problem," said Ashley Yates, a Black Lives Matter activist who helped plan and carry out a protest at Netroots Nation, a conference where Sanders and O'Malley were slated to speak in July. "There's an absurd quality to the idea of people telling you to be calm and controlled in your pain. To whisper quietly as you're being killed."
As Black Lives Matter becomes increasingly intertwined with mainstream politics, activists have found people in high places ready and willing to listen to their demands. But that creates new challenges, as activists attempt to engage with a political system they want to change without compromising or capitulating.
"It would be naive not to realize that there is some kind of desire for mutual benefit when candidates agree to sit down and speak with us," said Brittany Packnett, a protester and activist with Campaign Zero, a policy-focused group affiliated with Black Lives Matter, who has met with Sanders and Clinton. "But if we don't take the fight everywhere we won't win. It just means we have to be that much more clear about our intentions, hold that much more integrity when we engage in those spaces."
Deep distrust of established political power has made many in the movement wary of any kind of engagement with either Republicans or Democrats. Still, many activists believe that the election is important. When President Obama leaves office, it will mark the end of an era. There is a sense of urgency over what happens next.
It won't be easy to alter laws and institutions, but there has been political change in the past year. In May, Obama called for an end to transfers of certain kinds of military-style equipment from the federal government to police departments. In December, the Federal Bureau of Investigation announced a new effort to improve its tracking of fatal police shootings. Chicago Mayor Rahm Emanuel and Baltimore Mayor Stephanie Rawlings-Blake fired their police chiefs amid protests over police brutality.
Student protest also reached new heights on college campuses around the country. High-profile protests at the University of Missouri and Yale University over discrimination and racial insensitivity led to resignations at both schools. Civil-rights agitation on college campuses is nothing new. But some movement leaders say the protests are proof of a fundamental shift in the mentality of a younger generation of activists.
"People used to believe that if you go to college and dress the right way, have a certain level of education, you would be spared," said Erika Totten, the cofounder of the Washington, D.C., chapter of Black Lives Matter. "Now there's a growing recognition that that's not the case. College campuses don't shield you from discrimination. Students are waking up en mass and realizing that they have to bring the fight there too."
Critics have characterized student protests as a plea for special treatment that infringes on free speech. Many activists view that as an attempt to dismiss, and shut down, what the movement is trying to achieve, and argue that the criticism operates from a premise that fails to acknowledge profound racial inequity.
"We've seen a continuation of the narrative that demanding that your life has value somehow takes value from someone else," Garza said. "At the most compassionate, it's a denial of the fact that people are not treated equally in our country. At its most nefarious, it's a deliberate distraction, a distortion of reality."
The past year also witnessed tragedy. In June, a gunman killed nine people at a black church in Charleston, South Carolina. 21-year old Dylann Roof reportedly confessed to the shooting, saying that he wanted to incite a "race war."
It was an event that echoed past atrocity. "It takes me back to the time when black churches were burned with impunity in the '60s and '70s," said Opal Tometi, a co-founder of #BlackLivesMatter and the executive director of the Black Alliance for Just Immigration. "Today we have the same type of domestic terrorism on the rise, we aren't supposed to call it that, but that is exactly what it is. We are seeing these white supremacist networks grow and become stronger."
When grand juries declined to deliver an indictment in connection with the deaths of Tamir Rice, a 12-year old who was fatally shot by a police officer while playing with a toy gun, and Sandra Bland, a 28-year old who died in jail after being pulled over for a routine traffic violation, it provoked deep disappointment and outright anger.
Yet even as the legal system has failed to yield outcomes that activists hoped for, the movement has succeeded in focusing intense scrutiny on criminal justice and policing in America.
As activists confront obstacles, the movement has experienced growing pains. Social media has been a powerful tool for activists, but the public nature of the medium makes protestors uniquely vulnerable. Documents obtained by various media outlets through the Freedom of Information Act detail how the Department of Homeland Security monitors the movement on social media. And many activists believe they are under surveillance.
Police officers she has never seen before will sometimes call Ashley Yates by her full name, she says. Yates recalls one instance in which an officer grabbed her arm at a New York protest and referred to her by her Twitter handle, @brownblaze. "It does something to your idea of freedom as an American when you know you're being surveilled," Yates said. "They let you know that they know who you are and they're watching."
Tension among activists has been on display in the past year. Movements derive strength from the fact that different people play different roles—and Black Lives Matter is no exception. But as activists chart different paths, disagreements have erupted over strategy and tactics as well as demands.
One point of contention is whether the movement has adequately responded to the impact of violence against black women and girls. The #SayHerName campaign works to call attention to violent encounters between black women and police. But many activists say that far more needs to be done.
There is also a recognition that Black Lives Matter must build an increasingly sophisticated infrastructure to support its growth.
Some activists are looking to expand the ways the movement engages in politics:  "The movement is evolving and there are different ways that people are working to advance that and make that happen," said Tarik Mohamed, an activist based out of New York City who recently set up a super PAC intended to advance the agenda of Black Lives Matter. "We need to continue to evolve our political voice, and that's what I'm trying to do."
Across the country, Black Lives Matter activists are investing time and effort to recruit and train a legal aid and emergency response network. For the protest movement to survive, a powerful support network will need to be in place.
"We're at a breaking point in this country right now," Yates said. "We got to this moment with people sacrificing and putting their lives on the line and we have to support each other through that. It sounds easy to remember, but sometimes it's hard."