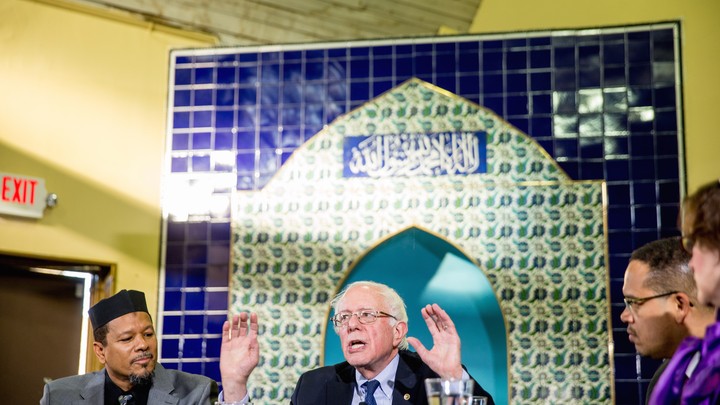 Looking to keep pace in a campaign where security and terrorism have taken center stage, Bernie Sanders took his message to a new setting Wednesday: he visited a mosque.
On Wednesday, the Vermont senator told a small crowd at Washington's Masjid Muhammad (also known as "the Nation's Mosque") that "demagogues" trying to divide the country are acting in "shameful" ways in the wake of the terrorist attacks in Paris and San Bernardino, Calif. He then stressed the strides the country has made to overcome hatred and discrimination in the past.
"Let me begin by stating the obvious: there is enormous anxiety and fear in this country," Sanders said. "Our people are deeply concerned—justly so—about the threats of international terrorism."
Sitting at a table with a coterie of religious leaders from around DC—Imam Talib Shareef of the Nation's Mosque, Rep. Keith Ellison (D-Minn.), Rev. Reginald Green, Rabbi Batya Steinhauf, and Chaplain Abdul-Rasheed Muhammad of the Department of Veterans' Affairs—Sanders spoke about the history of bigotry and urged Americans to avoid letting fear divide them.
"It's no secret that throughout the world and in our own country we have seen centuries of bigotry and intimidation, sometimes with unspeakable results," Sanders said, listing the Holocaust, Rwanda and Bosnia as prime examples of times hateful rhetoric has caused unnecessary and tragic violence.
He denounced the recent rhetoric of "demagogues" when it comes to Muslim immigration, calling out GOP real estate mogul Donald Trump by name and saying the anti-Muslim comments have prompted an increase in hate speech across America.
"Now, at this moment with all of the fears and anxieties people have about terrorism and about the economy, there are demagogues out there: people like Donald Trump who are once again trying to divide us up," he said. "They want us to believe that people from Mexico coming into this country are rapists and criminals. They want us to believe that the average Muslim is a terrorist."
Others on the panel echoed Sanders's concern that "bigotry" has found a place in the headlines in recent weeks. Green, one of the Freedom Riders of the Civil Rights movement, lamented the fact that "we would be at this point in time where bigotry is rearing up its ugly head again." "We cannot afford to out of ignorance let our lives be governed by the ignorance espoused," he added.
Terrorism and national security issues aren't at the core of Sanders's message, and as the national conversation has shifted away from economic issues and toward security he has struggled to maintain momentum. But the senator has come out forcefully in favor of allowing Syrian refugees into the country, an issue he's repeatedly spoken about in recent weeks—and in the days since Trump proposed his ban on Muslim immigration, Sanders has made that a frequent topic as well.
In a nod to the economic populist issues that form the central argument of Sanders's campaign, he on Wednesday also briefly spoke about the economic issues facing families in the United States. "They are also worried about the state of the economy and about the future of their children," he said. "They are worried as to why they are working longer hours and why they find it harder and harder to retire with dignity."
We want to hear what you think about this article. Submit a letter to the editor or write to letters@theatlantic.com.
Emily Schultheis
is a writer based in Berlin with a fellowship from the Institute of Current World Affairs. Her writing has appeared in
Foreign Policy, The Guardian,
and
Politico
, among other publications.