Beneath the Battles, a Congress That Worked
Even as Republicans fought Democrats—and each other—2015 saw the passage of a long list of difficult, wide-ranging bills.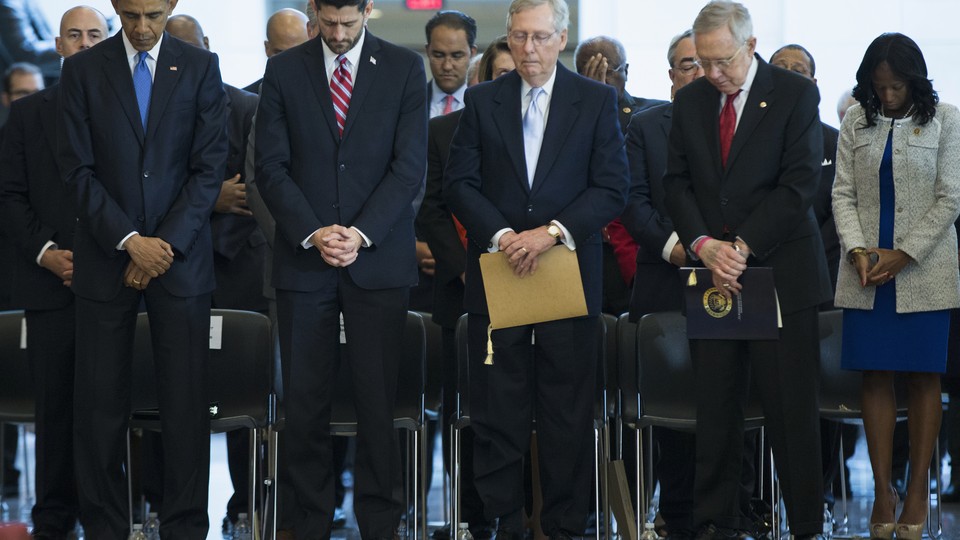 In 2015, House conservatives overthrew Speaker John Boehner. They endangered funding for the Department of Homeland Security, and couldn't move appropriations bills because of a dispute over the Confederate flag. The new Republican Senate stalled for several weeks on a human-trafficking bill over abortion language. And on the august Senate floor, Ted Cruz called his own party leader, Mitch McConnell, a liar.
But even in a year of rancor, the first Congress controlled by Republicans in nine years overcame its own ideological divides to push through several momentous reforms that had bedeviled previous majorities—all under President Obama and with a unified Senate Democratic minority able and willing to block bills.
After delaying its self-imposed deadlines, Congress on Friday finished work on a massive, $1.15 trillion package to fund the government and another $622 billion tax bill that will provide dozens of breaks to benefit businesses, individuals, and families. The end-of-the-year legislation will lift a 40-year-old ban on oil exports and extend solar, wind, child, earned-income, and research and development tax credits. The most significant cybersecurity legislation in years will hitch a ride, as will instructions allowing Capitol Hill sledding.
In its first year, the 114th Congress solved big, entrenched problems, focusing on issues both sides wanted to tackle. After 13 years of No Child Left Behind, Congress passed a major overhaul that will dramatically reduce the federal government's role in U.S. education policy. After a dozen years punting on a flawed formula for Medicare payments for doctors, Congress found a long-term, $200 billion solution. And after a decade of stopgap transportation bills, Congress compromised on a $305 billion fix to the country's groaning infrastructure.
The two parties were able to agree on a budget deal that lifted caps for both defense and discretionary funding and, even more significantly, raise the always-treacherous federal debt ceiling so it does not need to be addressed again until 2017.
It provided Obama and the next president with enhanced trade-negotiating powers, paving the way for historic pacts with Pacific Rim and European countries. It moved the bulk collection of metadata on Americans' phone calls from the National Security Agency to telecom companies. Aside from those unsexy, substantial accomplishments, the GOP-led Congress sent messages to the president's desk—to authorize the Keystone XL pipeline and repeal Obamacare, and their vision of a balanced budget.
"Looking back on it now, when you start ticking all those things off, given what we've been dealing with the past several years, it's pretty remarkable," said Sen. John Thune, a member of GOP leadership. "It's exceeded my expectations about what we could do in a divided government, but consistent with what we hoped would happen when we got the majority."
There are a number of reasons for Congress's successes, which appeared to have zero impact on its lice-like popularity. The GOP leadership promoted issues that met the "art of the possible" criteria. Even Thune acknowledges that many of these bills were "loose ends" left over from previous Congresses, but he still sensed a change in how Congress worked at various points throughout the year, particularly when the Senate Education Committee unanimously passed its K-12 rewrite in April. "This is an example of how this place ought to work," he said.
That bill was a high-water mark. The top legislators—Sens. Lamar Alexander and Patty Murray—steered it on the floor amid dozens of amendments and potentially poisonous proposals before it passed in the Senate and, in an altered form, sailed through the House.
"This could have run off the track many, many times over transgender bathrooms or school vouchers or trying to add a huge early-child education program," said Alexander in an interview. "But Senator Murray is result-oriented, I am as well, and what we decided to do was to find how much we could agree on and do that.
"What we found out is that we could agree on most things," he added.
McConnell and the new House speaker, Paul Ryan, have taken credit for opening up the process in their chambers. McConnell has touted the fact that the Senate has taken up many more roll-call votes on amendments, providing a contrast to the times when conservative Democrats chafed under the grip of former Majority Leader Harry Reid.
"We weren't able to do those other bills that we have done this year in the past because Senator Reid didn't allow the Senate to function," said GOP Sen. Pat Toomey. "You can't do much if a bill is not allowed to be on the floor. You can't do much if there are no amendments. You can't do much if committees aren't allowed to function. And that was the way the Senate was being run."
But Democrats charge that Senate Republicans have strangled the process of confirming nominees, which Senate Democrats changed when they were in power as they decried Republican obstructionism. For the bills Congress has passed this year, Democrats contend that much of it has to do with their relative willingness to cooperate.
"Nearly every major bipartisan bill we have passed this year could have become law in years past if Republicans had not blocked them, obstructed them, filibustered them," said Reid, now minority leader, earlier this month. "I say to my Republican friends, you get no credit for passing legislation now that Republicans blocked then. It doesn't work that way."
Adds Democratic Sen. Joe Manchin, "Harry made a lot of mistakes—and he'd be the first to tell you that, I'm sure—but at least if we see something and we see a pathway forward, the Democrats are willing to move it."
Conservatives also grew frustrated that the GOP-led Congress didn't strip funding from Planned Parenthood after a series of videos from an antiabortion group purported that the organization was illegally selling fetal tissue. Others failed in their effort to bottle up the refugee-vetting process after the Paris terrorist attacks. And some grew exasperated that Republican efforts to boost defense spending required a surge in nondefense spending too. On Thursday, Republican Sen. Mike Lee called the tax and spending bills an "insult to the American people.
"Here we are again: another year of legislative dysfunction capped by an undemocratic, un-republican process that uses the threat of another manufactured crisis to impose on an unwilling country the same broken government policies that have repeatedly failed the people they are supposed to serve," Lee said.
But, of late, the criticism from conservatives has usually been soft or isolated. This week, the House and Senate passed both the tax and spending bills with significant levels of Republican support.
Ironically, Congress's productive 2015 helps ensure a less productive 2016. The decks have now been cleared of several thorny topics that might have jumbled next year's calendar. Several other important, complex issues worthy of congressional attention—like immigration and tax reform, and passing new authorization to fight the Islamic State—appear doomed to fade in the bright glare of a presidential-election year. Many on Capitol Hill are therefore setting their sights even farther ahead—to 2017.
This article has been updated.