The Collapse of the Carson Campaign
If it wants to make changes to help Carson rebound, it'd better make them quietly.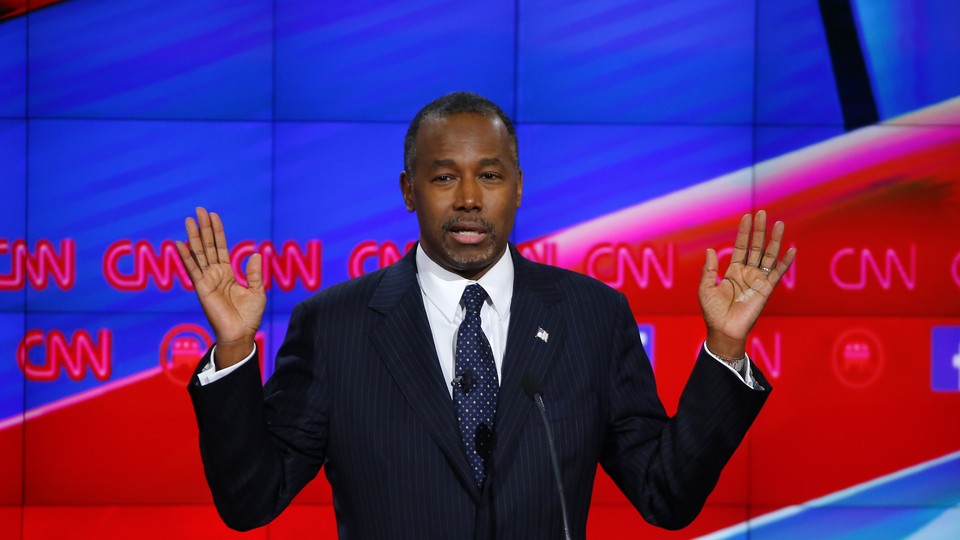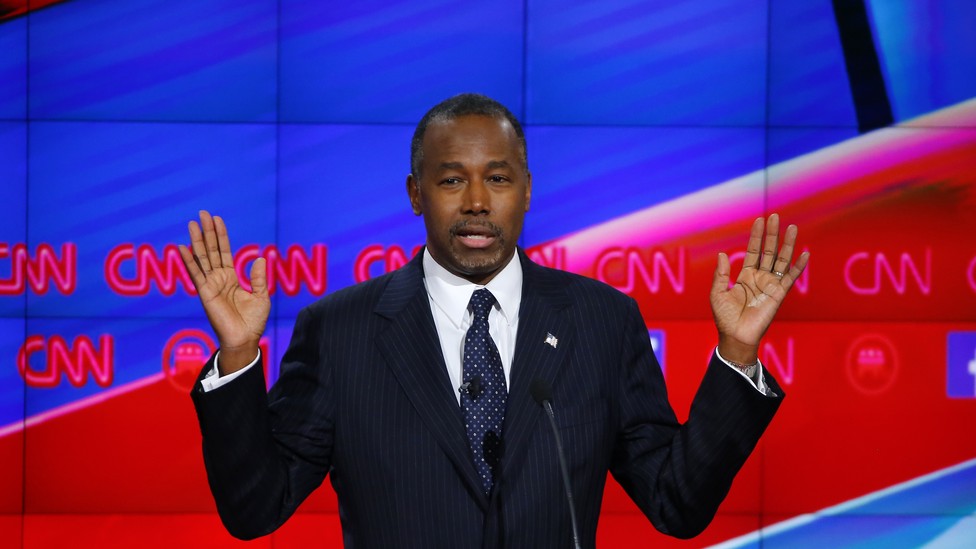 When Ben Carson appeared on CNN Wednesday night to defend his campaign's management, he praised his staffers' ability to shape him into a candidate. But his campaign still requires a boost after being rattled by dysfunction within.
"I would wonder who else could get someone who is an outsider, who has no organization, to this point, this quickly," Carson told Don Lemon, who'd asked him about reports suggesting Carson planned to shake up his staff.
If Carson is suggesting his staff has crafted a true presidential campaign—one that helps control its candidate's message and trains him on major issues, with the White House in its sight—he's kidding himself.
Presidential campaigns require discipline and structure, and any public displays of infighting and mismanagement should be avoided. But Carson's camp has had a tough time reining in news of its instability.
That was no more obvious than on Wednesday, when Carson told reporters from both The Washington Post and the Associated Press that he was dissatisfied with the management of his campaign, and that "everything"—including staffers' jobs—"is on the table." He'd apparently done so without tipping off his top staffers that he planned on talking to the press. But by the afternoon, Carson had had a change of heart: He was 100 percent confident in the team, he said in a statement, and he told Lemon that the Post had peddled in untruths. Though "we're always going to be evaluating how people are performing," he said, any suggestion of a planned staff "shakeup" was incorrect.
Wednesday's news was just the very public culmination of other very public problems the Carson campaign has had, even beyond the fighting in his camp. During interviews and debates, the candidate can appear lethargic and unprepared, particularly on foreign policy issues, a striking contrast to the confidence of his fellow outsider candidates Carly Fiorina and Donald Trump. (He's tried to change perception of his foreign-policy knowledge by establishing a national-security team and visiting Syrian refugees in Jordan.)
Carson has received backlash for his campaign scheduling: He took more than three weeks off in the fall to go on a book tour. That move fueled two lines of criticism at once, neither of which were a good look for the campaign: that Carson was running for president to sell books and make a personal profit, or that the tour helped him indirectly raise money for the campaign. A super PAC supporting Carson didn't help assuage concerns about the latter issue: It planted volunteers at signings to get personal information from supporters. "Dr. Carson is doing book signings (mostly in early voting states) because it gives him a chance to meet and connect with voters one-on-one," the super PAC chairman told supporters.
At the heart of Carson's personal worries about his campaign is its finances; he told CNN he's concerned his staffers' salaries don't mesh with their job tasks, and he told the Post he wants "more efficiency in terms of the way money is utilized." His concerns may not be unwarranted. As my colleague David Graham reported in late October, Carson hadn't had any problem raising significant amounts of money. But the campaign had a high burn rate, spending money on pricey fundraising outreach like direct mail. Contrast that with Hillary Clinton, who also had a high burn rate at the time but whose spending on "media buys, payroll, and online advertising [is] designed to build a real campaign infrastructure and future strategy."
Carson's poll numbers have sagged since their mid-fall high as his campaign dysfunction continues to make news. If his staffers do aim to make changes to turn those numbers around, they'd be better advised to do so quietly.