Baltimore: Diminishing Democratic Power But Central to Senate Race
Van Hollen and Edwards are working to secure support for their Senate bids in the home of a third of the state's Democrats.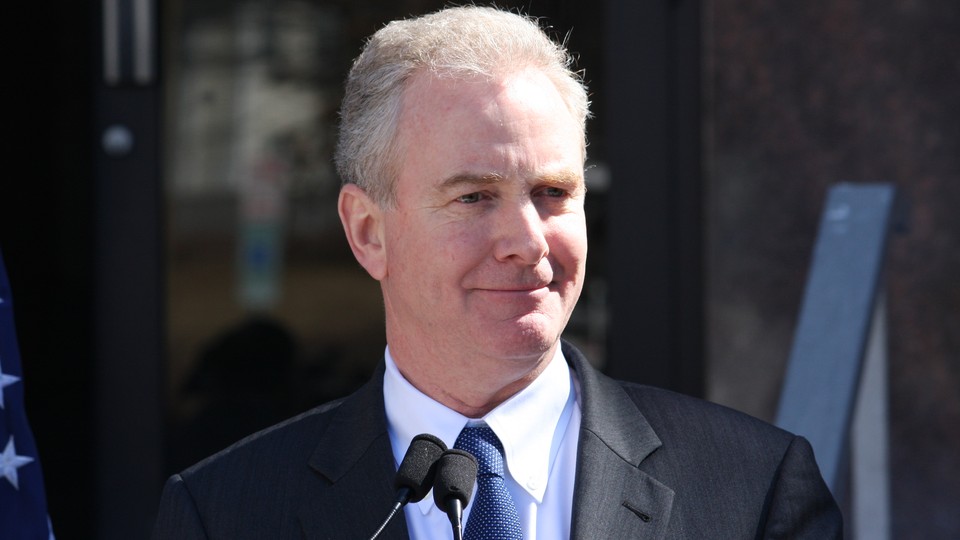 Baltimore is yet again the epicenter of Maryland's statewide politics, but this time it's thanks to a geographical quirk in next year's Democratic Senate primary.
After three decades of senators and two governors hailing from the state's largest city, Baltimore's significance in 2016 instead stems from its lack of a homegrown candidate. The two front-runners for Senate, Reps. Chris Van Hollen and Donna Edwards, both represent districts in Washington's booming suburbs.
With TV ads, campaign office openings and endorsement rollouts, the candidates are making aggressive plays for vital Democratic voters who might have otherwise backed Baltimore-area Rep. Elijah Cummings, who is not expected to run. Fittingly, it's a fight for Charm City in the race to replace retiring Sen. Barbara Mikulski, who has deep roots in East Baltimore.
"The reason why Baltimore has become so particularly important is that neither of the two primary candidates have a long record in Baltimore, therefore they're not well-known, and therefore they're introducing themselves to Baltimore voters," said Maryland Sen. Ben Cardin, a Baltimore native. "So ... how they go about doing that could become pretty important in this election."
As The Baltimore Sun reported last month, the two candidates had recently spent more time in the Baltimore region than any other part of the state. The Sun also noted that Baltimore City and its surrounding counties accounted for more than a third of the state's Democratic primary vote in 2012.
The same forces that caused Maryland to turn deeply blue have also moved the Democratic power center south. Van Hollen and Edwards' bases are in Montgomery and Prince George's counties, respectively, the largest Democratic population in the state as minorities have moved out of Washington.
Maryland has had two Baltimore-based senators since 1987, with Mikulski, Cardin, and Cardin's predecessor, Paul Sarbanes. That streak is set to end, with Baltimore-area Reps. Dutch Rup­pers­ber­ger and John Sarbanes and Baltimore Mayor Stephanie Rawlings-Blake declining to seek the seat.
Ruppersberger cited Baltimore roots and intimate knowledge of the city's needs as the reason he and others pondered the race.
"Those of us who are homegrown from Baltimore—grew up in this area—knows there are a lot of issues that need to be dealt with here, and that's why Elijah and I, I know, were very, very seriously considering running for the position," Ruppersberger said.
Despite reports to the contrary, Cummings, who has represented downtown Baltimore for 10 terms, said in a brief interview this week he has not made a decision yet. He cited his polling showing him in the lead.
Cummings would be an obvious frontrunner if he jumped in the race, with significant name ID both in his hometown and across the state, thanks to his high-profile position on the Benghazi committee. Early polling consistently showed him ahead of Van Hollen and Edwards in a three-way primary.
But his fundraising doesn't reflect a candidate ramping up for a bid. Cummings raised $136,000 in the third quarter and ended September with just under $1 million on hand — hardly an imposing sum.
Alternatively, Van Hollen and Edwards have been investing significant resources in recent months to argue they are uniquely suited to make Baltimore's case in the Senate. And Van Hollen is so far outgunning Edwards on most every quantifiable metric of campaign strength.
He has a significant cash advantage with $4 million in the bank, 10 times what Edwards had on hand. He has also aired three TV ads in the Baltimore media market, with the first calling him the "son of a Baltimore native."
He also recently rolled out endorsements from a number of lawmakers in city and state government, and highlighted his ties to the city in an interview with National Journal.
"My father's family is from Baltimore," Van Hollen said. "I worked for William Donald Schaefer, who of course was mayor of Baltimore and then governor of Maryland. And when you work for Gov. Schaefer, you have the health of Baltimore City on your mind."
Van Hollen's air war for the unclaimed Baltimore hasn't gone unanswered. EMILY's List, which backs female candidates who support abortion rights, recently launched a $1 million multimedia ad campaign there for Edwards. In the TV ad, a narrator describes her as someone who "knows what it's like to struggle" and "put that back­bone to work for us."
"The fact that she's an African-American woman means she understands firsthand this experience, as to what the issues are," said state Del. Barbara Robinson, an Edwards supporter who represents parts of Baltimore northwest of the Inner Harbor. "When people close their eyes and say there's no racial divide in America, they're either asleep or disillusioned, because there is."
After the massive riots in Baltimore in the spring and with the first of the police officers charged in the death of Freddie Gray now in court, Edwards is making a clear connection with the city's voters.
"I am the mother of a black child, of a young man," Edwards told an assembled crowd at her Baltimore office's opening in November. "I will be the only one in the United States Senate who understands what it means to worry about my child going out onto the street, to worry about my son if he's stopped by law enforcement.
"And that's not saying there aren't great law-enforcement officers out there. But we know what happened."