A Tense Baltimore Braces for a Verdict
Police officers are preparing to quell disturbances, while activists vow to press their case for justice.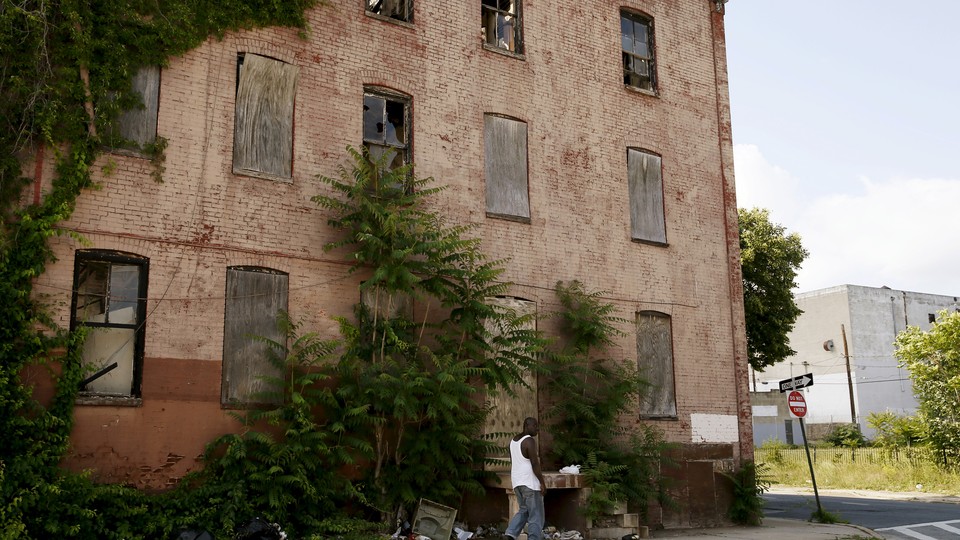 As the jury prepares to deliver a verdict in the trial of the first of six police officers charged in the death of Freddie Gray, the Baltimore police department is taking pains to reach out to the community and signal that it is ready to respond to any outcome, including protest. Community activists, meanwhile, say that distrust of the police still runs deep. Some are promising to return to the streets if the courts cannot deliver the justice they seek.
The death of the 25-year-old Gray in police custody sparked intense protest in Baltimore last April. As rioting escalated, Maryland Governor Larry Hogan declared a state of emergency. The National Guard was called in to quell unrest. Along with other high-profile confrontations between black men like Michael Brown and Eric Garner and police officers, Gray's death has fueled a national protest movement against police brutality.
A verdict could arrive as soon as Tuesday for William Porter, one of the police officers who stands trial in the case.  Activists who want to see a conviction intend to make their voices heard no matter what the outcome.
"We're preparing to be out there and once we hear the verdict, we'll react," said Sharon Black, an organizer with the Baltimore People's Power Assembly, a coalition of activists fighting police brutality. "We have no way of predicting things, but all I can say is the underlying structural problems that led to the uprising in April, those things have not changed."
The memory of the riots are seared into the minds of city residents. And after facing criticism for its handling of the protests, the Baltimore Police Department is making an effort to show it is prepared to respond to any scenario this time around.
Police Commissioner Kevin Davis announced last week that officers would not be permitted to take leave Monday through Friday. "The community has an expectation for us to be prepared," Davis said in a statement explaining the move. The police department has also set up a joint information center in an effort to improve communication across government and throughout the community.
"Too many of our stakeholders here in Baltimore were getting information from the national news as opposed to getting it from the local government or the local police department [in April] so we've learned from some of those opportunities a better way to get people information," T.J. Smith, a department spokesperson, said.
"We hope that there will not be any kind of rioting or unrest. This is just a way to communicate information," Smith added.
The stakes are high. As the Baltimore jury prepares to decide the fate of the first officer to stand trial in the death of Freddie Gray, protesters in cities like Chicago and Minneapolis have taken to the streets to demand accountability for police brutality. Activists in Baltimore say the outcome of the trial—and what happens afterward—will send a powerful message to protestors across the country.
"The verdict will reverberate widely because people are looking right now to see if the system is responding when it is challenged," Black said. "You never know what will be the spark that will cause people to do something or start another rebellion."
A conviction in the case would show that police brutality will not go unpunished, activists believe. But that aspiration won't be easy to realize. Statistics show that police officers are not commonly charged with criminal misconduct. Convictions are even more rare. If one does not materialize, organizers may protest in an attempt to force change.
"There's a negative connotation to rioting, but we characterize what happened then as a rebellion," Black said referring to the April protests. "I find it really hard to equate the life of a young man with a broken police cruiser window or with a building burning down. The anger was so deep that it exploded in rage. And now, people want action."