As Shutdown Clock Ticks, Parties Trade Barbs Over Omnibus
Neither House Democrats nor Republicans believe the other side is making good-faith efforts to reach a deal.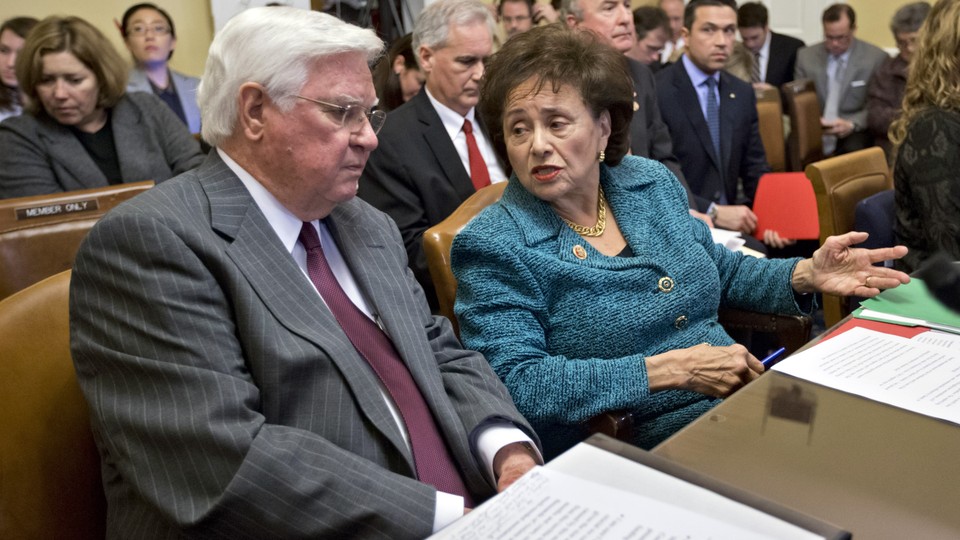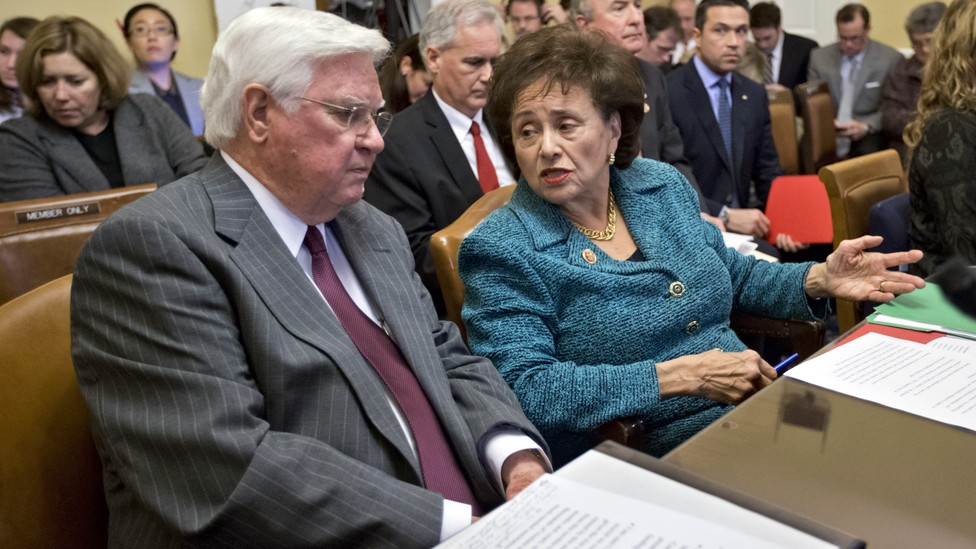 Nine days from a government shutdown, Republicans and Democrats are trading accusations faster than legislative offers, as negotiators hope to get talks back on track to pass a massive omnibus appropriations spending bill and fund the government past Dec. 11.
House Appropriations Committee Chairman Harold Rogers suggested that Democrats are slow-walking the process and noted that as of Wednesday evening, he has not heard back from his counterparts after sending them an initial offer Tuesday evening.
"The ball is in their court. We sent them last night a global bill and we've not heard anything back," Rogers said. "When we negotiate in good faith, we can get things done, and I've not seen that yet."
Democrats, however, said the GOP offer was anything but a good-faith effort. Democrats decried riders dealing with Wall Street, environmental regulations, and Syrian refugees.
Rep. Nita Lowey, the ranking member on the Appropriations Committee and a key Democratic negotiator, said she had initially been optimistic about the talks but was dismayed by the initial GOP proposal. "Their offer wasn't real," she said. "We couldn't accept it. They know we couldn't accept it."
Democrats are working on a blueprint of their own that they planned to release as soon as Wednesday evening, she added. "We are presenting a counteroffer that we think is real, and if they don't want to shut down the government, and if they do want to get our support, then they will sit down and work on a final proposal, and I hope that time will come before Dec. 11."
Part of the issue holding up the process is that House Minority Leader Nancy Pelosi is facing pressure from her members not to give too much. Progressives were encouraged by Pelosi's public rejection of the GOP plan, believing that it's a sign she's taken to heart their concerns that Democratic defectors have enabled Republicans to pass harmful riders in past negotiations that have slowly chipped away at some of their priorities, particularly in the financial and environmental sectors.
"It's a creeping strategy, and it's an effective one that the Republicans have used," said Rep. Raul Grijalva, cochair of the Congressional Progressive Caucus. "Look, we just can't as a caucus continue to say, 'vote your own conscience', because it's getting to the point where we're in a corner."
Republicans, however, see it differently. To them, raising the overall funding levels that had been capped by sequestration was already a move toward Democrats. Now, instead of passing a continuing resolution at those sequestration levels, Republicans are asking for legislative riders to entice GOP votes for a bill that essentially raises federal spending.
"There's a little bit of bluffing going on, but there's also an effort to find what you really can't give on and what can you really give on," Republican appropriator Tom Cole said. "From our standpoint, they've gotten a victory on the money side, we gave on that. Time for you to give something."
Congressional negotiators are still hopeful that text of a final omnibus bill could be released by Monday and the legislation passed by the Dec. 11 deadline, despite the unusual public spat over private negotiations. But time is running short.
Republicans will meet privately Thursday to discuss the omnibus negotiations. Among the outstanding issues spurring interest on both sides is one that came to light after the ISIS attacks in Paris last month. GOP negotiators included in their initial offer a measure to tighten the vetting process on Syrian refugees and require sign-off on each refugee by administration officials. An identical bill passed the House last month, but Democratic leaders have decried it, and the Obama administration issued a veto threat. Still, many Republicans believe that since 47 Democrats voted for the bill, it should be impossible for them to call it a poison pill.
"I think the bill we have is reasonable," Cole said. "We didn't try to put in religious tests. We just said, 'Tell us it's safe.' And if you're not willing to put your fingerprints on that, then we shouldn't be letting somebody in."
The GOP may be able to attract some cross-aisle support. Rep. Gerald Connolly conceded that he, as well as the other Democrats who voted for refugee legislation two weeks ago, would find it difficult to make that a reason to vote against the omnibus.
But behind the scenes, Republican members and aides are entertaining the possibility that the final legislation could pass without the refugee measure. Members and staff have instead been setting their sights on tightening border controls on those traveling from visa-waiver countries—either in the omnibus or as a stand-alone bill as soon as next week.
The same may end up being true for measures sought by Republicans to restrict funding for Planned Parenthood. Some Republicans had been pushing leaders to include a measure that would allow states to send money appropriated for Planned Parenthood to other community health clinics. But Planned Parenthood was left out of Republicans' first offer.
That could irk some conservatives who only months ago pushed leaders to try to strip federal funding from the organization, but it does make clear that House Republican leaders do not expect to pass a bill with only GOP votes. That comes despite assertions from House conservatives that they could be persuaded to support an omnibus if certain riders are included.
"The question is this, what would it take to get to yes?" House Freedom Caucus member Mick Mulvaney said. "There are some of us who voted against Ryan-Murray three years ago, but for the omnibus that grew out of Ryan-Murray because of the riders."
But Republican leaders recognize that the Obama administration has singled out the Planned Parenthood riders as objectionable several times, and would be unlikely to sign a bill targeting the agency. Republicans have other avenues to address the issue, with the House recently empaneling a special committee to investigate Planned Parenthood and the Senate targeting the organization in its reconciliation package that will also seek to repeal Obamacare.
Meanwhile, the bill continues a longstanding antiabortion rider that restricts the use of some federal funding for the procedure, barring cases of incest and rape or if the life of the mother is in jeopardy. Republican Study Committee Chairman Bill Flores said that should be enough for many Republicans.
"There are other pro-life provisions that are OK," Flores said. "We're about protecting life. It doesn't have to say 'Planned Parenthood' on it; so as long as we have pro-life provisions, we're fine."
---
Alex Brown contributed to this article