As Congress Nears the Exit, Will the Planet Get a Good Deal?
Environmentalists are worried about the idea of lifting the oil export ban. But they would also get tax provisions they've long sought.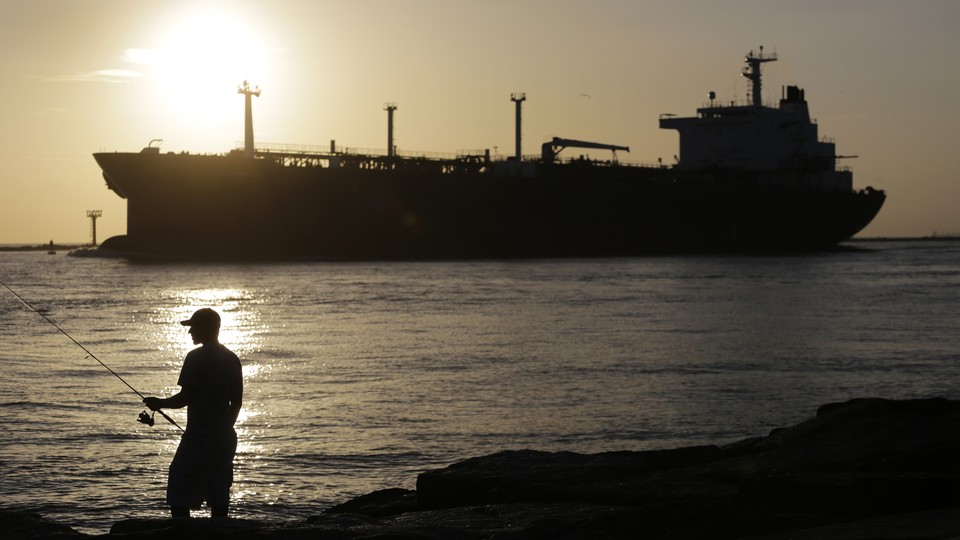 Green activists are dismayed that the big spending and tax package lurching toward completion in Congress might give the petroleum industry a huge win: ending the decades-old ban on U.S. crude-oil exports.
It's a possibility that grabbed the attention of environmentalists otherwise consumed with the (now-completed) global climate negotiations in Paris. And the anti-export Democratic Sen. Edward Markey recently put it in stark terms on Twitter: "The only thing worse than continuing to deny #climatechange would be to lift the #oil export ban."
But will the emerging deal—now likely to be passed out of both chambers by Thursday or Friday—really be bad for the planet? Democrats want long-term extensions of lapsed or soon-to-expire tax incentives for renewable electricity projects, among other concessions, with talk of a five- to 10-year boost.
Asked Monday whether lifting the export ban would be included, Senate Majority Whip John Cornyn said: "I certainly hope so. They're asking for the sun and the moon and the aurora borealis in exchange for it, though. So that's causing some problems."
Those demands, if met, would provide a win for advocates in speeding the expansion of green electricity.
And consider that a number of experts believe opening up the taps to U.S. crude-oil exports, in and of itself, would likely have little effect on greenhouse-gas emissions, even though it could eventually boost U.S. output as prices rebound and the spread between the U.S. price and higher prices that producers can fetch on global markets widens again.
Alan Krupnick, a senior fellow with the nonpartisan environmental think tank Resources For the Future, says that prices drive global oil demand. "The carbon emissions are determined by the demand," he said. "It is hard to see how this would have much of an effect on carbon emissions."
Rob Barnett, a senior analyst with Bloomberg Intelligence, has a similar analysis. "When you think about lifting the export ban, that in and of itself is very unlikely to move the needle on global oil demand very much," Barnett told National Journal. "It is not a demand-based policy. Most of the emissions occur at the tailpipe."
However, he cautioned against dismissing green groups' arguments about the effects of removing the ban out of hand, noting it's part of a broader anti-fossil fuels stance that in sum can have an effect, even if no single policy or piece of infrastructure by itself has a big impact.
Meanwhile, tax credits for wind and solar projects remain very important tools to expand deployment of those sources in the U.S., despite falling costs for those technologies. They have historically had a major effect on the amount of new wind projects in the U.S., and that's expected to continue to be the case.
And when it comes to fast-growing solar energy (which, to be sure, remains a tiny fraction of U.S. power), the effect of investment tax credits scheduled to lapse or be substantially cut in one year is also huge.
Madeline Yozwiak, a senior analyst with another analytical arm of Bloomberg—Bloomberg New Energy Finance—has estimated the effect of a five-year extension of the solar tax credits. She said it would lead to an additional 22 gigawatts of solar development over five years beyond what would be built anyway if the incentive lapses.
That's a lot. At the end of last year, the total amount of U.S. solar energy capacity was 19 gigawatts. "It's essentially equal to adding the entire installed base over again," Yozwiak said.
The trade-off is tough to gauge. That's in part because oil is predominately used as a transportation fuel worldwide, while wind and solar energy are electricity sources. The U.S. scarcely uses any oil in its electricity system.
But environmentalists argue that lifting the export ban would be terrible from a climate perspective.
The effect of ending the heavy restrictions on U.S. crude-oil exports—first imposed in the 1970s in the wake of the Arab oil embargo—depends on several factors, including movement in the difference in prices in the U.S. and global markets.
A major oil-industry backed report last year and a 2015 analysis by the federal Energy Information Administration conclude that ending the de facto ban could boost production by an additional 500,000 barrels per day over the next five to 10 years.
Steve Kretzmann, executive director of the green advocacy group Oil Change International, argues that additional production will boost emissions. He said that oil markets have undergone a major change that makes the added production spurred by lifting the ban especially important.
Kretzmann says that OPEC's refusal to cut output despite the collapse in crude-oil prices since mid-2014 has upended the idea that additional barrels on the market from one region will be displaced by scaled-back development elsewhere. "Additional barrels produced on our end are additional barrels produced, which means more emissions," he said in an interview. "You can't just dismiss that out of hand."
He argues that the need to steeply cut global carbon emissions to avoid the most dangerous effects of climate change means that it's not enough take backward steps even if it's in return for the benefits of extended green-energy tax incentives. He likens it, at best, to taking four steps forward and three steps back. "We have to be going 20 steps forward, not a net of plus-one," he said.
In addition, he argues that for the U.S. to remove the restrictions now would send precisely the wrong message after the just-concluded Paris summit that produced a new global climate pact.
"It's very clear from the science that we have to reduce fossil emissions as soon as possible, and that meant that carbon is going to have to stay in the ground somewhere," Kretzmann said.
"It is going to be very hard for us to tell developing nations and others around the world that they should keep their carbon in the ground when we, immediately following Paris, turned around and encouraged pulling a lot more of our carbon out of the ground."
The White House, meanwhile, has opposed stand-alone legislation to lift the ban and says it should maintain administrative discretion over the issue. But the administration has not drawn a red line publicly against its inclusion in a broader year-end package.
---
Alex Rogers contributed to this article