Another Primary Brews in Cantor's Former District
The race could be decided along the same fault lines of the biggest upset in 2014.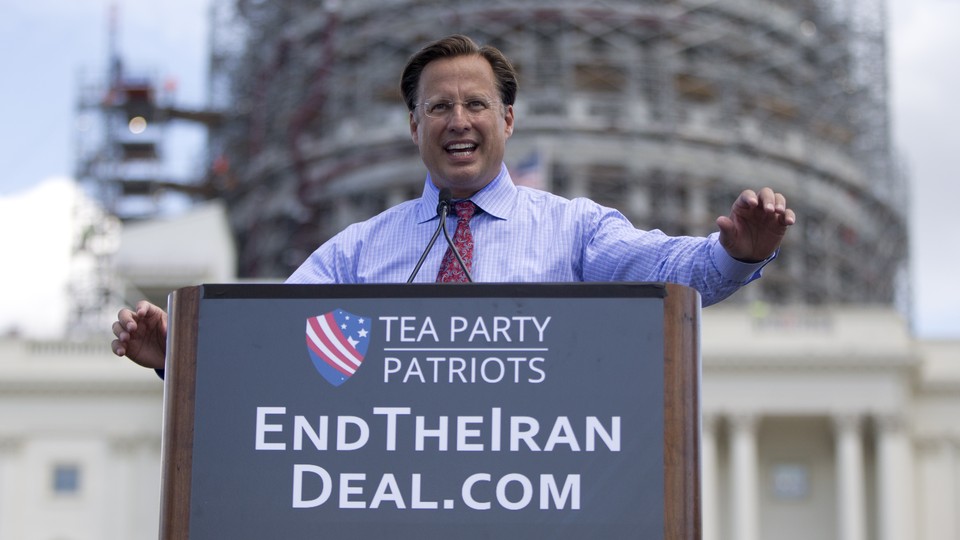 Allies of Dave Brat are wasting no time highlighting ties between a newly surfaced potential challenger and Eric Cantor, the former House majority leader that Brat unseated in a primary last year.
Establishment-aligned Republicans are embracing the potential candidacy of Henrico County Sheriff Mike Wade, who is strongly considering a challenge to Brat in the Richmond-area 7th District.
Cantor allies shoot down the idea of a coordinated effort to coalesce behind Wade. But a Brat-Wade match-up is likely to fall along last cycle's establishment-versus-tea-party fault lines, and Brat supporters undoubtedly see an advantage in pointing out any links to Cantor.
"Mike Wade was the enforcer for the Cantor machine," said Zachary Werrell, the architect behind Brat's win last year.
Brat, a member of the conservative House Freedom Caucus, was swept into office last year with an anti-Cantor, antiestablishment narrative, rocking both the state party and Capitol Hill. With tensions still high from that race, Republicans say it's natural that former Cantor supporters would turn to an alternative candidate.
And in Wade, they see an ally with some obvious Cantor connections: Cantor's longtime chief of staff, Kristi Way, managed Wade's first election; Wade's current adviser, Alec Thomas, was Cantor's 2012 field director; and Wade and Cantor share the same political base of Henrico County.
"Eric had a group of county leaders and people who followed him who Wade picks up instantly," said former Rep. Tom Davis, who represented Northern Virginia for 14 years and chaired the National Republican Congressional Committee when Cantor was first elected in 2000. "Basically, the Cantor people who were stunned in the last race would certainly be with him."
In a brief interview in the Capitol, Brat wouldn't speculate on Cantor-Wade connections, saying, "We'll see about that."
"I'm just going to do my job, keep my word, tell the truth to my constituents, and I think they will reward me for doing that," Brat said.
Wade's team insists their focus would remain on the sheriff's record, not Cantor.
"This isn't a Cantor-revenge campaign," Thomas said, adding that Wade hasn't discussed the race with the former congressman. "If the sheriff does decide to run, it will be Wade versus Brat."
Still, Cantor allies have begun heaping praise on the longtime sheriff.
"If Mike decides to run, I think he'd be a very formidable opponent," said Linwood Cobb, the former GOP chairman of the 7th District and a Cantor ally. "He's got a lot of years of experience of managing a large operation. ... Mike is about getting things done, not going up somewhere and being a stonewall."
Cobb, whose reelection defeat foreshadowed Cantor's shocking loss a month later, and other Virginia Republicans pushed back against the idea that Wade would inherit Cantor's apparatus. But privately, knowledgeable Republicans spoke more bluntly about the pair's connections to each other.
"Cantor has a very strong network in the Richmond area, and his footprint is pretty large," said one Virginia Republican, granted anonymity to speak candidly. "Wade's been around for a long time. He clearly has a relationship with Cantor."
Cantor did not respond to emails from National Journal seeking comment. But in a sign that establishment forces are ramping up, the Virginia Conservative Network, an organization formed by Cantor allies to counter the tea-party-linked Conservative Fellowship in the state party, held a shadow event last weekend that coincided with the Virginia GOP's annual gathering, The Washington Post reported.
A second Virginia Republican said Cantor's former political operation — ranging from his fundraisers to allies on the state party central committee — remains in place and ready to mobilize behind a candidate.
"They were flying in formation and the leader of the squadron got shot down," the Republican said, referring to Cantor. "But the rest of the airplanes are still in motion and continuing in the same direction."
The filing deadline for congressional candidates in Virginia is March 31, and the primary is set for June 14.
But looming over the potential primary showdown is Virginia's ongoing redistricting case, which has thrown the state's congressional map into confusion. The Supreme Court announced last month that it would review whether Virginia lawmakers improperly considered race when drawing congressional districts by packing black voters into one Democratic-held district. Days after, a special master appointed by a lower court released two proposals.
Last year, Brat benefited from a district that became more rural and conservative after redistricting. But under one plan devised by a court-ordered mapmaker, one of Brat's bases, Hanover County, would be swapped with the more moderate Powhatan County, potentially boosting an establishment-aligned candidate.
Depending on how the lines are drawn, some Republicans speculate that Rep. Randy Forbes could challenge Brat, especially if his 4th District becomes more Democratic-leaning and a chunk of his base is added to Brat's district. Thomas said that scenario was unlikely. Forbes' campaign did not respond to a request for comment from National Journal.
If the race does end up a battle between Brat and Wade, Republicans say Wade will have to run on his own record to win.
"It's going to be more anti-Brat to begin with, or pro-Eric initially," said Republican former state Del. Chris Saxman, who leads the business advocacy group Virginia Free. "At the end of the day ... it has to be pro-Wade."