Amid Paris Frenzy, Sanders Goes Even Bigger on Climate Change
Sanders' new platform envisions steeper long-term carbon cuts and tougher auto mileage rules than Obama has pledged.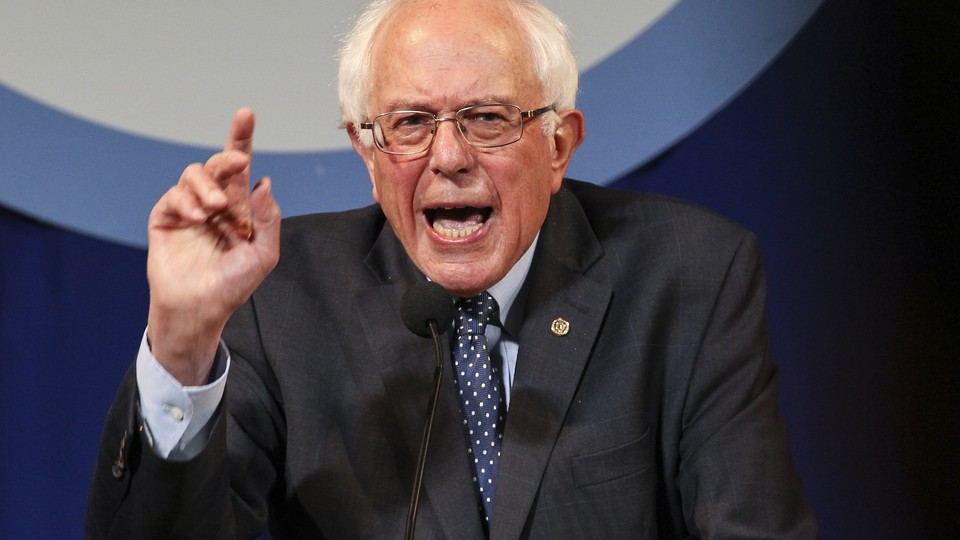 Bernie Sanders didn't join the Democratic Senate delegation that just visited the global climate talks in Paris, where the 10 lawmakers tried to publicly reassure other nations that Republicans don't have the political muscle to unwind President Obama's carbon-cutting pledges.
But that hardly means the challenger to front-runner Hillary Clinton doesn't want to be heard as the talks to craft an accord head into their final stages this week.
Sanders' campaign has unveiled a wide-ranging climate-change platform. The document—a blend of policy and polemic—is stuffed with reminders that he's among Capitol Hill's most aggressive advocates of slashing carbon emissions, even if that record wasn't enough to win the support of the major green group that backed Clinton last month.
One somewhat minor section of the plan actually name-checks the Paris deal—or rather, the near-universal acknowledgement that the carbon-emissions-cutting vows of the U.S., China, and other nations in Paris won't hold the rise in global temperatures to 2 degrees Celsius above pre-industrial levels, a benchmark for avoiding the most dangerous levels of climate change.
His platform calls the talks an "important milestone," but adds that even if they go well, the summit won't put the world on a path to avoid the most catastrophic changes.
"We must think beyond Paris. In the first 100 days of Bernie's presidency, he will convene a summit of the world's best climate experts to chart a course toward the healthy future we all want for our families and communities," the plan states, vowing to bring together the "world's best engineers, climate scientists, policy experts, activists, and indigenous communities."
The plan, however, goes far beyond a pledge to get people in a room talking.
He's vowing to put in place policies that would slash U.S. carbon-dioxide emissions by 40 percent by 2030 and 80 percent by 2050.
That's well beyond Obama's vow in international climate talks to ensure policies that cut emissions by 26-28 percent by 2025. (That's especially true because Sanders cuts are based on 1990 emissions levels, while Obama's baseline is 2005, when emissions were higher. Simply put, Sanders is vowing deeper cuts from a lower starting point).
Sanders' plan offers a suite of policies for getting the U.S. on that emissions pathway, and envisions "an economy powered by more than 80 percent clean-energy sources by 2050."
Some of them would require congressional action, including his proposal for a tax on carbon emissions; doing away with a suite of fossil-fuel-industry tax breaks (though these breaks have already withstood years of Democratic onslaughts); and making "massive investments in energy efficiency and clean, sustainable energy such as wind and solar power."
But other elements would use executive powers. Sanders says he would ratchet up fuel economy standards for cars and light trucks to an average of 65 miles per gallon in 2025. Obama administration regulations will require a fleetwide average of 54.5 miles per gallon by that year.
He also wants to thwart exports of liquefied natural gas, although regulators have already blessed a number of projects in recent years, and Sanders opposes calls to relax the decades-old, de facto ban on crude oil exports.
Overall, the platform signals that while the front-running Clinton has offered some aggressive steps on energy and climate, such as an expansive solar-power plan and opposition to Arctic offshore drilling, Sanders remains to her left on energy and the environment.
Elsewhere, the plan mirrors legislation Sanders recently floated that would bar the federal government from offering new drilling leases offshore and on public lands.
There are also vows to invest billions of dollars in modern power grids, high-speed rail, charging infrastructure for electric cars, and other low-carbon tech.
Another element of the plan is designed to provide a "just transition" for fossil-fuel-industry workers during the shift to renewable energy sources. Sanders is vowing legislation to provide a "comprehensive package of benefits for workers, including extended unemployment benefits, education opportunities, health care, and job training for those transitioning to a career in the clean-energy industry."
While Sanders has long been active on climate change, the new plan sounds familiar notes from him even for people who don't track energy and climate policy. It's shot-through with arguments that billionaire elites and the fossil-fuel industry have a stranglehold on U.S. policymaking that prevents more aggressive action despite the huge threats from climate change.
"Instead of engaging on this issue in good faith and allowing democracy to play out, executives and lobbyists for coal, oil, and gas companies have blocked every attempt to make progress on climate change, and thrown unprecedented amounts of money at elected officials to buy their loyalty," it states.
So the plan calls for a ban on fossil fuel lobbyists working in the White House, restates Sanders's call to overturn the Citizens United Supreme Court decision, a constitutional amendment that bars for-profit companies from making political contributions, and more.
Here's how the new plan lays out the stakes involved:
"Climate change is the single greatest threat facing our planet. The debate is over, and the scientific jury is in: Global climate change is real, it is caused mainly by emissions released from burning fossil fuels, and it poses a catastrophic threat to the long-term longevity of our planet. If we do nothing, the planet will heat up 5 to 10 degrees Fahrenheit by the end of this century. That would cause enough sea-level rise from melting glaciers to put cities like New York and Miami underwater—along with more frequent asthma attacks, higher food prices, insufficient drinking water, and more infectious diseases."