After House Splits on Energy Bill, Members Say Bipartisan Agreement Needed
Balancing renewables and fossil fuels means rising above politics, members say.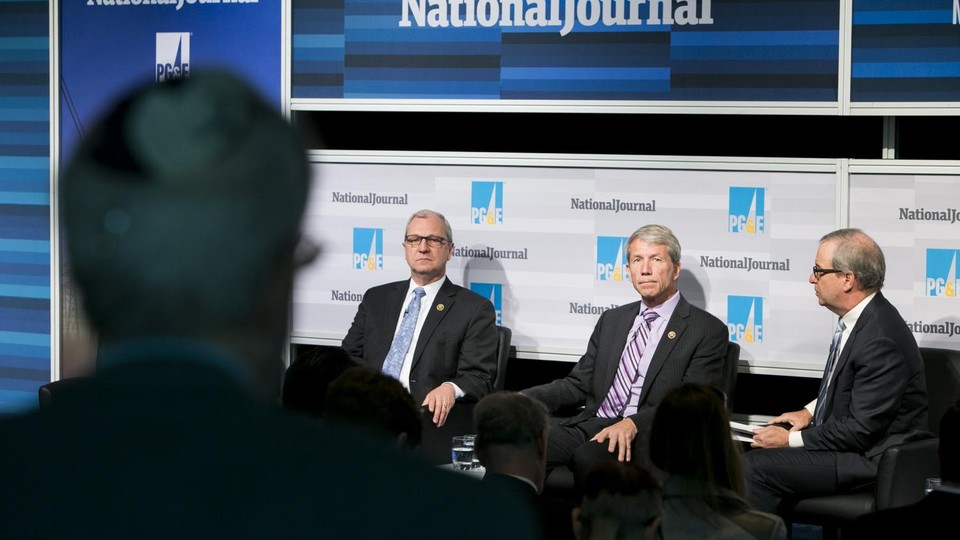 Amid changing technology and regulations, lawmakers from the House Energy and Commerce panel said that there will need to be a recalibration of the nation's electric-grid policy—but it could take a rise above politics to do it.
Rep. Kevin Cramer, a North Dakota Republican, said that politics around climate change and fossil fuels have hampered some of the discussions about how to modernize the nation's energy production and delivery.
"There's too much digging in. ... We never look for mutually beneficial solutions," Cramer said at a National Journal event underwritten by the utility PG&E.
Last week, the House passed a comprehensive energy bill from Energy and Commerce Chairman Fred Upton, which included several provisions meant to upgrade security and reliability of the electric grid and to improve energy efficiency.
But the bill also contained language meant to streamline oil and gas infrastructure, and it didn't go as far as Democrats wanted to acknowledge and address climate change. Democrats fled, dashing dreams of a bipartisan energy bill.
Oregon's Kurt Schrader was one of the nine Democrats to vote for the final bill, which he said was hampered by politicking on both sides of the aisle.
"I actually read the bill," Schrader said. "If you read the legislation and don't impugn it with all sorts of nefarious exaggerated motives, I think you get to yes a lot more often."
But Schrader said there was lots of room to move on the bill, especially in promoting renewable energy in order to transition away from coal and gas. Overall, though, he said that moving any energy bill was important to get starting positions for a broader energy debate, which could even include how to keep coal and natural gas on the grid for now.
Cramer likewise acknowledged that, with changes, more Democrats could vote for such an energy bill. A Senate bill, which was broader than the House version, passed the Energy and Natural Resources Committee in an 18-to-four vote this summer, but has yet to move to the floor.
Cramer—who last week voted for a resolution against the Obama administration's carbon-emission regulations on new and existing power plants—said that Republicans could also back more renewable resources, although that needed to be coupled with a debate about the cost to rate-payers and reliability.
The grid, he said, could not rely solely on resources like solar and wind amid a crackdown on coal power, since the sources could be too intermittent and leave customers without power. And that, he added, meant there needed to be acknowledgement of the role of fossil fuels, even while some on the left try to challenge natural-gas pipelines.
"Everyone wants more distributed power, more renewable energy, … but there's a lack of understanding that to have that you have to have a bridge, some backstop," he said. "So then you have one argument doesn't fit our particular base agenda, or this item doesn't. … That's why we have to have this debate."