A Telling Confrontation Between Ted Cruz and Marco Rubio
The two Cuban American senators confronted one another on immigration, revealing where they differ and what it might mean moving forward.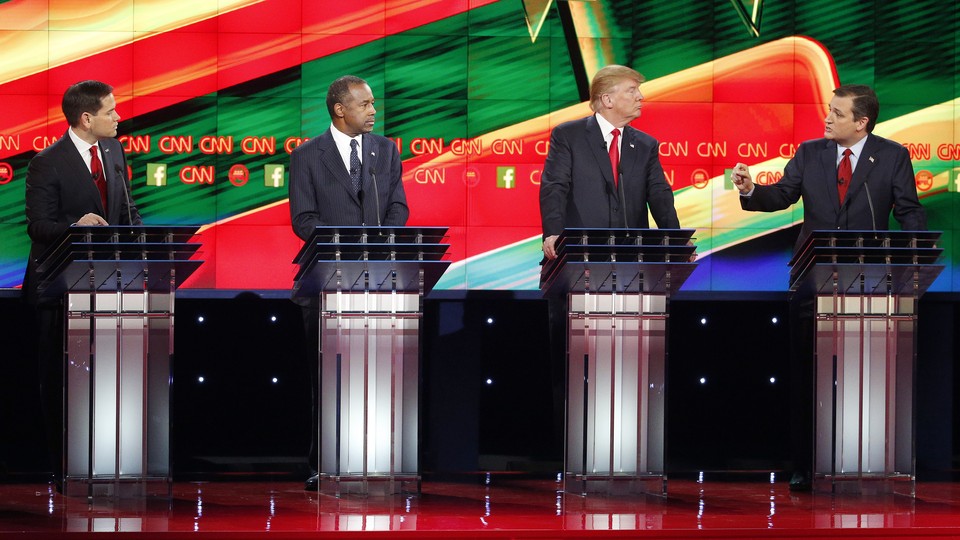 For the last couple of Republican presidential debates, Cuban American Senator Marco Rubio has tiptoed around immigration the few times the issue was raised—but that took a sudden turn on Tuesday night.
Rubio sparred with Ted Cruz, who is also a Cuban American senator, over immigration. Cruz took the occasion to align Rubio with the left. "There was a battle over amnesty, and some chose, like Senator Rubio, to stand with Barack Obama and Chuck Schumer and support a massive amnesty plan," Cruz said, alluding to Rubio's participation in immigration reform in 2013.
Rubio, in turn, tried to ambush Cruz: "Did Ted Cruz fight to support legalizing people that are in this country illegally? Does Ted Cruz rule out ever legalizing people that are in this country now?" But Cruz was ready and made it clear during the debate where he stands: "I have never supported legalization, and I don't intend to support legalization." Meanwhile, when cornered, Rubio was forced to reiterate that he has learned from the failed reform effort in 2013. "You can't even begin [the] process until you prove to people—not just pass a law that says you're going to bring illegal immigration under control," Rubio said. "You're going to have to do it and prove to people that it's working, and that was the lesson of 2013."
The confrontation revealed a split in the establishment over the issue and the trouble that could come as the two candidates proceed in the election. Cruz's hard-line approach to immigration could help in the primary as it appeals to the conservative base, but Rubio's position could go further in the general.
Up to now, the debate on immigration has largely been avoided, which has—given the right's vitriol over the topic—favored Rubio. Immigration has been a particularly sensitive issue for Rubio, who took part in the Gang of Eight, which drafted immigration reform in 2013, even as his stance has shifted over the last two years. The group of senators—four Democrats and four Republicans—drafted immigration reform that would provide a pathway to citizenship for undocumented immigrants. The bill never became law. For immigration hard-liners, Rubio's participation in the Gang of Eight is troubling.
On Tuesday night, Rubio tried to straddle both sides of the debate when confronted by Cruz. Just as he has on the campaign trail, Rubio described a piecemeal approach to immigration reform, and he left the door open for a pathway to citizenship should all requirements be met. He also tried to draw similarities with Cruz's view on immigration. "As far as Ted's record, I'm always puzzled by his attack on this issue," Rubio said. "Ted, you support legalizing people that are in this country illegally." Cruz responded: "I understand that Marco wants to raise confusion. It's not accurate."
Before the debate, Rubio's camp had already taken aim at Cruz, saying that he supports "legalizing people that are illegally in the country." But, again, Cruz rejected such characterizations out of hand—and rejected any kind of path to legalization. And while that may shore up his uncompromising credentials for now, it is still not clear, however, what Cruz would do with the undocumented immigrants residing in the United States.
During a Republican presidential debate earlier this year, Cruz played to the base by suggesting that illegal immigration is a threat to the country's economy. "The politics of it would be very different if a bunch of lawyers and bankers were crossing the Rio Grande, or if a bunch of people with journalism degrees were driving down the wages in the press," he said. In that same debate, the responses to immigration questions often showed more about how some of the candidates view the country rather than how they view the topic itself. For Trump, being an American citizen is a privilege not a right, whereas Ohio Governor John Kasich and former Florida Governor Jeb Bush weighed the emotional burdens that deportation would have on families.
Bush chimed in again during Tuesday's debate, but he didn't weigh in on the pathos associated with the subject this time. Instead, after Trump called Bush out for once saying that illegal immigration could be an "act of love," Bush explained how he would secure the border. Trump, meanwhile, as he has done before, drew on one of his favorite talking points and promised to build a wall on the U.S.-Mexico border.
Across party lines, much of the immigration divisions among the candidates are centered around whether or not there should be a path to citizenship for undocumented immigrants and what any path to legal status should look like. Given Rubio's more moderate stance, this could provide an opportunity for him should he proceed in the general election. And while Cruz's position is not disqualifying, he may have a harder time in the general because of his more stringent stand.
This is no small thing. In 2012, Republicans had great difficulty appealing to the Hispanic community. Then-nominee Mitt Romney received only 27 percent of the Hispanic vote in comparison with the 71 percent received by President Obama. It's still not clear how this dynamic will play out in the general since support could be garnered in new corners, like from evangelicals, but last night's confrontation is a show of what is to come as the immigration debate heats up in 2016.