7 Gaffes You Missed in 2015
During the year of Trump, the real estate magnate isn't the only candidate to make controversial statements.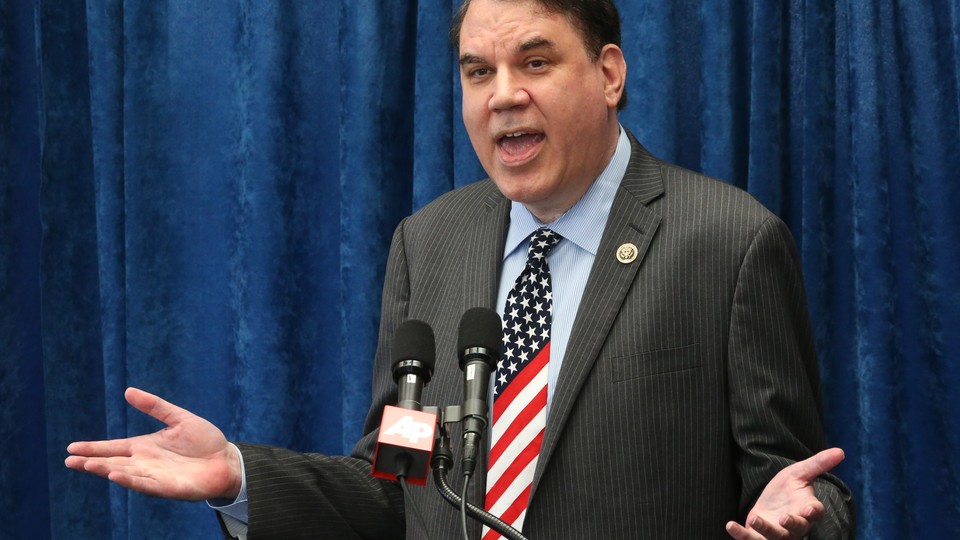 As the summer of Trump continues on into a winter of The Donald, the real estate mogul's insults of Hispanics, Muslims, and women have dominated news cycle after news cycle. Trump has made enough controversial comments to the point that even Ben Carson's history of comparing American society to Nazism has been forgotten.
So one can be excused for forgetting that Trump is not the only candidate for political office to fall off-script, insult broad groups of voters, or eschew political correctness altogether—either by design or not.
Here are seven gaffes from other campaigns underway across the country that you may have missed in the Year of Trump.
Attacking Hispanics and Immigrants
One position that may not be palatable in a swing district: shooting Syrian refugees personally, as Nevada Assemblywoman Michele Fiore proposed earlier this month.
Fiore, a Republican candidate for Rep. Joe Heck's seat, said, "I'm about to fly to Par­is and shoot 'em in the head my­self! I mean, I am not OK with Syr­i­an refugees. I am not OK with ter­ror­ists."
She later backpedaled on her comments, saying they applied to terrorists, not Syrian refugees. If she did want to harm Syrian refugees, Fiore vowed, she would have made her intent known. "I double down, I don't back down," she said.
Another Republican running for Congress in Iowa, state Sen. Mark Chelgren, told the Knoxville Journal Express last month that he supports executing undocumented immigrants who repeatedly break the law. Chelgren later confirmed his stance to the Des Moines Register, saying, "I am look­ing at people who are de­por­ted and who re-enter the coun­try il­leg­ally. … Of course, I will be strong on crime. I want to make sure that we don't have crim­in­als com­ing in­to the United States and vic­tim­iz­ing our cit­izens."
Dubious Campaign Tactics
Sen. David Vitter's stunning loss in the Louisiana governor's race got lots of national attention, but a bizarre episode right before the October primary was mostly lost to the hubbub of other news.
The Vitter campaign hired a private investigator to look into a blogger who had posted some questionable videos relating to Vitter's past prostitution scandal, and the P.I. got caught making a secret recording of a group of local elected officials and Vitter political foes at a coffee shop the day before the primary. Video recovered from the private eye's phone showed Vitter's staff trying to persuade a woman to sign an affidavit disavowing the claims made in the blogger's videos.
If Vitter was trying to persuade people his past had no bearing on this year's race, the "Spygate" incident wasn't convincing, and revealed just how far Vitter was willing to go to squash any new rumors.
Meanwhile, the campaign of Missouri gubernatorial candidate John Brunner released a recorded phone call in November between him and fellow GOP candidate Eric Greitens. In it the two argue about when they can meet to discuss an outside group Greitens was frustrated by, which was set up by a former Brunner staffer to attack Greitens.
At first the recording seemed like a downer for Greitens, who comes off as angry and slightly unhinged—Greitens berates Brunner and calls him a "coward," a "weasel," and a liar.
But the call also reflects poorly on Brunner. The conversation was supposed to be private, and the Brunner camp's decision to record it without Greitens's knowledge—and release it publicly — could foreshadow more negative campaign tactics in what's expected to be a heated GOP primary.
"Black Lives Matter" Blunders
During a year of protests in places like Ferguson, Staten Island, and Baltimore, some officeholders have made less-than-elegant comments on African-Americans.
For example, Sen. Mark Kirk from Illinois told the Peoria Journal Star in April that his policies could be used to improve the economy in black neighborhoods so they are "not the one we drive faster through." Kirk a few days later told the Chicago Sun-Times, "I would say that whenever a targeted member talks about race or ethnicity, it is impossible for him to get it right. So I'll leave it at that."
Indeed, Kirk is one of the most vulnerable senators up for reelection in 2016.
Similarly, two Republican candidates for governor in Missouri were particularly blunt about student protests at the University of Missouri this fall. Lt. Gov. Peter Kinder at one point claimed there was "zero" evidence an incident involving a swastika ever happened, before later backtracking. And former state House Speaker Catherine Hanaway pointed to then-California Gov. Ronald Reagan's response to student protests as a good precedent, even though Reagan's harsh anti-protester rhetoric might not be the best example. At University of California-Berkeley in 1969, Reagan's administration enabled police to use tear gas and shotguns to beat back protesters.
Metaphor Meltdown
Democratic Rep. Corrine Brown has long been vocal about her disdain for redistricting in Florida, but she escalated the rhetoric to a new level in November when she likened proposed changes to "apartheid" and "slavery."
After the release of a plan that would completely redefine her district, Brown said, "What has happened is that it is clear that you all think that slavery still exists, and we can just take those slaves and put them in one area and forget about the people who didn't have representation for 129 years."
Brown, who is African-American, is challenging Florida's proposed map in a federal lawsuit and hasn't ruled out running in another district.
Mimicking Native Americans
Even groups away from the spotlight have found their place in political conversation this year, but not always in ways they may appreciate.
Loretta Sanchez, a Democratic congresswoman running to replace California Sen. Barbara Boxer, was caught on video in May making a whooping noise by tapping her hand on her mouth, illustrating her surprise to be meeting with a Native American, thinking she was going to be meeting with an Indian-American.
Sanchez later apologized at the California Democratic Party Convention, saying, "And they [Native Americans] know what many of you don't know — that like so many Mexican Americans, I am proudly Native American on my mother's side."
Sleeping on the Job
Months after a bruising race against fellow Democrat Ro Khanna, video surfaced of Rep. Mike Honda dozing off as another lawmaker discussed Homeland Security spending. Once the footage hit social media, Honda sought to poke fun at the incident, saying, "I'm tired of the GOP playing games with our national security."
But the episode played right into the narrative of Khanna's 2014 campaign, which sought to cast Honda as ineffective and out of touch—themes that will surely emerge again as Khanna readies his 2016 rematch.
The nap wasn't Honda's first offense: He was also caught sleeping in 2013 at a town hall meeting on the Affordable Care Act.
Insulting Your Opponents
Politics has at times embraced the essence of Godwin's Law: As a heated discussion continues, it's likely somebody will be called a Nazi.
For example, during a heated debate this summer over this year's trade pact, Republican Rep. David Schweikert invoked a Nazi reference to slam labor groups, who were staunchly opposed to the deal.
"Some of the crazy things I'm seeing put out in the media by big labor, ... the willingness to make up stories, to make up facts — Goebbels would be proud of them, " Schweikert said, referring to the minister of propaganda in Nazi Germany, Joseph Goebbels.
Schweikert was seen as a potential primary challenger to Sen. John McCain (R-AZ), but he has said he's staying out of the Senate race.
And then there's Alan Grayson, a Democratic representative from Florida, who is running for Senate. Grayson's penchant for off-kilter comments, along with his liberal voting record, might make it harder for Democrats to take back the Senate should he defeat fellow Rep. Patrick Murphy for the nomination in the race to replace Marco Rubio. (Grayson, for his part, doesn't particularly care for the "Democratic establishment," who he has described as "losers who lose for a living, now they're trying to screw up my race.")
This year alone, Grayson compared his primary opponent to feces and asked a Tampa Bay Times reporter "Are are you some kind of sh-----g robot? You go around sh----g on on people?" when he was asked about off-shore investments.
But Grayson makes no bones about his PG-13 comments. Grayson explained while correcting an AP reporter's characterization of his "inelegant" style: "No, in­ter­est­ing is the word you're look­ing for. I say in­ter­est­ing things. I don't like to bore people with usu­al driv­el."