4 Things American Muslims Want the Next President to Know
For one, most Muslims living in the United States are eligible to vote.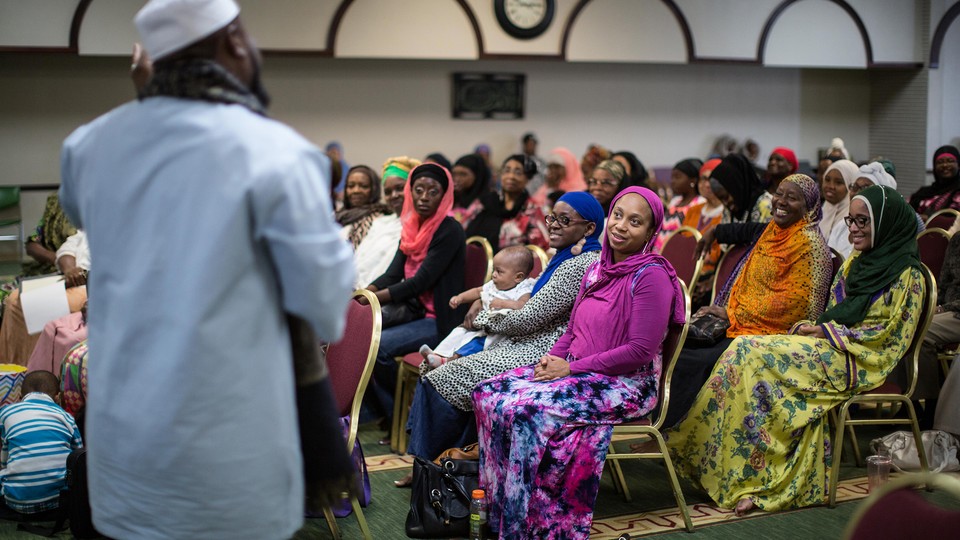 Muslim-bashing has long been a strategy some Republican presidential candidates have used to appeal to their right-wing core. But it's getting harder and harder for politicians to get away with that.
In recent months, civil-rights advocates have condemned anti-Muslim comments by both Republican front-runners, Ben Carson and Donald Trump.
Though the percentage of Muslims living in the United States is still relatively small (about 1 percent), their share of the population nearly doubled in the past seven years, according to the Pew Research Center. From 2000 to 2010, the number of Muslims living in the United States increased by about 1 million to 2.6 million, based on estimates from the Association of Religion Data Archives.
Most of these Muslims are U.S citizens, too, which means they are a voting bloc. Their potential influence in the 2016 elections was a key topic during a conference organized this week by the Muslim Public Affairs Council, a civil-rights and advocacy group based in Washington.
Here are four things Muslim leaders said they want policy makers to keep in mind during the 2016 elections:
1. The number of potential Muslims voters is growing in swing states.
Muslim communities are growing in swing states including Virginia, Pennsylvania, and Florida. So their votes could be crucial in choosing the next president. For example, the Muslim population in Virginia grew from 51,000 in 2000 to 213,000 in 2010, according to the Association of Religion Data Archives. In Florida, the Muslim population grew from 32,000 to 165,000 during the same time period. The vast majority are U.S. citizens.
2. Muslim Americans are tired of being associated with terrorists.
None of the 9/11 hijackers were American Muslims. Though radicalization is a growing problem around the world, American mosques are more likely to dissuade, not encourage, extremist views, says Abdul Malik Mujahid, chairman of Sound Vision, which produces educational content about Muslims and Islam. Yet the American public seems to think Muslims are dangerous. About 42 percent of Americans say they approve of law-enforcement efforts to profile Arab Americans and Muslim Americans, according to the latest public-opinion poll released by the Arab American Institute.
3. Arab Americans are a highly educated ethnic group.
About a quarter of Arab Americans are Muslim, and very few drop out of high school. In fact, about half of Arab adults have gone on to finish college, compared to 27 percent of the general population, according to the Arab American Institute. Median income for Arab-American households in 2010 was slightly higher than the rest of the country: $56,433 compared to $51,914 for all households in the United States.
4. The White House liaison to the Arab-Muslim community should be Arab or Muslim.
The Obama administration has placed non-Arabs and non-Muslims in charge of outreach to the Arab-Muslim community, according to Randa Fahmy, founder of Fahmy Hudome International, a government-relations and strategic-consulting firm in Washington, D.C.
"Would they ever think of staffing anyone other than a Hispanic to outreach to the Hispanic population? Of course not," she says.
Currently, the White House doesn't have a designated Arab-Muslim liaison listed among the staff on the webpage for the Office of Public Engagement.