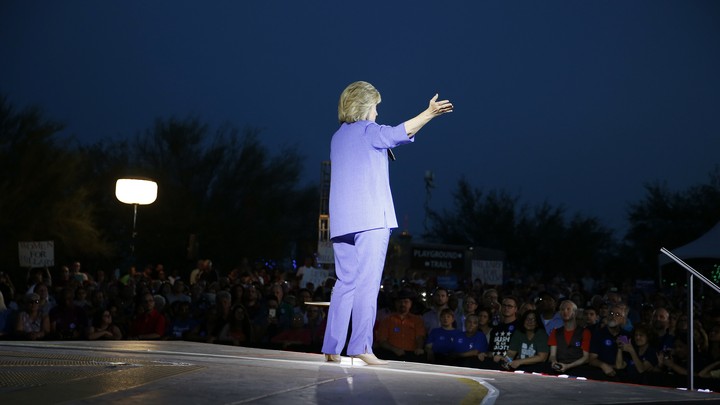 Every December, The Atlantic looks back on the previous year—to highlight not just the "big moments," but the progression of "big ideas." Below, the first of three installments looks at the year in presidential-politics coverage.
---
A year ago, many thought Hillary Clinton's ascendancy to the top of the Democratic presidential ticket was a foregone conclusion. But no one predicted that 2015 would start with 17 Republican candidates and end with Donald Trump as the front-runner—except perhaps the mogul himself. In 2015, all bets were off, and sometimes, all hell broke loose.
The year started with Jeb Bush leading off strong. Peter Beinart's piece "Is Jeb Bush Buying the Nomination?" highlighted Bush's robust organization and the potency of big-money politics. And Hanna Rosin profiled Bush's wife and her seemingly veiled public presence in "The Mysterious Columba Bush." But Bush's eventual failure to inspire voters in 2015 led Conor Friedersdorf to argue that Bush "Has Learned the Wrong Lessons From His Family Tradition."
Molly Ball closely followed the undoing of another once-popular candidate, Scott Walker, concluding that "Hubris Killed His Campaign." Other establishment candidates, like Chris Christie, who gave a quippy interview to Jeffrey Goldberg, are still holding on—barely—hoping for a big break.
But 2015 was the year of the Republican outsider. As summer ended, Russell Berman examined how "Ben Carson Gets His Bounce." And David Graham looked at the neurosurgeon-turned-conservative-idol's curious—but effective—fundraising strategy: "Where Is Ben Carson's Money Going?" Yet, the good doctor fizzled when the election zeroed in on national security. Carly Fiorina, meanwhile, got a big September bump after a strong performance on the varsity stage at the second debate—The Atlantic staff gave her the win. Weeks later, however, when her poll numbers plummeted, David Graham asked, "What Happened to Carly Fiorina?"
And so, it was Trump, with his unpredictable campaign—the "greatest" ever—who stumped the pundits and politicians alike. Molly Ball followed him to Texas, where she found "There's No Stopping the Trump Show," captured his rapturous appeal to voters in "The Ecstasy of Donald Trump," and then wondered, "Can the Republican Party Survive Trump?"
In fact, responding to the fiery mogul without landing in his crosshairs became a unique challenge for the rest of the field. Ted Cruz's strategy has been to court Trump's favor—and his voters. As Priscilla Alvarez reported: "Ted Cruz and Donald Trump Forge an Alliance of Convenience." Still the billionaire endures—his poll numbers spiking with every inflammatory statement. So Jon Lovett offered a preview of how the United States might look in a few years: "Looking Backward on a Donald Trump Presidency."
On the Democratic side, one of the biggest questions of the year centered on a candidate who never entered the race: "Is Joe Biden Running for President?" asked Russell Berman. But as David Graham highlighted in "Biden's Bid for a Legacy: A Moonshot for Cancer," the vice president hopes to leave a mark elsewhere—on the fight against the disease that took his son's life. Another politician took the leap, declared his candidacy, and then withdrew, in a bewildering sequence that led Molly Ball to ask, "Why Did Lincoln Chafee Even Run?"
Bernie Sanders inspired the faithful in 2015, a dynamic captured in Molly Ball's "There's Something About Bernie." And Russell Banks's profile, written around 1985 but first published here in 2015, "Bernie Sanders, the Socialist Mayor," explained how the Vermont senator's Brooklyn roots led to his distinct brand of common-man politics. Even some Republicans are "feeling the Bern," as Clare Foran reported in "The Lifelong Republicans That Love Bernie Sanders."
His candidacy helped make at least one thing clear about Clinton: She struggled to match the levels of inspiration that President Obama, and even her husband, elicited in their runs. As Conor Friedersdorf wrote, "Hillary 2016 Has Never Made Sense for Democrats." In "Hillary Clinton's Bungled Reboot," David Graham highlighted how her campaign's strategic shifts have exacerbated party fears about her candidacy. Yet Clinton's 2015 dominance is undeniable and was perhaps solidified after an 11 unflappable hours of testimony before the House Select Committee on Benghazi.
And so, while the ultimate Republican outsider defied the odds—capturing a double-digit lead and dominating headlines (check out The Atlantic's real-time media-mentions tracker)—the Democratic base coalesced around the ultimate insider. In 2016, Americans will choose the next leader of the free world—but if 2015 showed anything, it's that sometimes the wisdom that prevails won't be conventional.
We want to hear what you think about this article. Submit a letter to the editor or write to letters@theatlantic.com.