14 Million Data Points Yield Massive First Online Database on Jails
A new tool offers multiple data-driven lenses through which the jail population can be studied.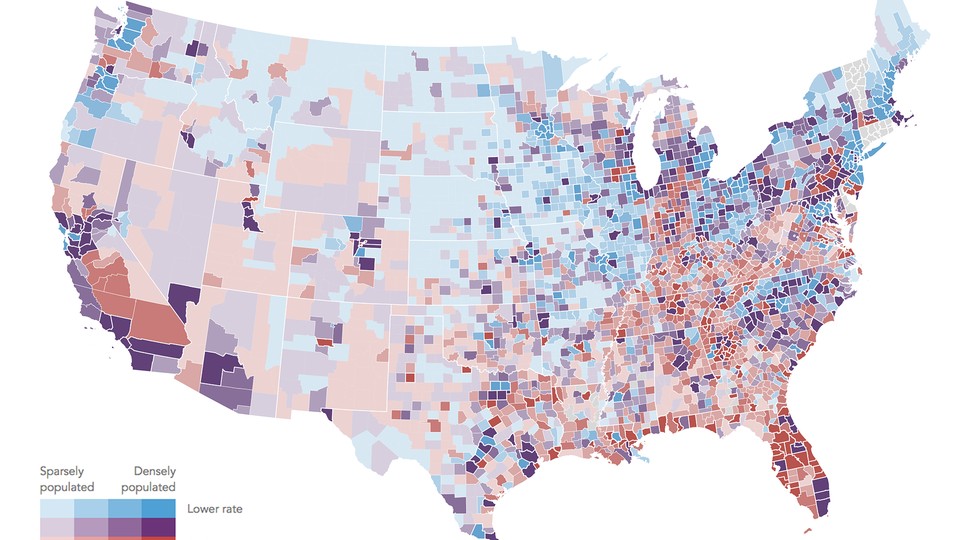 A new interactive map created by the Vera Institute of Justice details the rapid growth in the jail population in every county. And it took 14 million data points to make it happen.
The free online tool culls information from publicly available sources such as the Bureau of Justice Statistics and the Census Bureau on the 3,000 county jails nationally. There are five filters through which the data can be explored. The first one offers the growth-percentage change for each jail for which data is available. The second reveals the ratio of people in jail to the county's population (x per 100K). The third breaks down the rate for blacks/African-Americans in each county, followed by another filter that does the same for women. The last filter records the combined jail and prison data for New York and California.
It's a straightforward and factual rendering of a hugely complicated and layered aspect of our criminal-justice system, the motivation for which was offering information to the public to "guide change by providing easily accessible information," according to a statement. Next America spoke to two leading researchers on the project to get a deeper sense of what they learned and what they plan to do with this digital mountain of information.
Nancy Fishman is the Project Director for Vera's Center on Sentencing and Corrections. Chris Henrichson is the Unit Director for its Cost-Benefit Analysis Unit. She's the big-picture person and he's the numbers guru. One of the first things we wanted to know was why the growth was concentrated in small and medium-sized jails. Henrichson was upfront about only having a hypothesis so far, as the team has not had enough time to delve deeper or to make connections with other overlapping trends (such as migration and employment numbers) that could also impact their findings.
In addition to big-city jails having a physical constraint due to occupying finite space (as opposed to smaller towns and cities which can expand or build additional jails), he explained that "metropolitan areas have more services that can serve people instead of putting them in jail." This line of thought echoes some of the discussions around the country surrounding the increased use of jails to hold the homeless, the mentally ill, and other "social outcasts" who may be in need of support not restraining.
Overall, Henrichson also believes that "one of the reasons for jail growth is the increasing use of jail for pre-trial reasons." That often translates into extended stays for defendants who can't make bail, who pose a flight risk, or who have failed to comply with some administrative aspects of their release or parole.
A hypothesis that could easily be explored with the data tool is whether there is a relationship between what's known as offender-funded probation (whereby the offender pays all related fees, penalties, and equipment charges) and the increase in the jail population. Fishman said that the team had not looked at the data with that specific lens but conceded that it "is potentially good for journalists looking at counties with higher offender-financed rates."
Another area that seems ripe for further inquiry using the interactive map is the rise in the incarceration of women, which saw more than a 14-fold increase since 1970. Fishman attributes that partly to "drug charges and how people are charged in terms of when they are accessories to a crime. But there are all kinds of things that could impact women differently. Bail amounts differ greatly and affect low-income people a lot more than middle- or high-income people. And a lot of those low-income people are women, especially women who are heads of households."
The Vera Institute team is very optimistic about the potential applications for their interactive database and plan to make some of the raw data available at a later date for those interested in cross-referencing or analyzing it.
Vera Institute and Next America receive support from the MacArthur Foundation.