Why the Postal Workers' Union Sided With Bernie Sanders Over Hillary Clinton
Within the movement, the pragmatists and purists are starting to take sides.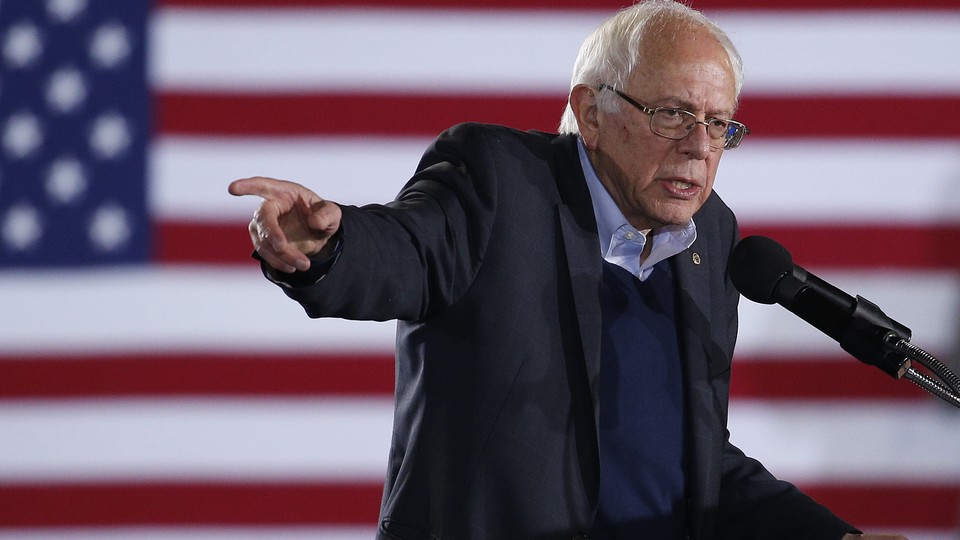 Bernie Sanders snagged the endorsement of the 200,000-member American Postal Workers Union on Thursday, giving the Vermont senator a much-needed boost in his insurgent bid to defeat Hillary Clinton, who leads the race for labor support.
On the surface, the union's backing is hardly surprising: Sanders has been a longtime defender of the U.S. Postal Service and has used his perch in the Senate to fight cuts to mail service and block the confirmations of federal nominees who have supported privatizing the agency.
The endorsement is, however, revealing of a larger split in organized labor, driven, in part, by Clinton's long and complicated relationship with unions. Now, as various factions of the movement weigh where to put their support in the Democratic primary, a wedge is appearing between the purists and the pragmatists.
Before Thursday's announcement, Mark Dimondstein, president of the postal workers' union, told me: "My­self and a lot of oth­er people are sick of busi­ness as usual. And we inter­pret her his­tory and her cam­paign as more busi­ness as usu­al. And busi­ness as usu­al isn't help­ing the labor move­ment or the work­ing class sur­vive or thrive."
On the other side of the debate are pragmatists who see Clinton as more electable and want to secure a seat at the table in a Democratic administration. As Randi Weingarten, head of the American Federation of Teachers, put it: "You actually have to have a plan to win, not just have great values."
So far, the pragmatists are winning. A dozen national unions have endorsed Clinton, including the AFT and the American Federation of State, County, and Municipal Employees, each of which has 1.6 million members. Sanders, however, has the backing of two major unions—the postal workers and the 185,000-member National Nurses United—and his campaign touts scores of supporters within the ranks of labor groups who are either undeclared or backing Clinton.
Notably, neither side wants what is derisively referred to in labor circles as a "third term for Obama." The president has infuriated many labor leaders by cham­pi­on­ing the Trans-Pacific Part­ner­ship; by in­sti­tut­ing the so-called "Ca­dillac tax" on high-cost health care plans, the kind en­joyed by many uni­on mem­bers; and by fail­ing to pass card-check le­gis­la­tion, which would make it easi­er for labor to or­gan­ize. (Some of those who have endorsed Clinton are eager to note they backed her in 2008 because they foresaw some of these issues with Obama.)
Perhaps recognizing this, Clinton has moved swiftly in the last month to draw distinctions with the president on labor's top priorities, including opposing the TPP (which she supported as secretary of State) and supporting repeal of the health-plan tax. How labor interprets her history and her campaign pledges—and how much Sanders can capitalize on doubts about her sincerity—will color the coming weeks and months.
As I wrote last week, Clinton's relationship with the labor movement has always been complex:
On the surface, Clinton and labor would appear to be strong allies. She would al­most cer­tainly be a more pro-uni­on pres­id­ent than any of her plaus­ible Re­pub­lic­an op­pon­ents. And it's there­fore no sur­prise that at least 12 na­tion­al uni­ons have en­dorsed her. It's also a near-cer­tainty that she will win a ma­jor­ity of uni­on voters next Novem­ber.

Yet look a bit closer, and the politics get cloudier. Clin­ton's re­cord on labor is­sues, stretch­ing back many years, is con­tra­dict­ory and dif­fi­cult to de­cipher, and or­gan­ized labor is very far from uni­ver­sally en­thu­si­ast­ic about her can­did­acy. Sure, most uni­on mem­bers will vote for her, but it's still an open ques­tion wheth­er she can gin up the ex­cite­ment and de­cis­ive mar­gins she will need next Novem­ber among this im­port­ant con­stitu­ency.

In recent weeks, Clinton has seemed to sense that she has work to do vis-à-vis organized labor. ... The question is whether these moves can overcome the baseline skepticism that I heard from many union members—especially in Ohio—and resolve what appears to be a split opinion about her within the world of organized labor.
That complexity is reflected in the range of opinions movement leaders express about the Democratic front-runner:
"People appreciate she has certain liberal beliefs and then is very practical and transactional," said Andy Stern, former head of the Service Employees International Union, which could consider a formal endorsement as early as next week. "Part of changing lives is getting elected."
Others take a more a skeptical view.
Officials with Unite Here, which represents 270,000 hotel and restaurant workers, say the union won't consider an endorsement until January—and may not even back a candidate in the primaries. "People are really upset and they don't think anybody's really fighting for them," said D. Taylor, the union's president. "We want honesty, and we want to know you are going to fight for certain things."