Why the Party Age Gap Matters
The GOP's House leadership, like its presidential field, is much younger than Democrats'. Can Republicans take advantage?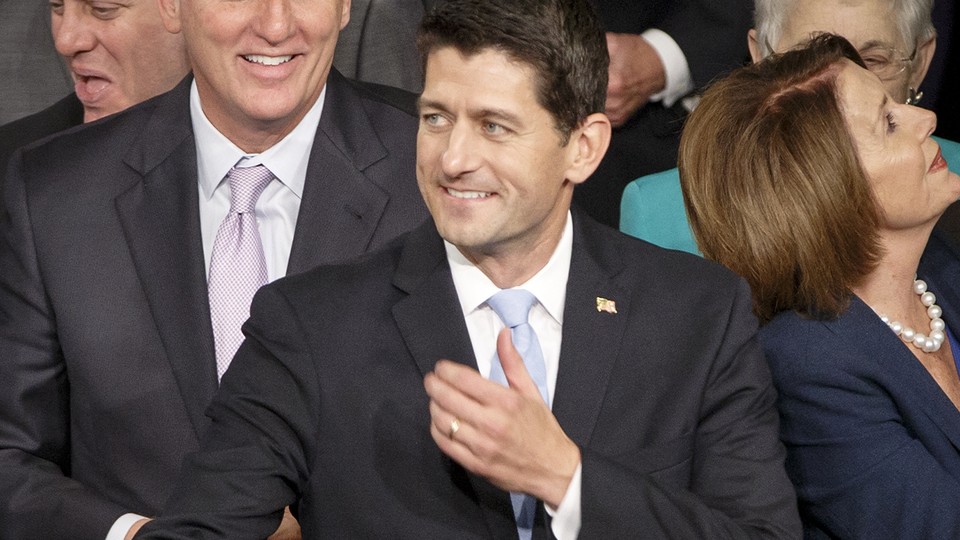 Paul Ry­an's rise to the speak­er­ship may have been ac­ci­dent­al, but it's the latest—and most prom­in­ent—ex­ample of the GOP's youth move­ment be­com­ing the face of the party.
At 45, Ry­an is the young­est speak­er since the 19th cen­tury. And his as­cend­ance comes just as the Re­pub­lic­an Party is try­ing to rebrand it­self ahead of the 2016 elec­tion as a party for change rather than the des­tin­a­tion for aging so­cial con­ser­vat­ives.
"What we are try­ing to do is show the Amer­ic­an people that we are the fu­ture. We are the ones try­ing to build a sus­tain­able gov­ern­ment. We are try­ing to get our en­ti­tle­ment pro­grams un­der con­trol and try­ing to get our debt un­der con­trol, be­cause if we don't, that is all go­ing to fall on my gen­er­a­tion," said Rep. Car­los Cur­belo, a 35-year-old Re­pub­lic­an from Flor­ida who emerged as a face of the party earli­er this year when he de­livered a re­sponse to the pres­id­ent's State of the Uni­on in Span­ish.
On the cam­paign trail, Re­pub­lic­ans have a host of young can­did­ates vy­ing to be the foil to Hil­lary Clin­ton. There are 44-year-old Ted Cruz and 44-year-old Marco Ru­bio. Rather than duck ques­tions of ex­per­i­ence, Ru­bio has em­braced his youth as a core ten­et of his cam­paign. On pa­per, the story of the son of Cuban im­mig­rants and his af­fin­ity for hip hop ap­pears to be just the kind of boost the party needs to gain the at­ten­tion of a young­er crowd. The sen­at­or of­ten jokes about his age in his stump speech.
"I was asked if 43 was old enough to be­come pres­id­ent, and I said, 'I don't know, but I am pretty sure 44 is,'" Ru­bio says.
While the faces of the GOP are look­ing in­creas­ingly youth­ful ahead of 2016, the Demo­crat­ic Party—out­side of its lame-duck pres­id­ent—is led by Wash­ing­ton vet­er­ans. Its two lead­ing pres­id­en­tial con­tenders are former Sec­ret­ary of State Clin­ton (68) and Sen. Bernie Sanders (74). And in the House, Demo­crats are led by Minor­ity Lead­er Nancy Pelosi (75), Whip Steny Hoy­er (76), and As­sist­ant Demo­crat­ic Lead­er James Cly­burn (75).
But the Demo­crats' old bulls aren't con­ced­ing that the GOP's youth is an ad­vant­age. "There is no doubt that they re­flect in­ex­per­i­ence," Hoy­er said, a play on then-73-year-old Ron­ald Re­agan's re­fus­al to "ex­ploit" Wal­ter Mondale's "youth and in­ex­per­i­ence" dur­ing a pres­id­en­tial de­bate. "I think there's something to be said for hav­ing tried and find­ing that something didn't work. The way you do that—hope­fully you learn. Per­haps you gain a little wis­dom. … What ought to be the lit­mus test is not the age of the lead­er but the qual­ity of that lead­er's lead­er­ship and cour­age in pur­su­ing his or her con­vic­tions."
Oth­ers poin­ted to policy—as well as di­versity—as more im­port­ant than age. "You can't be the party of the fu­ture and ad­voc­ate only for the failed policies of the past," said Pelosi spokes­man Drew Ham­mill. "The Demo­crat­ic Caucus is a ma­jor­ity wo­men, minor­it­ies, and LGBT mem­bers.  The Re­pub­lic­an Con­fer­ence has nev­er been short on middle-aged white guys, but what's im­port­ant is what you are fight­ing for."
Still, the con­trast is stark. The av­er­age age of the four highest-rank­ing Demo­crat­ic lead­ers in the House is al­most 71. The av­er­age age of the five highest-rank­ing Re­pub­lic­ans is now just 47.
Part of the rise of young­er Re­pub­lic­ans to seni­or po­s­i­tions comes from each party's dis­par­ate House rules. Re­pub­lic­ans al­low com­mit­tee chairs to hold a gavel for only three terms, in­creas­ing turnover and al­low­ing new mem­bers to rise quickly in the con­fer­ence. Demo­crats, on the oth­er hand, are ap­poin­ted to chair­man­ships on the basis of seni­or­ity.
The seni­or­ity is­sue has long been a point of dis­pute among Demo­crats—up-and-comers say it stifles rising tal­ent, while vet­er­ans ar­gue that pri­or­it­iz­ing ex­per­i­ence opens up op­por­tun­it­ies for minor­it­ies that they may have oth­er­wise been denied.
"I don't think there is any reas­on for the seni­or­ity sys­tem at all," Demo­crat­ic Rep. Sean Patrick Malo­ney, a second-ter­mer, said earli­er this year. "It's a rel­ic. I think it gets in the way of a mer­it-based ap­proach, which should define who we are as a party."
And young Re­pub­lic­ans are quick to point out the dis­par­ity.
"We want to em­power our new mem­bers, and that is a struggle with Demo­crats who are frus­trated with that lack of mo­bil­ity," Rep. Elise Stefanik, a fresh­man Re­pub­lic­an from New York, told Na­tion­al Journ­al.
"It's won­der­ful that we have this youth­ful en­ergy, that there's a mer­ito­cracy in our con­fer­ence, in our party," ad­ded Cur­belo. "Where it's not just about who's been around the longest and whose turn it is, but who can earn it and who's the most qual­i­fied to ad­vance our agenda."
Stefanik was the young­est wo­man to be elec­ted to Con­gress, and she leads the Re­pub­lic­an Policy Com­mit­tee's Mil­len­ni­al Task Force, a group aimed at help­ing Re­pub­lic­ans bet­ter con­nect with young voters. Re­pub­lic­ans such as Stefanik see a unique op­por­tun­ity as 2016 ap­proaches for the con­gres­sion­al mes­sage to match the one on the de­bate stage and cam­paign plat­form: that Re­pub­lic­ans want to help make Amer­ica stronger, but they just don't think ex­pand­ing gov­ern­ment is the way to do it.
"Mil­len­ni­als have come in­to the work­force at a time when we were ex­per­i­en­cing over­reach by this ad­min­is­tra­tion. We have come of age in gov­ern­ment grid­lock with a very par­tis­an ten­or," Stefanik said. "Mil­len­ni­als don't be­lieve that gov­ern­ment is the most ef­fect­ive in solv­ing prob­lems, and that lack of faith in big gov­ern­ment is an op­por­tun­ity for Re­pub­lic­ans to win over mil­len­ni­als."
Yet fresh­er faces alone still won't be enough to con­vince young­er voters that they should cast bal­lots for a Re­pub­lic­an in 2016. While a Har­vard poll found that 83 per­cent of mil­len­ni­als had very little faith in Con­gress, the same poll showed that mil­len­ni­als are still ideo­lo­gic­ally more aligned with Demo­crats than Re­pub­lic­ans.
The ma­jor­ity—55 per­cent—be­lieve cli­mate change ex­ists and is caused by hu­man activ­ity, and 55 per­cent still want a Demo­crat to con­trol the White House after the 2016 elec­tion.
"Look, they may look young, but they think old," former Demo­crat­ic Con­gres­sion­al Cam­paign Chair­man Steve Is­rael said of Re­pub­lic­ans (Is­rael now heads House Demo­crats' mes­saging ef­forts). "They may be young in age, but they think like Neander­thals. And what Amer­ic­ans want is not someone who looks a cer­tain way, but will stand up for in­creased wages and will fix a broken sys­tem, and they have shown no signs of abil­ity to do that."
Wheth­er or not they be­lieve their lead­ers' age is an is­sue, many Demo­crats do have an eye on the fu­ture. Is­rael was part of a group of House Demo­crats who met earli­er this year to try to garner sup­port for Rep. Chris Van Hol­len as the heir to Pelosi. Van Hol­len since op­ted to run for Sen­ate, and no con­sensus suc­cessor has emerged. (Pelosi has not said when she'll re­tire, and many believe that she's wait­ing for a can­did­ate who can beat Hoy­er.)
An­oth­er mem­ber of the Van Hol­len group, Rep. Dan Kildee, is an up-and-comer in his own right. The second-ter­mer is a re­gion­al whip with­in the caucus, and he's lead­ing the DCCC's "Front­line" ef­forts to de­fend vul­ner­able mem­bers. Still, he said his party's age is less of a prob­lem than the GOP's policies.
"I'm more con­cerned with new ideas than the age of the people of­fer­ing them, and frankly while I'm happy to see some­body in his 40s as speak­er, I wish he had ideas that rep­res­en­ted the gen­er­a­tion that he's a part of," Kildee said. "Like­wise, the folks that I work with with­in our lead­er­ship have ideas that work for people of all gen­er­a­tions."