Why Spending More Time in Iowa Hasn't Equaled Campaign Success in 2016
In a nationalized campaign environment, old-fashioned retail politicking has become less important.
Come to Iowa early and often.
It's a strategy that helped lift candidates such as Mike Huckabee and Rick Santorum to victory in the last two Iowa caucuses, and one that Bobby Jindal adopted more seriously than any other Republican presidential candidate during the 2016 election cycle—though ultimately to no avail.
From Election Day 2014 through Tuesday, no White House hopeful spent more time on the ground in the state that kicks off the presidential nominating contest than Jindal, who logged a total of 70 days there, according to data compiled in National Journal's Travel Tracker. That accounts for nearly 60 percent of the days that the Louisiana governor spent on the trail during that period.
And Jindal wasn't planning to let up anytime soon. On Monday, his campaign sent out a press release detailing the next leg of his "99-County Believe Again Tour" of Iowa, which would have taken him to six cities over three days this week. But by Tuesday evening, Jindal was on Fox News announcing his decision to drop out of the presidential race.
A cash-strapped Jindal campaign was never able to gain traction in a crowded GOP field in Iowa or elsewhere during a campaign that has become nationalized and dominated by celebrity figures like Donald Trump, who draws media attention wherever he goes, diminishing the importance of putting in direct face time with caucusgoers for the governor and his rivals.
"The problem was the 2016 race, because of the way the debates were set up, it put its priority on national polls," said Timmy Teepell, who managed Jindal's campaign. "It made it hard for folks who were spending a lot of time in early states to survive. You couldn't retail your way to it. You had to spend your time in New York City and Washington, D.C., green rooms."
"It used to be you could work your ass off in Iowa, and then catch fire and go from there," Teepell added. "Here, you weren't able to do that."
There were signs that Jindal's efforts in Iowa were slowly paying dividends, as his support levels and favorability ratings began to tick up in polls of Republicans in the state last month. But that trend didn't carry over to the national surveys that determined which candidates would qualify for the debates. Jindal did not make it onto the main stage for any of the four Republican debates, depriving him of the opportunity to introduce himself to a larger national audience.
Instead, he was crowded out not only by high-profile figures like Trump, but fellow social conservatives such as Ben Carson and Ted Cruz, who were all competing for the same critical voting bloc in Iowa. And even though he was physically in Iowa more often than his rivals, and an allied super PAC called Believe Again ran more than $3 million in positive TV ads over the summer, he lacked the resources to build a top-tier organization to effectively reach out to potential supporters when he wasn't in the state.
"When you don't have the Iowa connections, your guy can go all over the state but if you don't have the complimentary organization, it's just not going to happen," said Steve Scheffler, the president of the Iowa Faith & Freedom Coalition and Republican National Committee member.
Jindal isn't the only frequent Iowa visitor who has struggled to catch fire this campaign season. Santorum and Huckabee, hoping to repeat their performances, followed Jindal on the list for most days spent in the state over the past year at 55 and 39, respectively. But both candidates have been polling in the single-digits in Iowa and nationally for months. Santorum has yet to come close to meeting the polling threshold to earn a spot on the main debate stage. And Huckabee was demoted to the undercard for the fourth debate in Milwaukee.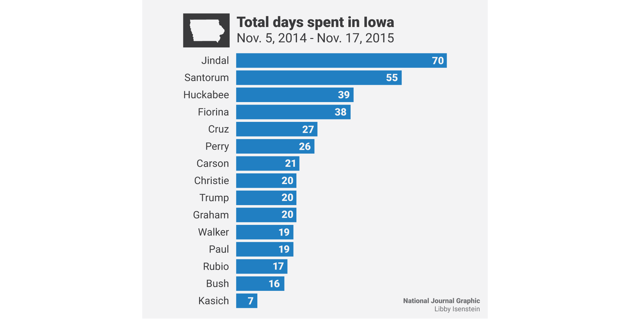 Perry also put his short-lived presidential campaign's focus squarely on the state, but like Jindal was never able to build a following. Even though the former Texas governor ended his bid for the Republican nomination on Sept. 11, he still ranks sixth for most time on the ground in Iowa since the 2014 election at 26 days. That puts Perry ahead of political newcomers like Carson and Trump, who have topped recent polls of Iowa Republicans despite only spending around 20 days apiece in the state this cycle.
"There's a fever that's swept over the land, and it's changed the rules entirely," said Jaime Johnson, an evangelical pastor from Story City, Iowa, who served as a senior director for Perry's campaign. "For proven public servants like Scott Walker, Rick Perry and now Bobby Jindal -- all effective governors -- there's almost no room for these guys this year."
Still, the electorate in Iowa is far from settled. There is plenty of support up for grabs in a state where caucus-goers are known to make up their minds at the last minute. Santorum, for instance, didn't start to surge in the polls until late in the 2012 campaign. Iowa-focused candidates in 2016 just hope they can survive long enough to see their efforts come to fruition in a similar fashion.
"I think some of these candidates are placeholders," said Henry Barbour, a RNC member who served as an informal adviser to Rick Perry's campaign. "People aren't quite sure who they want to be for, and certain candidates strike their fancy, but as time goes by, they continue to vet these candidates and they make pretty good, educated decisions that's not just based on first impressions, but on what does this candidate really have to offer in way of experience and vision and ability."
---
Libby Isenstein (Graphics) contributed to this article