Why It's Not Easy Being Kelly Ayotte
The Republican senator is trying to bolster her centrist credentials ahead of a difficult re-election, but she's getting blowback from conservatives.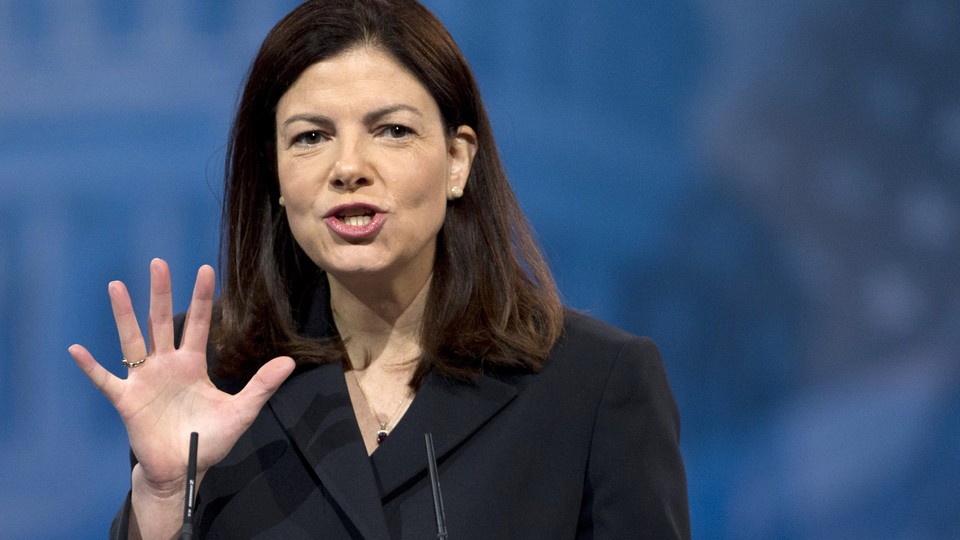 As she gears up for a tough reelection fight, Kelly Ayotte is suddenly facing some stiff resistance from an unexpected source: fellow Republicans. State House Republicans are upset with her. Conservative activists are threatening to primary her—or worse. One of the Right's most powerful outside groups, Americans for Prosperity, is reprimanding her in public.
In perhaps the most dramatic venting of frustrations this week, one of the local activists seeking to oust her from her Senate seat proposed a third-party candidacy directly aimed at peeling away Republican voters from her in the general election.
While Ayotte, who has more than $5 million stockpiled for her reelection, is in little danger yet of a serious primary, Granite State conservatives say a spell of recent Senate votes, combined with a history of meddling in local GOP politics, could put her at risk of losing grassroots support in a race that's expected to be one of the nation's closest. Meanwhile, outside groups, which went in big on her behalf earlier this spring, are threatening to reevaluate how much they will get involved in the race for her, if at all.
It's a precarious situation for the first-term senator, whose party's Senate majority could hinge largely on her reelection.
Up against a popular sitting governor, Democrat Maggie Hassan, Ayotte has attempted to bolster her image among independent voters. In September, she wrote a letter to Sen. Ted Cruz calling for him to cease a movement to shut down the government over Planned Parenthood funding. In October, she became the first Republican senator to back the Environmental Protection Agency's Clean Power Plan. Most recently, she and three other Republicans launched a coalition aimed at broadening their party's approach to environmental issues.
The moves, in particular the Clean Power Plan support, have proven relatively effective. The Environmental Defense Fund, one of a handful of green groups that could spend big money opposing her reelection, actually praised the move in a weeklong digital ad campaign.
In a famously independent-minded state, Ayotte's allies say her bipartisan profile is necessary for victory and has, in the past, helped her find success where other Republicans haven't. First elected in 2010, Ayotte is the only Republican to win statewide office in New Hampshire in more than decade.
"Kelly is talking to a much wider group of voters than most Republican candidates anywhere in the country," said one ally of the Ayotte campaign, who requested anonymity to speak candidly about the situation. "New Hampshire has a huge proportion of unaffiliated voters. … Her record and the different things she's done in her tenure in the Senate give her more of an ability to go out and talk to those folks."
But conservatives, frustrated because they think Ayotte is taking them for granted, say she shouldn't count on them sticking by her, even if that would help the Democrats.
Americans for Prosperity, which aired ads on Ayotte's behalf months ago, released a statement condemning the Clean Power Plan support as "particularly disappointing," and noted that it would consider the move when deciding where to spend its vast war chest.
Asked whether the group was concerned about abandoning a key state on Republicans' Senate map, spokesman Levi Russell said: "Our role has never been about creating a majority for either party. It's about accountability and principles over politics."
And outside groups' complaints go beyond that issue. One leader of a national conservative group said Ayotte's decision to set herself up as a forerunner on climate issues, including forming the green coalition, raised serious concerns about whether she could be trusted on a host of important issues.
"Groups who are opposed to this kind of thing took offense to the fact that wasn't just a vote, but a really strong departure from past positions," said the conservative leader. "I think there are a lot of people really evaluating what that means."
Her campaign defends the vote, saying she simply does what's in the best interest of her constituents.
"Kelly takes the positions that she takes based off what she's hearing from folks at home and what she thinks is best for the state of New Hampshire," said Ayotte campaign manager Jon Kohan. "There's a number of folks who give her opinions on where she stands on legislation, whether here at home or other places. She listens to all of them, but at the end of the day it comes back to what she thinks is going to be best for the state."
On a local level, conservative leaders say their complaints stem less from Ayotte's Senate record and more from her meddling in the state party apparatus, often to the disadvantage of grassroots candidates. In particular, they point to her involvement in the state House speaker elections last fall, when she helped defeat the conservatives' chosen candidate, former House Speaker Bill O'Brien, who won his party's support in a caucus vote. Ayotte and several other party leaders endorsed a different candidate for speaker, leading to the election of a third candidate, who won with a majority Democrats' votes.
A group of activists, led by O'Brien, met earlier this month to discuss fielding a challenger for Ayotte, but has not yet come up with a candidate. In the meantime, some of that momentum has moved toward a second effort—one that Aaron Day, chair of the state's Republican Liberty Caucus, calls "the nuclear option."
"Kelly's rating, if you're a liberty Republican, is horrendous. It may be slightly higher than what we're likely to see from Hassan," Day said in an interview with National Journal. "The difference is, Maggie Hassan can't screw up the internal part of the Republican Party, which is what Kelly Ayotte has done."
So Day is planning a third-party candidacy, designed specifically to draw Republican votes away from Ayotte—even though he says he's aware of the help it would provide Hassan. Day said he wants Ayotte to use that same power and influence she wielded in the speaker's race to stop the state legislature from renewing its temporary Medicaid expansion—or else he'll sign up to join the Senate race.
"My goal is not to become the independent senator from New Hampshire; my goal is to make sure that the Republican Party doesn't push forward a piece of legislation that will destroy the state of New Hampshire," said Day. "This is clearly the nuclear option."
It's a bit of a twist to the challenges Republicans in other states have faced defending their right flank. Rather than simply insisting their own candidate can win a general election, Day's supporters don't care if they lose, so long as they make an example of Ayotte.
Kohan called the threats of a third-party challenge "a new wrinkle," but nothing that would move the campaign in terms of strategy.
"You're talking about a problem in a presidential election that I think is easy to get over for a candidate like Kelly Ayotte because she has that cross-party appeal; she's competing for votes that others can't compete for," said Kohan. "Because she appeals to a much wider audience, regardless of party, we're not concerned about making up votes if we need to because we're going into universes that others don't have the ability to compete in or talk to."
While Day's threat was met with skepticism from multiple Republican strategists interviewed for this story, all of whom suggested he would be hard-pressed to peel off many votes, the move underscores a growing problem for Ayotte.
Even moves as small as the letter she wrote to Cruz offended some of the people who should be her closest allies.
"Plenty of people called and asked, 'Why is she doing this?'" said O'Brien, who cochairs Cruz's presidential campaign in New Hampshire. "The criticism of Senator Cruz was unwarranted, and many of us thought it was offensive."
And while O'Brien, as a member of the state party leadership, is bound from supporting anyone but the GOP nominee, he sized up the race like this: "She's thinking conservatives will have no place to go, but it's not going to be through a primary, probably, that she loses. It's because an independent or a Libertarian will come forth and take away her margin of victory."