Why Houston Workers Still Struggle to Keep Up In Booming City
Employers say they can't hire fast enough to keep up with demand, but some residents still aren't benefiting from the strong economy.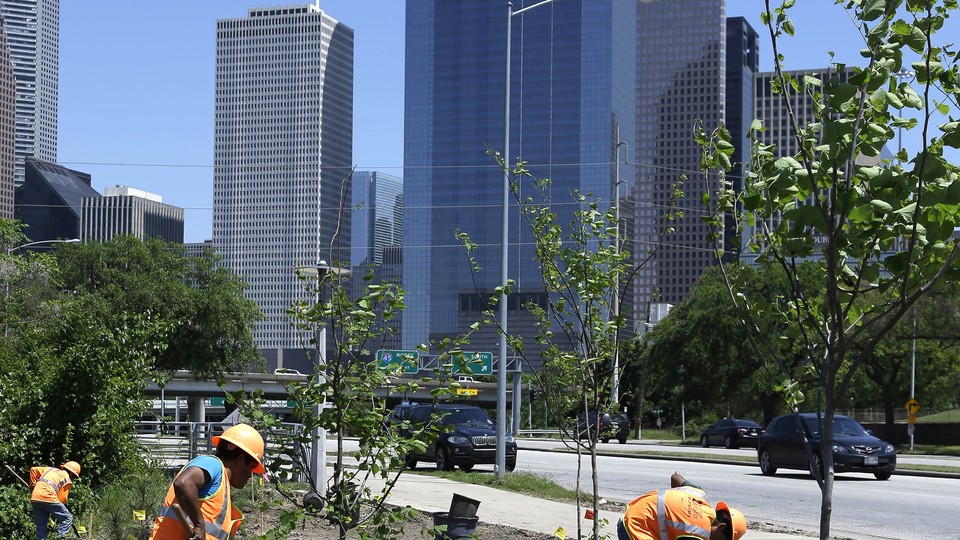 HOUSTON, TEXAS—Santiago Salinas, 57, grew up on the north side of Houston and attended Jefferson Davis High School for a time, before dropping out just shy of graduation.
Yet, "I don't know how to read and write," he told Next America on a recent afternoon at a workforce center where he had come to seek help finding a job.
Texas, and in particular this bustling port city, has seen massive job growth in recent years. The Houston metro area led the nation in employment growth between 2000 and 2013. Petrochemical and construction companies clamoring for workers offer good wages. Yet, according to a 2014 Urban Institute report, the hourly wages of the city's lowest-paid workers dropped by a quarter between 1979 and 2006.
These workers don't have the education or the skills they need to take advantage of the booming economy and fill high-need jobs at oil companies and in the medical field. Some, including many of the nearly one-in-five Houstonians who don't have a high school diploma or a GED like Salinas, still struggle to get by. While some are immigrants who speak little English, others, like Salinas, are long-time Houston residents and products of its public-school system who have fallen through the cracks.
Over the years, Salinas has worked in construction, washed dishes, and fed elderly hospital patients, he said. But none of the jobs has lasted long. He can't work in construction anymore because of an injury, and he said he has been laid off from other jobs after supervisors discovered he couldn't read.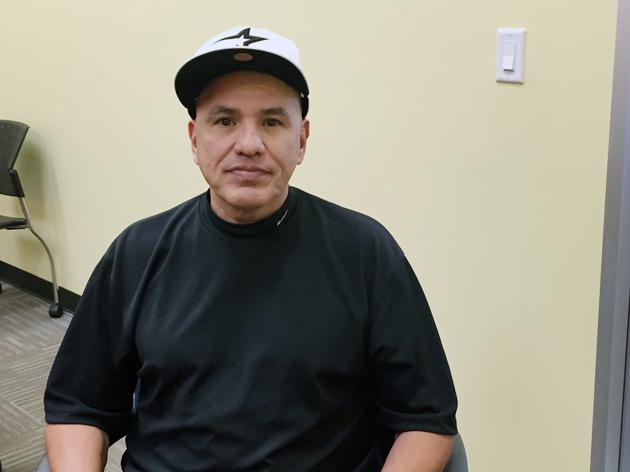 A drug problem, he said, landed him in prison for 20 years of his adult life, which has complicated his job prospects and left a gaping hole in his work history. While he was behind bars, he said, guards tried to help him learn to read, but ultimately they gave up.
"They told me I hit a wall, and I was not learnable," he recalled matter-of-factly, with no hint of anger at either the school system that failed him (his former high school was labeled a "dropout factory" in the mid-2000s by Johns Hopkins researchers and the Associated Press) or the prison system that labeled him a lost cause.
The Southeast Workforce Solutions center Salinas is visiting has worked with him on multiple occasions to find jobs where his illiteracy is not such an issue. This time, they've lined up a $9-an-hour job cleaning floors and Salinas is grateful. It's less than the $13 he used to pull in, but better than nothing. He lives in the house his parents finished paying for before they died and left him the keys. He is divorced and his children are grown, so there is no one to support but himself. But still, he said: "It's hard sometimes. I have to shuffle bills around."
When A Degree Is Not Enough
Pamela Bergeron, 58, has a bachelor's in business but said she has struggled to re-enter the workforce after her late husband's cancer-related death following years of being a stay-at-home mother. She used to work, she said, as an executive assistant, but has struggled to get beyond initial automatic screenings recently. In her day, those were done by a person and potential employees had a chance to show off what might not resonate on paper, she said. Now, computers perform that task, which, Bergeron thinks, disadvantages older workers with résumé gaps.
While a web of agencies and organizations work to equip the region's young people with the skills to fill the growing number of middle- and high-skill jobs, particularly in the petrochemical, medical, and construction industries, older residents like Bergeron and Salinas can feel left behind.
Behemoths like Shell entice workers with offers to move up the corporate ladder through in-house or subsidized continued education. But the workers are expected to come with basic skills, reading among them, that Salinas lacks. Younger workers are often encouraged to enroll in two-year schools like Lee College, which works with companies such as ExxonMobil to develop associate's degrees geared toward high-need areas in the chemical-processing industry. But the programs make more sense for younger workers who will have decades to benefit from the investment in time and money. While Workforce Solutions offers GED training, English classes, and other seminars, overcoming a history like Salinas's is a tall order, and most education and workforce initiatives in the city seem to focus on preparing young people for the job market.
Salinas's plight, said Jaime Campos, who manages the workforce center, is not unique. An increase in the number of job postings has not made a dent in the level of need, Campos said. Workforce Solutions still sees between 650 and 850 people every day. Many lack specific credentials, like a high school diploma, or have identifiable challenges, like a criminal history. But the center is also paying increasing attention to the development of so-called soft skills—the ability to show up on time, work collaboratively, and dress appropriately. Employers looking to fill an aging workforce that has those skills say they are having a hard time finding new employees that do, too.
On a recent afternoon in November, most of the 48 computers job seekers can use free of charge to search for work are occupied, and staff are busy meeting with young people to discuss career options and older workers, like Salinas, who lack basic education. The center, Kevin Rodney, a senior workforce planner with the Gulf Coast Workforce Board, which oversees the region's more than 20 career offices and the federal and state dollars that support them, said, has also seen an increase in the number of people who have moved to the region after hearing about an abundance of job opportunities. Young people with Deferred Action for Childhood Arrivals are now coming to the center with work authorization, where they couldn't just a few years ago.
Campos thinks the outlook for younger workers is much better. As schools nationwide shied away from vocational training in the 1980s, they began pushing college as the path to prosperity. Now, he thinks, with lucrative oil-industry jobs that don't require four-year degrees, Houston-area schools are more receptive to talking to students about where workforce opportunities exist. In the meantime, the center will continue trying to help residents like Salinas, who won't reap the benefits of such reforms, piece together a living.
This is the first in a series of stories on education and the workforce in the Houston region. Check back for more stories on organizations working to increase economic opportunity for residents in the area and on how schools are restructuring curriculum to align with the area's workforce needs.