White House Wants "Next Generation" High Schools for the Most At-Risk Students
The Obama administration launched a public-private collaboration that will funnel $375 million into redesigning high school.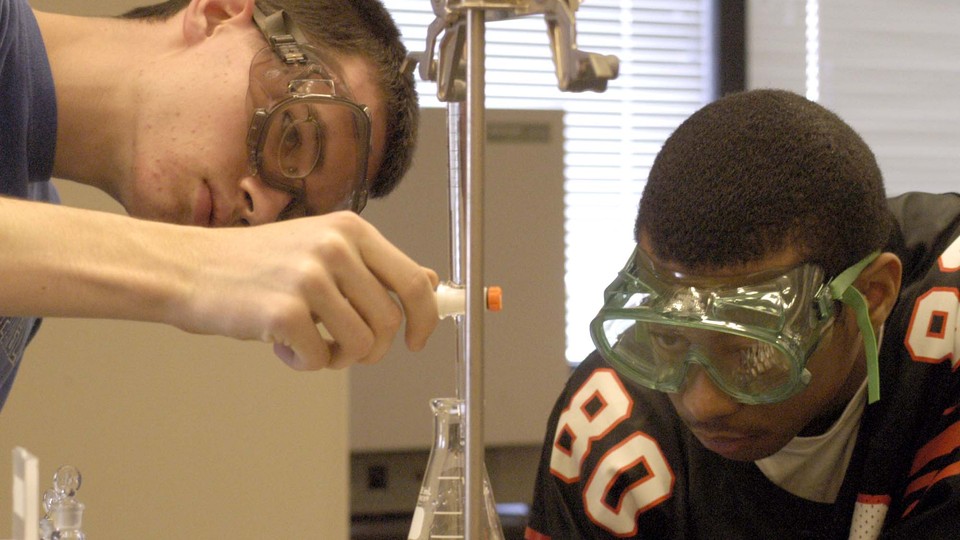 The nation's high schools were, in many ways, designed for a student population that no longer exists and to support an economy that is a thing of the past. To pull schools into the 21st century, the White House is pouring millions of dollars into a new effort to revamp what and how students learn.
The Obama administration announced on Tuesday a public-private collaboration that will ultimately funnel some $375 million into supporting so-called "next generation" schools, those that let students gain real-world experience, particularly in the science, technology, engineering, and math fields.
John King, who is set to become acting Education secretary later this year, said during a White House summit on the topic Tuesday that students need preparation for both college and career training, not one or the other, as is currently too often the case.
The initiative will focus specifically on reinventing and improving the high school experience of low-income children of color, who are underrepresented in many of the science and technology fields that are likely to expand in the coming years. Right now, these students are disproportionately likely to leave school and to attend schools that don't offer higher-level classes like calculus and physics.
It is a "moral imperative," King said, to design schools that serve students who have for too long been "forgotten," such as those who are not fluent in English and the undocumented.
The summit was presented as an opportunity for educators, policymakers, and philanthropists to share ideas about how to redesign the high school experience for the most at-risk children. King highlighted the government's recent announcement that some high school students will be able to access Pell grant funding to get an early start on college. Laurene Powell Jobs, the wife of the late Steve Jobs and the cofounder of College Track, which aims to increase college-going rates for underserved students, called on philanthropies to help connect students with apprenticeships and internships. Other speakers called for increased use of technology to personalize the learning experience to meet individual students' needs.
"Regardless of zip code," Powell Jobs said, "talent and IQ are evenly distributed, so we need to make sure that opportunity is evenly distributed, too."
The administration will announce later this week plans to commit more than $20 million in grants to support the redesign of schools with high numbers of low-income children. Foundations will contribute another $225 million, while companies like IBM will support the expansion of information technology-focused schools.
As White House senior adviser Valerie Jarrett pointed out at the summit, "the jobs of tomorrow haven't even been invented yet." To be prepared, today's high schools will need to teach students not only information, but how to think critically and adapt to an ever-changing world and economy.