While Clinton Dreams Up Infrastructure Plan, Congress Wrestles With Its Own Bill
Clinton's tax-reform plan might seem ideal, but Congress is stuck with a pay-for patchwork.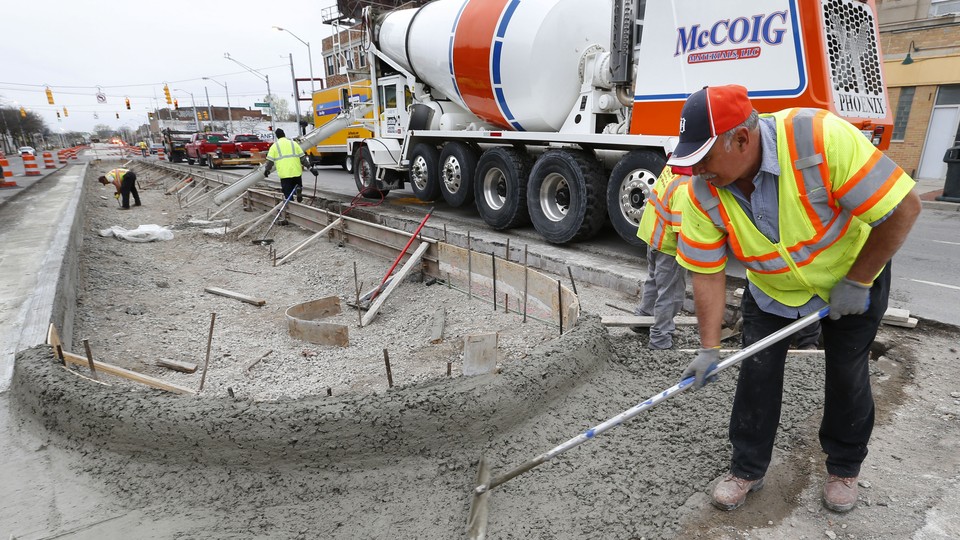 While Congress scrambles to wrangle together a mishmash of funding measures to back up a long-term transportation bill, Democratic presidential front-runner Hillary Clinton says she can do even more.
Clinton's campaign detailed a five-year, $275 billion infrastructure plan as the backbone of her economic platform that would go on top of infrastructure spending authorized by Congress. The plan would spend $250 billion in direct public investment, with another $25 billion to start an infrastructure bank that would leverage funding for large infrastructure projects.
Her funding plan? "Business tax reform."
With the gas tax dwindling and the Highway Trust Fund on the verge of going dry, the idea of pairing tax reform with transportation funding has been an appealing option. And despite bipartisan supporters ranging from House Speaker Paul Ryan and presidential contender Rand Paul to Sen. Barbara Boxer and the White House, the stars have not yet aligned.
So while Clinton is able to dream up big ideas on the campaign trail, Congress is stuck with the harsh reality of the legislative process. And that means juggling a mismatched set of funding sources that nobody seems content with—and that likely won't even cover the full length of the policy proposals members came up with.
The House and Senate each passed separate six-year transportation bills with three years of funding, provided by a package that included measures like sales from the country's petroleum reserve and fees from customs processing. The package passed the Senate and House by overwhelming margins, even as members on both sides bemoaned the funding package as being full of gimmicks.
The House, however, tacked on an additional provision that would liquidate a Federal Reserve surplus account, raising as much as $40 billion more for the bill, enough to cover two more years, while wiping out another pay-for that cut government dividends to large banks.
That's led to a discussion about whether the bill should be shortened to five years—assuming the funding works out—or stay at the full six years to offer long-term certainty. Either solution is preferable to the Senate-passed bill, which would have required Congress to come back to the table after just three years to work out a new funding measure.
It remains to be seen what pay-fors can even stick in the bill. Despite passing the House with a hefty bipartisan margin, the Federal Reserve provision has become controversial as it spends more time in the open. Fed Vice Chairman Stanley Fischer said it set a "dangerous" precedent, and former Fed Chairman Ben Bernanke said it was nothing more than "sleight-of-hand."
There are also lingering questions about various safety provisions and other policy language that have held up talks.
Members from both chambers are close to reconciling the two bills, with a conference report expected to be released Tuesday. That would leave just four days for both the House and Senate to pass the bill before a self-imposed Friday deadline, when highway funds would run dry.
If the two chambers can't get the final bill to President Obama's desk by then, they'd have to pass another short-term extension to keep money flowing.
While there's bipartisan support for spending on infrastructure, the money question has dogged Congress for the better part of a decade. The federal gas tax, which fuels the Highway Trust Fund, hasn't been raised or indexed to inflation since 1993, and improved fuel efficiency has hammered its receipts. Even talking about raising the tax has been a nonstarter, leaving members looking for whatever money they can find.
But a tax-reform-for-infrastructure bargain has stood as a way to solve two problems at once. Ryan, then chairman of the Ways and Means Committee, and Democratic Sen. Chuck Schumer had been engaged in talks about updating international tax rules for multinational corporations to back an infrastructure bill, but the plan couldn't come together in time to be attached to a policy bill.
The White House pitched a transportation proposal funded by a mandatory "transition tax" for multinational companies in its fiscal 2016 budget. Paul and Boxer teamed up on a bipartisan bill that would allow companies to voluntarily return overseas profits at a reduced rate to shore up the Highway Trust Fund. Sen. Bernie Sanders, Clinton's rival for the Democratic nomination, included taxes on multinational corporations as part of his $1 trillion infrastructure spending plan.
Clinton's infrastructure proposal seems to follow in that path, although her campaign's fact sheet did not contain any more detail on what her tax-reform funding plan would look like. Clinton has touted her plan as a "down payment on our future" that would create good-paying jobs while helping the nation's GDP.
But it depends on Clinton breaking through on the tax-for-infrastructure balance that's escaped Congress for years. And critics are already pressuring her to back up the big talk.
"With Hillary Clinton's spending binge already at a trillion dollars and counting, it's clear she wants to treat Americans' tax dollars like every day is Black Friday with no plan to pay the bill," Republican National Committee spokesman Michael Short said, according to ABC News. "The real reason Hillary Clinton isn't saying how she'll pay for her trillion-dollar spending increase is because she knows it means raising taxes on the middle class."