When the Clinton Scandals Boil Away
Trust is a bitter residue for the Democratic front-runner, even as voters turn away from Benghazi and emails.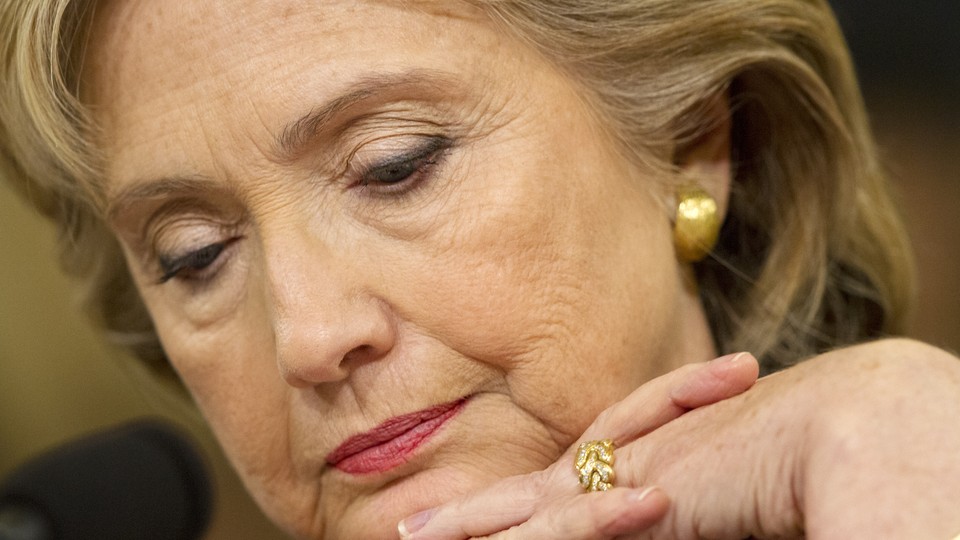 She buried Benghazi. She deleted the email scandal. Such are the hopes of Hillary Rodham Clinton's team after an NBC News/Wall Street Journal poll suggests that Americans are less inclined to consider either issue critical to their 2016 vote.
So is Clinton out the woods? No—not if voters still want to trust their president.
First, the good news: In the poll released Tuesday, Clinton's lead over insurgent socialist Bernie Sanders has widened to a two-to-one margin among Democrats. More than 80 percent of Democratic voters believe the former secretary of State is the most likely to win their party's nomination.
The results confirm anecdotal evidence that Democrats are eager to forgive Clinton's lapses in judgment and honesty concerning both the 2012 Libya raid and the unauthorized use of a secret email system while serving as secretary of State.
Her 11-hour testimony before a hyper-partisan congressional committee investigating the Benghazi raid seems to have swung sentiments in Clinton's favor. Before the hearing, 58 percent of Democratic primary voters said they were satisfied with Clinton's response to the attacks. That number is up 14 points, to 72 percent.
Among swing voters, the percentage of those who say they aren't satisfied with Clinton's response to the Benghazi controversy has been cut by more than half, from 84 percent to 40 percent.
After a first Democratic debate, where Clinton performed well and Sanders gave her a pass on the email scandal, 48 percent of voters say the email issue isn't important to their vote, while 42 percent say it does shape their decision-making. Those numbers are almost flipped since mid-October.
Clinton has taken responsibility for security lapses at the U.S. compound in Libya, but she hasn't explained her role in an administration-wide attempt to mislead Americans about the reason for the attacks. In the heat of President Obama's reelection campaign, the White House initially blamed the raid on an anti-Muslim video rather than a terrorist strike.
Congressional investigators uncovered evidence that Clinton knew within hours that terrorists were behind the raid. According to the father of a former Navy SEAL who died in the raid, Clinton stood before his son's coffin and privately told him the United States would arrest the filmmaker responsible for the attack.
Clinton has apologized for putting all her official email on a private server but continues to claim incorrectly that the actions had precedent and were authorized. She vowed in March that no classified material was ever on the server, a claim proven false. She now tells voters none of the emails were marked classified, which she must know is irrelevant; people are prosecuted for mishandling unmarked U.S. secrets.
Furthermore, Clinton insists that she voluntarily turned over the email to the State Department, though in fact, she had kept the government documents secret until Congress discovered her stash. She insists she voluntarily turned over the server, failing to mention the FBI's strong desire to scour the storage unit as part of its ongoing investigation of her actions.
Because of all this, and more, the Benghazi and email stories could boil away, and there will remain the bitter residue of a character issue likely to stick to Clinton throughout the campaign—and throughout her presidency, should she win.
People don't trust her.
The NBC/WSJ poll reveals that 53 percent of registered voters give her poor marks for "being honest and straightforward," while just 27 percent give her high marks.
Clinton and her team can take solace in the Republican presidential race, which GOP consultant Alex Castellanos recently called a "dumpster fire." The NBC/WSJ poll shows political novices Donald Trump and Ben Carson lapping the GOP field, with a majority of Republican voters calling Carson their first or second choice.
"And while there's still plenty of time for an establishment GOP candidate to beat Carson or Trump," reads the NBC analysis, "Democratic pollster Peter Hart wonders if the 2016 Republican race is shaping up to resemble 1964, when Barry Goldwater won the GOP nomination."
"What if the cake is baked?" Hart asks. "This is not a status-quo election."
The cake is baked on Clinton's integrity. She must now pray for a flaky GOP nominee.