What My Brother's Keeper Gets Wrong About Black Fathers
This Columbia professor says President Obama's project perpetuates the myth that black fathers are missing in action.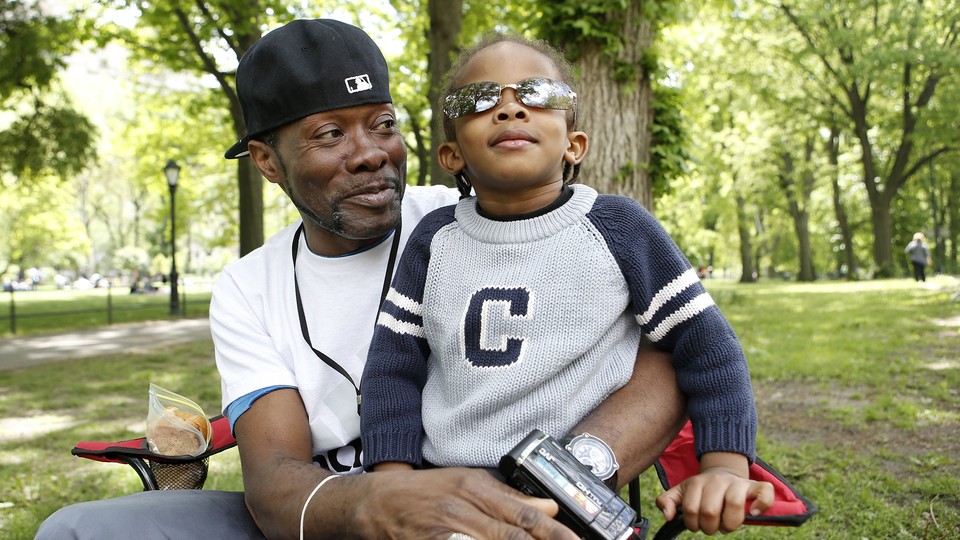 President Obama's plan to help young black men has not been exempt from criticism. Most recently, a report from a professor of political science at Columbia University calls out the "My Brother's Keeper" initiative, arguing that it attempts to replace absent fathers with mentors, which wrongly perpetuates the myth of the absent black dad.
In reality, professor Fredrick C. Harris argues, the black father is very present—just not married.
Harris writes that 1.5 million black men have disappeared from black communities, "either through premature death from disease or murder or from being locked away in jails and prisons." So in this regard, yes, there is a dearth of black men present to raise their kids. The role of patriarch is, of course, important, Harris told Next America. So as much as My Brother's Keeper emphasizes that role, it's a well-intentioned program. But one central problem Harris sees with the program's premise—the absentee father replaced by a mentor—is that it supports the myth that black men have abandoned their kids, which he says isn't true.
"Previous studies have shown that black fathers not only are active in the lives of their children but their engagement is equal to or is greater than white and Latino fathers," Harris wrote in his report, "The Challenges of My Brother's Keeper."
The program has come under quite a bit of attack for something with such an altruistic goal. Why not include black girls? some have argued. "The initiative is certainly well-intentioned," writes author and feminist Roxane Gay, "but it also speaks to the idea that black Americans must make themselves more respectable in order to matter." Which is a point that journalist and MacArthur Foundation "genius" grant recipient Ta-Nehisi Coates also makes about the program—that it ignores America's systemic racism and seeks to tell kids that if only they have a "can do" attitude, they'll succeed.
In the report, Harris cites data from the Centers for Disease Control and Prevention that show black fathers with a child under 5—whether the father is married to the mother or not—were just as likely as white and Latino dads to eat meals with, bathe, diaper, read to, or dress their kids every day.
As for fathers not living with their kids, according to a Pew Research Center study, black dads showed greater desire than whites or Latinos to provide financially for their kids.
The confusion comes, Harris says, because many more black parents choose to co-habitate instead of marry.
So when the media and researchers focus on the black family, panic follows this idea of the unmarried black mother. She is thought of, typically, as unmarried, single, and raising kids on her own, says Harris. Black children "may be born to unmarried mothers, but that doesn't mean the father isn't involved in their kids' life. …
"And we need to move away from that myth," Harris says, "because frankly the concept of marriage is changing."
Truth is, marriage in general isn't as popular as it once was. For whites, the share of never-married adults was 16 percent in 2012, up from 8 percent in 1960. Black women have long had lower marriage rates, and overall 36 percent of adult black women have never married, up from 9 percent in 1960.
Though marriage can have positive economic results, Harris says he's not sure what difference from it makes in child-rearing compared to co-habitating. Rather than focus on repairing relationships between black boys and missing fathers, as My Brother's Keeper does, Harris says the most effective policies would more broadly help black parents, married or not.