What Donald Trump Should Know About Hosting "Saturday Night Live"
Advice for the tycoon from the small fraternity of presidential candidates who have hosted the legendary satirical show.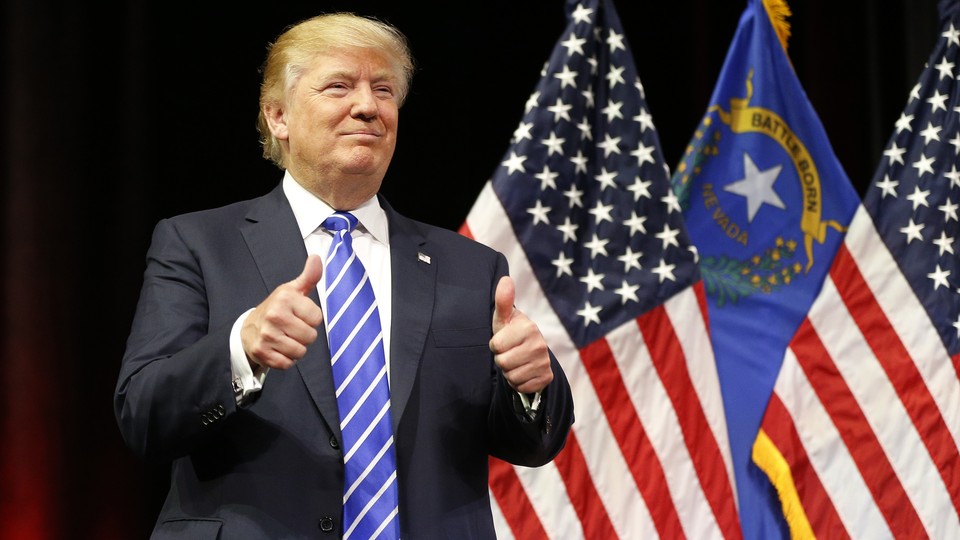 In 1977, Ralph Nader inspected blow-up sex dolls on Saturday Night Live. In a skit in 1996, the bookish billionaire Steve Forbes denied he was behind a fictional book that described "Teve Torbes" as a man with "an undeniable animal magnetism that drove the ladies crazy." And in 2003, Rev. Al Sharpton ended the show onstage with Paris Hilton, who he now realizes was coming out as a "sex image star."
"Let's put it this way, it didn't give me a whole lot of votes in Harlem," adds Sharpton.
There's a certain risk for any president-wannabe to host the satirical show—what campaign manager would want his or her candidate fielding a dirty joke on air?—yet these three men, members of a small crew who have hosted SNL and run for the White House, think that Donald Trump has a huge opportunity this weekend to pad onto his front-runner status.
"Of course it helps," says Nader, dismissing any bewilderment as to why Trump would open himself up to an hour-plus of live, televised skits just a few months before the Iowa caucuses. "Anybody who is surprised, I can guarantee will be a visiting Martian."
"It's basically a transition from a political circus to a satiric event," he adds.
Sharpton—who claims to have hosted over the objections of campaign staff afraid he would appear "too comedic"—says that the show could even broaden Trump's image, which has been well-worn into what Nader calls a "finely etched media character" over decades.
Trump, with his "one-dimensional image of bravado and bombast and all has an opportunity to humanize himself and laugh at himself," says Sharpton.
And Forbes sees an unconventional candidate dominating the late-night medium. "He goes anywhere and the normal rules don't apply," he says. "He comes out strong. It's astonishing."
Of course there are perils. Hispanic groups upset over Trump's denigrating portrayal of Mexicans have been railing against NBC and there could be an angry outburst from someone in the crowd. (It wouldn't be the first time SNL handled an unpreventable controversy: When Forbes hosted, Rage Against the Machine hung upside-down American flags just before playing.) And there's also the chance that Trump may not turn off the one mode that has driven him thus far.
"The risk is ... people do not feel he [has] the capacity to go beyond his braggadocio and his 'me, me, me, I, I, I,'" says Sharpton.
"The advice is that he shouldn't trump himself," adds Nader. "On a comedy show, if you try to be funny, you're not going to be funny."
But the betting money is on Trump doing what he does best: creating mostly positive attention for himself on a mostly positive platform that wants a ratings boost.
"Everyone's going to watch it, because they want to see what will happen," Forbes tells National Journal. "If Rick Santorum or somebody else is doing it, it would be, 'Oh I have to watch it because I'm following politics.' Trump—everyone wants to see what will happen."
"In fact, I'm surprised Trump hasn't negotiated a cut of the advertising fees," he added.
So Trump tearing up the traditional campaign playbook—only Sharpton has hosted while running for president—and benefiting shouldn't be that shocking by now. But the fact that he's still here as the GOP front-runner—and that nobody knows how far he'll go—still is.
"I've been so humbled by what's happened in this campaign so far that I don't rule anything in or out," says Forbes. "No one could've sketched this."
And even if he drops out of the race, Trump has the chance Saturday to imprint his brand on American culture even deeper. Forbes says that three or four times a year, somebody comes up in the airport and says, "Hey, Teve!" A year or two after Sharpton's show, he says people on the street, including "old ladies," would try to do the James Brown dance he broke out in his monologue. And in our interview, Nader talked about his "most controversial" scene—the one with the dolls—he asked, "What were they called?" and, without a response, said I could look up the re-runs online.