Will Foreign-Policy Ignorance Actually Hurt Ben Carson?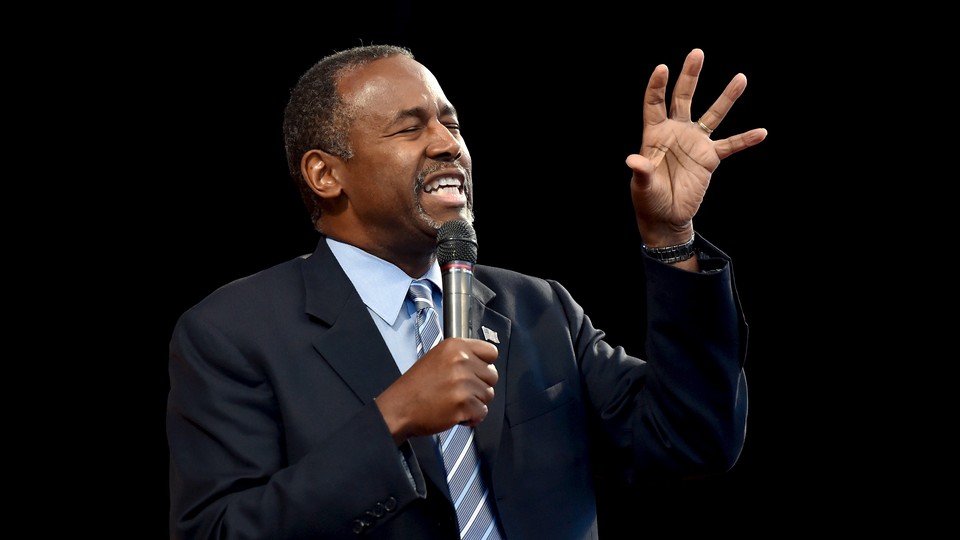 It has become a commonplace since Friday's attacks that whatever else the political effects of the carnage in Paris may be, they mean that candidates with foreign-policy experience now have an edge.
You should be skeptical of this claim. It's not just, as Brendan Nyhan writes, that events like this tend to have very little effect on the eventual outcome. Nyhan caveats that "the attacks may prompt a sustained focus on foreign policy among Republicans, who are still searching for an issue to run on against Democrats in 2016." If that is true, it would seem that the candidates with the most to lose are Donald Trump and Ben Carson, who currently lead the GOP field.
You should also be skeptical of anything that's said to be change the game in favor of establishment Republicans at the expense of Trump and Carson. Those predictions have proven wrong over and over again, and they often seem to emanate from establishment Republicans—folks who dislike the outsiders and may be prone to wishful thinking. Besides, it's also hard to think of a time in recent history when a foreign-policy stumble truly hobbled a candidate.
Ben Carson seems to be making a bid to be the first. Daniel Drezner makes a careful, cautious case that Carson's unpreparedness on foreign policy might actually hurt him. Let's review the tape. On Sunday, Carson was on Fox News Sunday, where Chris Wallace asked him what allies he'd enlist to fight ISIS. When he didn't name any, Wallace followed up, twice, and got no real answer:
CARSON:  My point being that if we get out there and we really lead and it appears that we're making progress, then all of the Arab states and even the non-Arab states who I think are beginning to recognize that the jihad movement is global.  It is not just local in the Middle East, but if we fight it there, they will have to pool their resources in that area, and then we won't have to necessarily fight them here.  That's what I'm saying.  

WALLACE:  But can you tell us who you would call first, sir?  On the international scene.

CARSON:  I would call for all of the Arab states to be involved in this.  I would call for all of our traditional allies to be involved in this.  You know, I don't want to leave anybody out.
While it isn't news that Carson is untutored on foreign policy—just read this devastating Jason Zengerle piece—the combination of his rise in the polls and the Paris attacks have brought a new focus on his lack of experience. On Tuesday, The New York Times ran a damning story about the concerns Carson's own aides harbor about the candidate:
"Nobody has been able to sit down with him and have him get one iota of intelligent information about the Middle East," said Duane R. Clarridge, a top adviser to Mr. Carson on terrorism and national security. He also said Mr. Carson needed weekly conference calls briefing him on foreign policy so "we can make him smart."