Weary From Losses, Ohio Democrats Try to Rebuild
"A lot of bad things happened" for the party in 2010 and 2014, and now it's trying to avoid the same problems in 2018.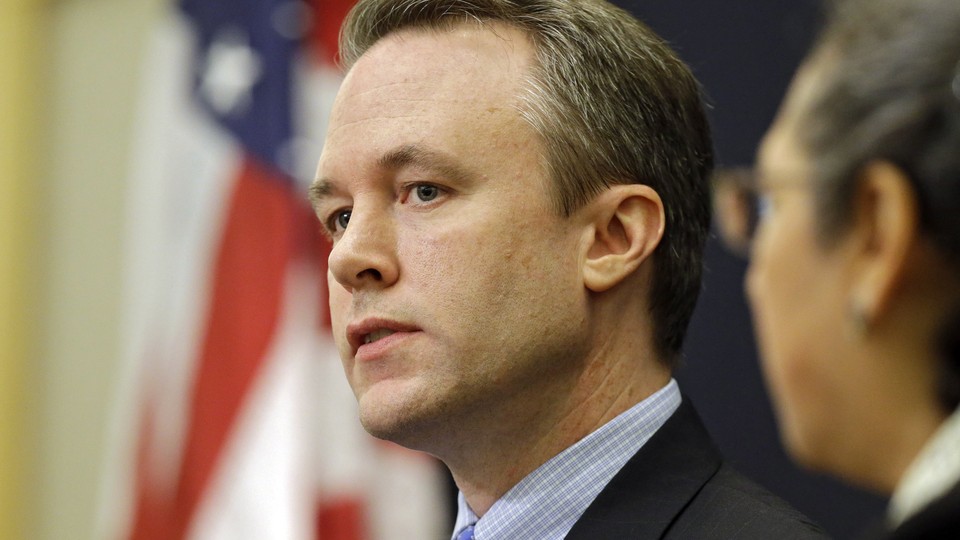 CLEVELAND—Outside a Bernie Sanders rally here last week, thousands of supporters of the Vermont senator waited eagerly to see their candidate speak. Sanders staffers walked up and down the line, asking rally-goers to sign their petition to get onto the Ohio ballot next spring.
Also working the crowds were 75 staffers and volunteers with the Ohio Democratic Party with a different mission: They gathered more than 1,200 "commit to vote" cards for next fall's general election over the course of the night.
Ohio Democrats face the same recent problem heading into 2016 that Democrats across the country do: They win in presidential years but lose badly in midterms. Their voters show up in droves every four years for Democratic presidential candidates but stay home for the off-year elections in between. And because this is Ohio, it matters—a lot.
But with just under a year to go until Election Day, the state party is plotting its comeback, with two dozen field staffers already in place for 2016 and a plan to build up the party bench so it's more prepared for the 2018 midterms. Some Democrats in the state are skeptical of its eventual success—but many say the party is at the very least talking about its challenges in the right way.
"We've seen in 2010 and then again in 2014, a lot of bad things happened," said Rep. Tim Ryan, an Ohio Democrat. "But from that we learned to function, I think, and lay the tracks down now for a new approach—a more grounded approach—to turning out voters."
The current chairman of the state Democratic Party, David Pepper, knows his party's problems firsthand: He ran for office twice during midterm years—for state auditor in 2010 and attorney general in 2014—and lost both times. In 2014, Democrats' ticket was led by gubernatorial candidate Ed FitzGerald, whose disastrous candidacy veteran Democrats say helped bring down other candidates on the ballot as well.
It's enough of a problem that the bench of qualified Democrats here for local and state-level has been decimated in recent years: Currently, only two Democrats—U.S. Sen. Sherrod Brown and state Supreme Court Justice Bill O'Neill—hold statewide elected office in Ohio, and the party's delegations in both the state House and the state Senate are down to near-record lows. Those losses have a trickle-down effect: The more people a party has in office, the more they're able to tap into those politicians' own political networks to help shore up support in other elections (like GOP Gov. John Kasich, for example).
"This party has no track record of electing anybody statewide since 2006," said veteran Democratic strategist Jerry Austin. "Even though Obama won [Ohio] in 2012, nobody would give credit for his winning to the state party."
So when Pepper came into the chairmanship last January, fresh off his 2014 loss, he left on a statewide "listening tour" to figure out what went so wrong. The biggest realizations: In order to maintain momentum from the presidential elections to off-year races, the party needs to have teams on the ground earlier and work to recruit more candidates to help build up the Democratic bench. That's especially important given national Republicans' focus on Ohio in the lead-up to 2016 and their decision to hold the Republican National Convention here in Cleveland next summer.
"Anything we do in 2016—whether it's work in the voter file, registering people to vote, building and nurturing strong candidates—has to be a building block for what we're going to do in 2018 when all the statewide offices will be up for grabs," said David Leland, a state representative and former state Democratic Party chairman.
Pepper's listening tour resulted in the party's "1618 Plan," which is intended to keep the enthusiasm and party infrastructure in place enough to carry presidential-year gains over to the 2018 midterms. It's what state party executive director Greg Beswick called "an unprecedented approach" for the state: Since the end of the summer, the state party has hired 24 field organizers who will be in place through the 2016 elections (and potentially beyond). Those organizers, who started earlier than any other time in recent history, are spread out across the state and have begun trying to get volunteers involved for next year.
"We're talking to the former Obama volunteers, the David Pepper volunteers, the Sherrod Brown volunteers—everyone and anyone who wants to have a discussion," he said. "And understanding that it's about next year, but it's about all elections."
As a result, this fall was in many ways a test run for Ohio Democrats with their new field team in place—and one that they say earned them a few key victories across the state. Veteran Ohio Democrats point to some of the off-off-year successes of the fall 2015 elections—including Democratic victories in a few key mayorships, giving them control over nine of the state's 10 largest cities. Democrat Paula Hicks-Hudson, for example, became the first African-American woman to be elected mayor of Toledo.
The state party "really focused on, which we didn't for a while, these off-off-year elections," Ryan added.
Building up state parties is a priority for the Democratic National Committee, too, which released its own post-2014 "Victory Task Force Report and Action Plan." Its recommendations include many of the same things that the ODP is focusing on: building state party infrastructure, honing its message, and shoring up the Democratic bench across the country. And under the Democratic National Committee's "State Party Partnership" program, for example, the DNC helps fund approximately two staffers for each state party. In Ohio, that includes funding for their voter file manager.
The extent to which the party's infrastructure matters for 2016 is an open question: National campaigns usually bring in many of their own operatives, which means they can help make up for a weak state party. Ohio-based operatives expect the eventual Democratic nominee's campaign to do the same in 2016.
"If you go back to Obama's victory here, he brought his own people," said Jim Ruvolo, another former state Democratic Party chairman. "The state party was the conduit for money, but it wasn't the place that the Obama counted on to deliver for him."
Democrats here are cautiously optimistic about the party's plans: They say Pepper is a smart and capable chairman and that he has good ideas, and the real question is whether the party can actually make them materialize.
"I'm guessing they have every good intention … but intentions aren't enough," said Ruvolo.
Cuyahoga County Democratic Chairman Stuart Garson had similar thoughts. "We're interested and curious to see how this hardens," he said. "I know it's early, but it's really not."