Wealthy Donor Wants To Move Republicans To The Left In Indiana's Senate Primary
Angered over the state's religious freedom law, the former CEO of Angie's List is backing the most-moderate candidate in the primary field.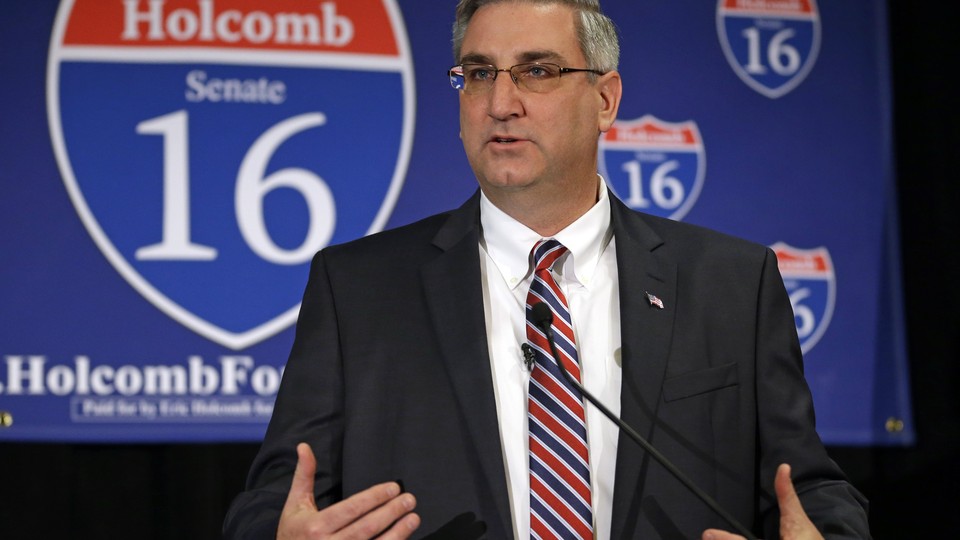 Indiana Republicans who fought their own governor over a religious-freedom law are seeking to get their voices heard in an unlikely place: the state's Republican Senate primary. With a socially moderate Republican running against two conservatives, a deep-pocketed donor is hoping to move the party's positioning on social issues squarely to the left.
Bill Oesterle, the former CEO of Angie's List and a major player in Indiana politics, angrily split with Gov. Mike Pence earlier this year over the state's Religious Freedom Reformation Act, which opponents claim unfairly targeted gay people. Oesterle led a movement of Indiana business leaders fighting the legislation, arguing that it would hurt employee recruitment, particularly in the technology industry. This fall, they hope to convince the legislature to take up legislation expanding the state's civil rights code to expand protections for sexual orientation.
Now, Oesterle is taking his dispute with the party's socially conservative wing one step further—and in the process, making the state's once quiet GOP Senate primary an ideological battleground. He registered a federal super PAC last week to support former state-party chair Eric Holcomb, who trails two sitting congressmen in the race to replace retiring Sen. Dan Coats.
"I've done a lot of polling on Republicans in Indiana, and there's dissatisfaction with the dysfunction of government. ... Republican primary voters oppose discrimination, and they favor expanding the state's civil rights protections," Oesterle told National Journal in an interview last Thursday. Oesterle said plans to run TV ads highlighting Holcomb's "inclusive approach" on LGBT issues and immigration reform, to contrast his better-known and better-funded opponents, Reps. Marlin Stutzman and Todd Young.
Oesterle argues that Young and Stutzman leave an opening for a candidate with a more-centrist approach on social issues—one his business alliance could get behind.
"The business community in Indiana has a much more pragmatic approach; they are not content to see the debate be dragged out into the sort of extreme social agendas," said Oesterle. "There is going to be a tremendous opportunity to go out and raise money to support candidates like Eric."
Money, at this point, is critical for the Holcomb campaign. Despite his deep roots in the state's political community—he served as former Gov. Mitch Daniels's chief of staff and, most recently, as state director to Coats before his retirement—he has raised less than $500,000 since launching in March. His opponents have each raised more than $1 million, on top of what was already in their House campaign accounts.
But Oesterle's focus on social issues is a bit unusual in a GOP primary where conservatives dominate. Most Indiana Republicans backed Pence in his advocacy for Indiana's Religious Freedom Restoration Act.
Young, a former Marine who sits on the House Ways and Means Committee, ran TV ads during the first GOP presidential debate touting his support for "protect[ing] the unborn." Despite being one of just a handful of Republicans who voted to reopen the government in 2013, this fall, he supported conservatives' effort to defund Planned Parenthood by voting against a continuing resolution to keep the government open.
Stutzman, who has the backing of well-funded conservative groups like the Club for Growth, has also doubled down on his appeal to the party's far right. Though his campaign initially rolled out a team of operatives with diverse Republican backgrounds, he recently replaced his top aides with the local firm Mark It Red, which worked with him on his House campaigns.
"The strategy for Holcomb has to be that the far right is split between the two," said Andrew Downs, director of the Mike Downs Center for Indiana Politics. "The question is, how much of a block is it?"
"In the past, I think it would have been enough," said Downs. "It's maybe not as good of a strategy as it could have been a few years ago."
Holcomb, until now, hasn't given many specifics about his positions on social issues. He still hasn't said whether he supports expanding legal protections for sexual orientation, like Oesterle and his business coalition have sought.
"My reputation as the former state Republican Party chairman was someone who always sought to grow the party and encouraged all wings to be inclusive of one another even if it meant disagreeing on specific issues," he said in a statement to National Journal.
But Holcomb's campaign manager, Justin Garrett, said Oesterle's moves don't contradict the campaign's message. Holcomb and Oesterle worked closely with Daniels, he said, who famously called for Republicans to call a "truce" on social issues.
"It's a conservative primary electorate in Indiana, there's no doubt about that, but there's also a sizable chunk that doesn't feel like they necessarily have a voice," said Garrett. "They always identified with Gov. Daniels and the way that he went about his business, and those people are and should be helpful to Eric. If contrast and differentiation helps to unlock that vault, then it could be a very good thing to the campaign."
Oesterle warned that if Republicans nominate a candidate who's too conservative, they risk losing the Senate seat. Despite President Obama's success in Indiana in 2008, and Sen. Joe Donnelly's victory there in 2012, Democrats aren't particularly confident about their chances to pick up the open Senate seat. Former Rep. Baron Hill, unseated by Young in 2010, is the party's likely nominee.
"Eric's campaign is fundamentally about creating jobs and improving education," said Oesterle. "But he's just different from them on these issues, and I'm pointing that out."
"I'm working to make sure that the party as a whole in Indiana remembers that this is a state that is willing to split its ticket, tends to be very compassionate, and ultimately very pragmatic," he added. "When we forget that, as Republicans, we lose."