Walking to School Is a Costly Option for Some Families
School choice has resulted in options for some families and additional barriers for others.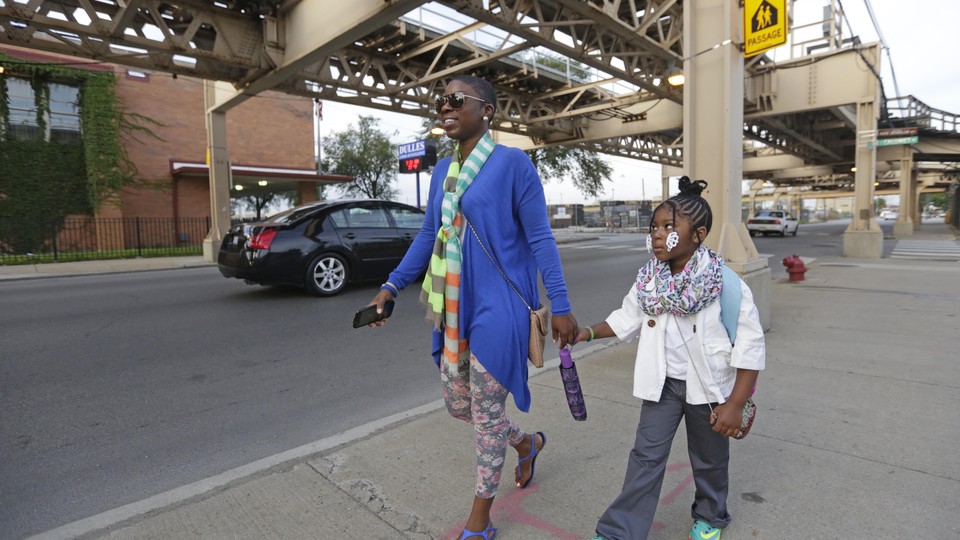 The traditional yellow school bus is not an option for the majority of public-school students in Washington, D.C. For many families who encounter neighborhood school closures or who elect to attend schools outside their neighborhoods, walking may not be an option, either. This means that some low-income families struggle to find transportation to school, while balancing jobs, child care, and other responsibilities.
In the District, about 75 percent of students attend a school outside their neighborhoods. As school choice drives up that number in cities across the country, school districts will have to consider how to accommodate them since fewer are walking.
According to a report by several organizations based in Oakland, California, the number of kindergarten through eighth-graders who walk to school has decreased from about 48 percent in 1969 to about 13 percent in 2009.
Today, more than half of students get to school in a family car, and 36 percent ride the school bus.
But for many low-income parents, dropping kids off at school in a car is not an option. More than 10 million households lack access to a car, including 33 percent of low-income African-Americans and 25 percent of low-income Latinos, according to a study by Safe Routes National Partnership.
Plus, walking may be falling out of favor with parents—partly because of safety concerns—though there may be advantages to walking in a safe environment.
"It can be something that's great for kids. It can give them a feeling of independence and confidence that they're getting around," says Sara Zimmerman, technical assistance director at the Safe Routes Partnership. "They're definitely intellectually old enough to be able to manage some of those challenges in middle school, but obviously there are a lot of public-transit systems in the country that are sometimes unsafe or can be threatening for adults, and so having kids of any age on those without someone looking after them or making sure that it's an environment that's going to feel supportive enough and safe enough, is troubling."
This past summer, Washington local government, which does not provide a traditional yellow school bus for most students, added the Metrorail trains to Kids Ride Free, a program launched in 2013 to allow students to take the city buses to and from school at no cost. The city does provide yellow-bus transportation for students with special needs, however.
"We heard a lot on the campaign trail about folks trying to get across the city to their school and not being able to pay for it, and that can be hard on any family," says Shayne Wells, spokesman for the deputy mayor of education. The addition of the Metrorail was largely the result of concerns about efficiency, as some families had to transfer buses two or three times to get to school. The average cost of a one-way trip on the Metrorail costs $2.40, though some students may pay up to $5 to get across town.
"I think having a yellow school bus or traditional bus to get you to and from school would be the best-case scenario, but that is not possible because of congestion, and our public transportation basically is our yellow school bus for how kids get to school," says Cecilia Kaltz, program analyst for the deputy mayor of education.
In low-income areas across the country, even neighborhood schools may be far from students because of school closures for poor performance, low enrollment, or budget issues. When distance or safety concerns preclude walking to school, it can be difficult to arrange for alternate transportation. The transportation itself—such as paying for a taxi or bus—can be expensive. Plus, it can be difficult or impossible for families who are tending to household responsibilities to leave their homes unattended.
"Families living in poverty kind of live in ongoing crisis, and when you live in ongoing crisis, anything can derail your daily routine," says Maud Abeel, associate director for strategic partnerships and postsecondary success portfolio at FHI 360, a human-development nonprofit.
"And these, again, are just issues that people with higher income can address by hiring a babysitter, by hiring a nurse aid for a sick relative, grabbing a cab when the kid's late to school. So, I think poverty creates very fragile circumstances, and any barrier can seem insurmountable."
Many low-income parents sacrifice higher-paying, longer-hour jobs in order to make time to take their kids to and from school, which contributes to a lack of intergenerational mobility.
"Kids get more expensive as they grow up,"  says Carrie Makarewicz, assistant director in urban planning at University of Colorado in Denver's College of Architecture and Planning. "And if the mom's income isn't gaining because—maybe at that point [when her child is older], she doesn't need to take her kids to school anymore because, now, he can get there himself—but she lost 10 years of her life of not being employed fully, and so she can't compete as well in the job market."