Vitter Spars With Democratic Opponent Over Syrian Refugees
David Vitter is tying concerns over Syrian refugees to broader border-security threats, using the issue to attack his Democratic opponent.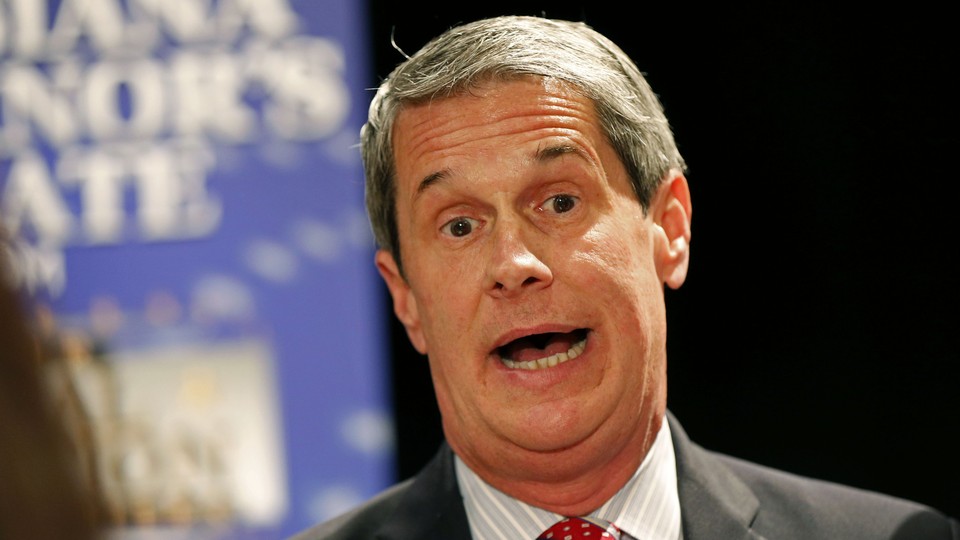 BATON ROUGE, Louisiana—Polls show Sen. David Vitter trailing his Democratic opponent in the Louisiana governor's race, but in the final days of the race, Vitter is using the Paris terrorist attacks and debate over U.S. acceptance of Syrian refugees as a vehicle to fire up the most conservative voters who remain distrustful of Democrat John Bel Edwards.
During the final televised gubernatorial debate Monday night before the November 21 runoff, the very first topic of discussion was how the candidates thought the state should approach the 10,000 Syrian refugees President Obama said will enter the country in the coming months. Louisiana Gov. Bobby Jindal sent a letter to the White House Saturday asking how many Syrian refugees had been settled in Louisiana, and the State Department set the total at 14. Jindal then issued an executive order Monday banning more refugees from being placed in the state. Jindal is one of at least 23 governors who took action Sunday and Monday to prevent Syrian refugees from coming to their states.
Both Vitter and Edwards said they support Jindal's moves, making Edwards one of just two Democratic governors or gubernatorial candidates anywhere in the country to back such a measure, along with New Hampshire Gov. Maggie Hassan, who is running for Senate in 2016.
At the televised debate Monday night, Vitter touted that he has been opposing federal plans to accept up to 10,000 Syrian refugees since September and linked the issue to broader immigration and border-security threats. Vitter accused Edwards, a state representative, of siding with President Obama on the issue. In a Facebook post Saturday, Edwards said, "As governor, I will continue to be an active participant in the ongoing conversation with federal authorities" over the refugee situation.
Edwards publicly backed Jindal's call for more information and the executive order, as did Vitter, but Vitter's camp has been trying to frame Edwards's original statement as evidence of tacit support for President Obama. Vitter spokesman Luke Bolar said the translation is that Edwards "will continue to work with Barack Obama to bring Syrians to Louisiana." Vitter's campaign is now airing a TV ad on the topic.
After Monday's debate, asked if he thinks Vitter is leaning in to the refugee issue at the last minute to spark interest among conservative voters, Edwards said: "Sure. And not only is he leaning into it, he's lying about my record." Before the debate Edwards's campaign staffers peppered the school auditorium with printouts of a press release from earlier in the day claiming Vitter "missed key hearings in the U.S. Senate on this specific topic." The release also compared Vitter to Jindal by calling him an "absentee senator."
Law and order issues generally benefit Republicans, and that could boost Vitter's struggling campaign. Edwards, a West Point grad and former Army Ranger, has sought to neutralize that advantage by touting his endorsements from the Louisiana Sheriffs Association and the Louisiana State Troopers Association and by emphasizing his military background. He continued to do so Monday. Edwards's early and aggressive posturing on the Syrian refugee issue over the weekend was likely an acknowledgement of the tough political realities that national security poses for Democrats, even in a state race.
"They couldn't let Edwards get to the right of him on that. Edwards looked at that and realized, this is an issue David's going to capitalize on, we can't let this be a last week surprise for us, we've got to get out in front of it," said Ryan Cross, who managed the primary campaign of Republican Scott Angelle.