Vitter Loses Louisiana Governor's Race. And He's Leaving the Senate, Too.
Democrats will have their first governor in the Deep South since 2008.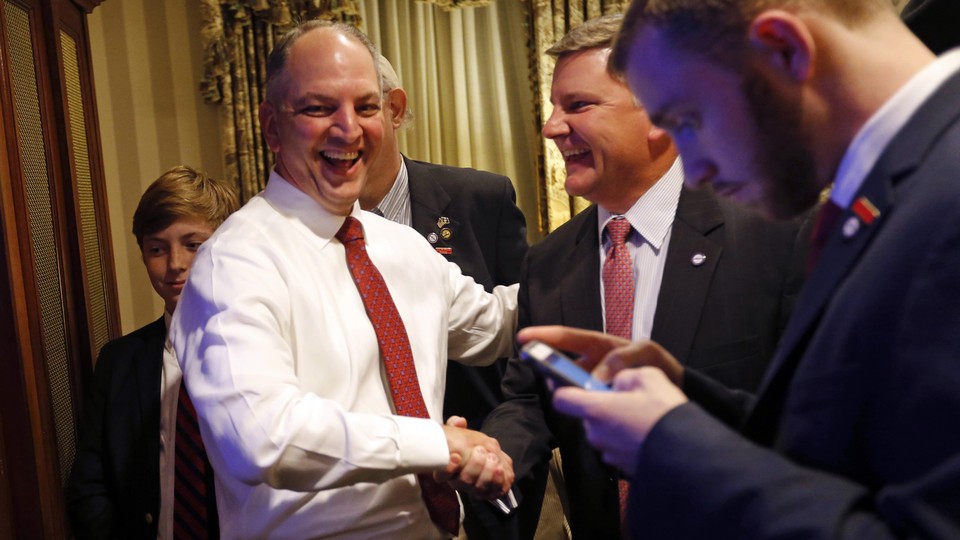 Louisiana voters elected a Democrat as the state's next governor, with John Bel Edwards defeating Republican Sen. David Vitter in an election defined by nasty personal attacks and the senator's past scandal. Edwards led Vitter, 55 to 45 percent, with 97 percent of precincts reporting.  After the defeat, Vitter announced he will be retiring from the Senate as well.
Despite the state's conservative tilt, Vitter never led Edwards, a pro-life, pro-gun state representative, in a single public poll. Vitter's vulnerability stemmed from political opponents digging up his 2007 prostitution scandal that became a major theme for the Democratic governor-elect's campaign. In the race's final week, Vitter attempted to use the issue of Syrian refugees as a last-ditch attack against Edwards, but it didn't work.
Vitter's image was battered by attack ads from outside groups that used Vitter's scandal to question his judgment, trustworthiness, and ethical mores. One Edwards ad was used demonstrate that his "extracurricular activities," as Edwards called them, interfered with his work. The one TV ad that Edwards ran on the topic in the runoff accused Vitter of skipping votes in Congress to take calls from an escort service—a charge that Vitter never denied.
"The Louisiana results today prove that strong Democratic gubernatorial candidates can win races anywhere in the country—in red, purple, or blue states," said DGA chairman Steve Bullock, the governor of Montana. "When pundits said the race was 'impossible' and a 'coronation,' John Bel kept fighting every day. We congratulate John Bel Edwards on his upset victory tonight."
Vitter's landslide defeat is a stunner for Republicans, who expected the state's Republican electorate to overcome any personal weaknesses that the senator brought into the race. Even many Louisiana Democrats initially believed Vitter was unbeatable as a sitting senator running in one of the most conservative states in the country. However, Edwards and a close team of supporters, including former Democratic Gov. Kathleen Blanco, saw an early path for Edwards that involved playing up his military background as a West Point graduate and former Army Ranger and using that to draw a contrast with Vitter from an ethical standpoint.
Vitter spent the final week of the race focusing on issues designed to fire up the most conservative voters—particularly the renewed threat of terrorism after the ISIS-sponsored attacks in Paris last Friday. Vitter relentlessly accused Edwards of supporting the relocation of Syrian refugees fleeing civil war into Louisiana, and used the issue to tie Edwards to President Obama—even though Edwards publicly opposed such a measure. Vitter's aggressive attempts to focus attention on this in the final week wasn't enough to overcome his broader character problems.
In his concession speech, Vitter announced he wouldn't be seeking a third term for the Senate—a conclusion that many of his GOP colleagues pressured him to reach, assuming he lost the governor's race. Vitter previously announced that he would limit himself to two Senate terms. Several Republicans made moves this year to set themselves up as potential Senate candidates assuming Vitter would win the governorship—including state Treasurer John Kennedy, Reps. Charles Boustany and John Fleming, and 2014 U.S. Senate candidate Rob Maness. Those close to Scott Angelle say the public service commissioner is potentially interested, as well.
There hasn't been a Democratic governor in the deep South since 2008, when Blanco left office after losing reelection. Neighboring Arkansas had a Democratic governor until 2014, when term-limited Gov. Mike Beebe retired and Democrats failed to hold the seat.
Edwards's win is also welcome news nationally for Democrats, who have struggled to win governorships in recent years at a rate not seen since the early 1900s. Even Hillary Clinton chimed in with a congratulatory note to Edwards. "John Bel's experience as a soldier, veteran, small-business owner, and state legislator will serve Louisianans well, and his platform —including getting runaway higher-education costs under control and expanding Medicaid for thousands of families—is the right one for Louisiana's future," Clinton said.
Among the nation's 50 governors, there are now 18 Democrats, 31 Republicans, and one independent.