What Donald Trump Doesn't Understand About American Mosques
The real-estate tycoon made his reputation by building glorious structures—so why is he threatening to shutter houses of worship?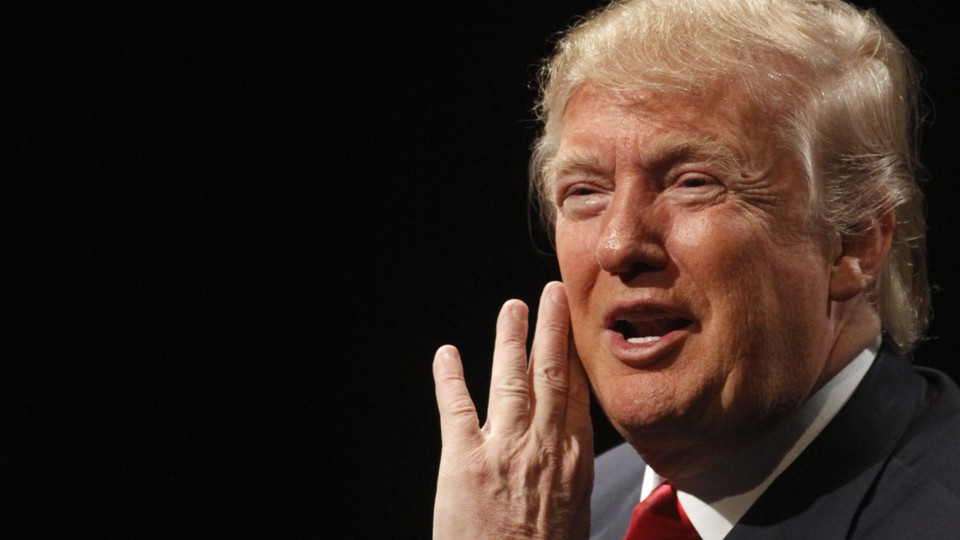 The first mosques in America might have looked at home at a Trump resort.
Lavish and flashy, literally fantastic but not built to last, they were reproductions of notable Islamic houses of worship constructed for the Chicago World's Fair in 1893. The fair included pavilions allowing visitors to experience far-flung locales, and planners did not shy away from religion. They built mosques for the Turkish, Egyptian, and Tunisian sections—the last of which, as part of a "French Colonies" exhibit, stood in the shadow of both a crescent-topped dome and the tricolore.
Ersatz though they were, the fairground mosques were used for genuine religious purposes. "Every detail of Mohammedan worship is there followed out," one newspaper account reported. When "Allahu akbar" echoed from their minarets, the many Muslims who answered the call to prayer included nearly 200 men, women, and children who had been brought from Cairo to bring street scenes to life.
At the time, some in the small U.S. Muslim community saw the fair and the concurrent Parliament of the World's Religions as opportunities to explain Islam to their fellow citizens. "So many false reports have been circulated regarding the plans of the devout Mussulmans of the East to introduce the Islamic system into America," the Massachusetts-born convert Mohammed Alexander Russell Webb wrote in 1893,  "that it seems imperative to explain the project more fully than has been done heretofore."
Since then, the Muslim population in the United States has grown from the thousands to the millions. Chicago's temporary mosques came down, but in the decades following the World's Fair, longer lasting communities were organized in Maine, Indiana, South Dakota, and Iowa, where the 1934 "Mother Mosque of America" still stands.
Yet judging by recent events, one might have met less resistance building mosques in America a century ago than today.
Earlier this week, a public meeting discussing the construction of a new Islamic center in Spotsylvania, Virginia erupted in anger when a man began shouting that Muslims belonged to an "evil cult." "Every one of you are terrorists," he said to applause before a sheriff's deputy brought proceedings abruptly to an end.
Similar scenes unfold whenever mosques come before planning and zoning boards across the country. Sessions of local government ostensibly concerned with traffic and parking unleash rhetoric unimaginable against any other Americans.
Among such moments in recent months: A city council meeting in Sterling Heights, Michigan, opened with a prayer but led to residents making dire warnings about the beliefs of their neighbors. "They're cutting people's heads off," a man in a bald-eagle cap said. "These people scare us." In Farmerville, Texas, a pastor upset about a proposed Muslim cemetery declared, "They are at war with us." And in Monroeville, Pennsylvania, another anti-mosque protester claimed, "Their teachings are well against the format of normal American values."
Now the Republican presidential frontrunner has suggested he would "strongly consider" shutting down mosques, instituting a national Muslim database, and requiring all Muslims to carry special identification cards. In the wake of the Paris attacks and the debate over Syrian refugees that followed, Donald Trump tweeted, "WE NEED A BIG & BEAUTIFUL WALL!"
Shutting down mosques is an odd suggestion for a man who made his reputation building things. If Trump and other Republican presidential contenders are concerned about foreign influence among the American Muslim community (as others have been about Catholics, Jews, Sikhs, Hindus, Chinese, and Japanese before them), why not join their fight to erect their own big and beautiful mosques here on American soil? Why not applaud their very American desire to do what generations of immigrants have done before? A real-estate developer should understand that the desire to build houses of worship is much closer to "normal American values" than the urge to shut them down.
The 19th-century historian Henry Adams wrote that the World's Fair of which those first American mosques were a part asked "for the first time, the question whether the American people knew where they were driving." The answer it provided was that the nation was heading in the direction of creating a culture that aspired to learn from all others.
If he truly wants to make America great again, Trump might start by affirming that the greatness of the nation has been found less often in the people it rejects than in those it welcomes, and what they build together.