Tribal Nations Conference Puts Spotlight on Native American Youth
Education and suicide prevention were among issues raised by Native American leaders.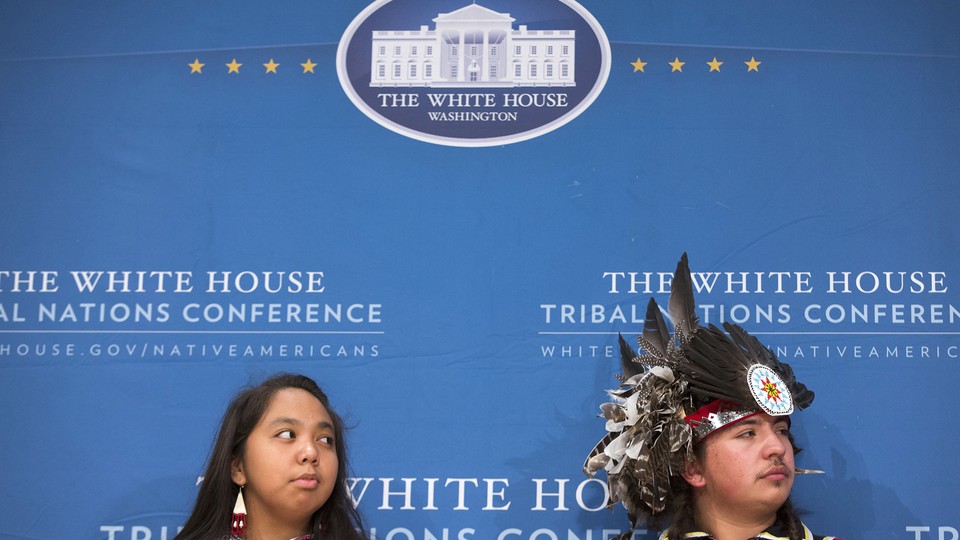 Native American leaders from across the country met Thursday at the White House for the seventh annual Tribal Nations Conference, where much of the focus was on youth, education, and the startling number of suicides on Native American land.
More than 160 federally recognized tribes sent leaders to the conference, an all-day event that began with speeches from Interior Secretary Sally Jewell and White House Senior Adviser Valerie Jarrett. It was also punctuated with traditional Native American songs, a traditional flag ceremony, and a speech by President Barack Obama.
The main focus of the conference was Obama's Generation Indigenous, or Gen-I, program, which he launched in 2014 after a June trip to the Standing Rock Sioux Tribal Nation brought him to tears.
It was the first trip by a U.S. president to tribal land since Bill Clinton had done so in 1999. Before that, it was Franklin D. Roosevelt. At the Standing Rock Sioux Tribal Nation on the border of North and South Dakota, Obama acknowledged that tribes hadn't always been treated fairly, and he promised to do more. But it was meeting with six Native youth at a school in North Dakota that moved him most.
When he left the meeting, Obama said he was "shaken because some of these kids were carrying burdens no young person should ever have to carry. And it was heartbreaking."
Later, at the Oval Office, Obama gathered a group that would create Gen-I. "I deal with a lot of bad stuff in this job," he said. "It is not very often where I get choked up, so they knew I was serious about this."
In a report released that December, the White House found that one-in-three Native American children lives in poverty; that the high school graduation rate was 67 percent, the lowest of any demographic; and that suicide was the second-leading cause of death for young Native Americans, nearly 2.5 times the national average. "Native youth and Native education are in a state of emergency," the report read. "Low rates of educational attainment perpetuate a cycle of limited opportunity."
Gen-I spent its first year on education efforts, with goals to slowly make a difference.
The program promised to provide better teachers and better training for current teachers. It promised to partner with Verizon and Microsoft to establish high-speed Internet service in schools and to provide students with tablet computers.
The program also sought to help thousands of youth in 12 communities by increasing kindergarten preparedness, and it set up a National Tribal Youth Network, which will look to youth for answers on how to solve problems in the community.
On Thursday, Gen-I participants visited the White House and shared ideas in closed sessions.
Nearly a year after Gen-I's inception, a report released before the conference highlighted some of the program's successes. The National Native Youth Network had grown to 1,500. The White House held its first-ever Tribal Youth Gathering. Yet, it is too early to draw conclusions.
Still, the president's 2016 budget allocates millions to help teachers find housing on tribal land; some $50 million will go to the Health and Human Services Department for mental-health and substance-abuse services. And $904 million, a 12 percent increase, will go to fund schools, some of which Interior Secretary Jewell has said "are falling down."
In recent years, tribes have strived to become more self-sufficient. In June, Jewell introduced a plan that would transition control of schools away from federal hands and into tribal discretion. But centuries of U.S. policy have left some nations reliant.
At the conference, Obama took questions from four Native American youth who asked about racism, suicide prevention, and about how Native American nations can reduce poverty. To the last question, Obama said, "The most important way that Indian country is going to improve its economic prospects is to make sure every young person has the skills and talent they need to succeed."