Top Tea Party Target: New York
Outside conservative groups are working to oust moderate Republican congressman Richard Hanna.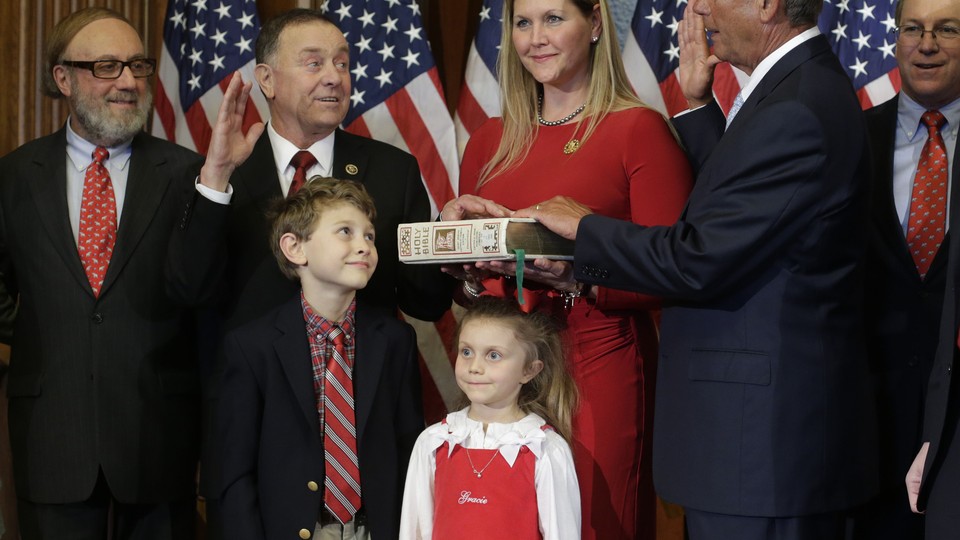 It's not often that a single House seat represents a major opportunity for the tea party and Democrats alike, but that's the case in Republican Rep. Richard Hanna's moderate upstate New York district, where hard-line conservatives are fed up with Hanna's lack of party loyalty and Democrats are prepared to swoop in after a contentious primary.
Hanna, a third-term congressman, is a multimillionaire construction executive who is one of the most moderate Republicans in the House.  That puts him in strong position to hold a perennial swing district that split its vote evenly between President Obama and Mitt Romney in 2012.  But it's putting him at jeopardy in a primary, with conservatives upset over his voting record and defense of Hillary Clinton.
After GOP state Assemblywoman Claudia Tenney, a tea-party favorite who narrowly lost to Hanna in a 2014 primary, announced she will run again in 2016, Democratic state Assemblyman Anthony Brindisi told National Journal he is considering entering the race. Democrats haven't had success running against Hanna in recent cycles, but Brindisi abides by the adage that the enemy of his enemy is his friend. His interest isn't solely based on the district's competitive partisan divide, he said: It's because if Tenney upset the congressman in the primary, it would give the Democrats a strong chance to win.
"If you look at New York's 22nd District, it is a moderate district by nature," Brindisi said. "The entry of Assemblywoman Tenney adds some more interest to the district. She's a very divisive figure, and I think Washington has enough people who are unwilling to work together. The last thing we should do is send another person like that."
But Brindisi admitted that he would have a tough time defeating Hanna, even though the district is one of the most competitive in the country. Brindisi said the incumbent "has been successful so far in that district. He has more of a moderate voting record and represents the views of the district."
Hanna and Tenney ran one of the most hard-fought House primary races in the country last cycle, but Democrats couldn't capitalize, failing to even get a candidate on the ballot. Tenney only lost by a 7-point margin, even though Hanna outspent her by about a 5-to-1 margin—not including a wave of outside money from groups that back moderate Republicans.
Tenney stands to build on her 2014 performance if any major conservative outside groups decide to back her this time, knowing that she can run a credible campaign. The Club for Growth did not respond to requests for comment, but spokesman Doug Sachtleben said before Tenney's announcement that the group is watching the race.
Hanna won't face Tenney without assistance in 2016: The National Republican Congressional Committee is backing him, and the Republican Main Street Partnership and American Unity PAC both have told National Journal his race is a top priority. But it's unlikely he'll have the same kind of financial advantage he had last year, which is good for Democrats, said Philip Klinkner, a pro­fess­or of gov­ern­ment at Hamilton Col­lege.
"At the very least, Hanna spends a lot of money in the primary," said Klinkner, a Democrat.
And Hanna himself may have gifted a line of attack for Tenney for the upcoming election after arguing in a radio interview last month that the House special committee investigating the Benghazi attacks were a partisan witch hunt designed to go after Hillary Clinton.
"There was a big part of this in­vest­ig­a­tion that was de­signed to go after people and an in­di­vidu­al, Hil­lary Clin­ton," Hanna said.
Tenney said her conservative record poses a threat to Hanna because in a Republican primary, voters don't want their representative to defend the Democrats' likely presidential nominee.
"People say, 'Well, you shoot from the hip.' And I say, 'Yeah, I do shoot from the hip, but I defend Republican principles,'" Tenney told National Journal in an interview last month, before entering the race. "I don't take shots at Republican principles when I shoot from the hip."
That could help Tenney in a Republican primary, but not necessarily in the general election. The same goes for her focus on social issues: She attacked Hanna last cycle for supporting Planned Parenthood and same-sex marriage. Brindisi said that presents an opportunity for Democrats if Tenney wins the Republican primary.
"The first thing voters are thinking about are jobs and economy," he said. "Social issues are secondary to that."
If Tenney were the nominee, it would give House Democrats a rare opportunity: For all the hype around GOP primaries, Republicans were successful last year avoiding nominating unelectable candidates in battleground House races. In New York alone, freshman Reps. Lee Zeldin and Elise Stefanik won competitive primaries against candidates attacking them as insufficiently conservative.
Brindisi suggested that it's possible Hanna will retire rather than run again—though the congressman has given no indication he's looking to leave. One other X factor: the Independence Party line, which Hanna won in 2014, and could still nominate him in 2016 even if he loses the Republican primary. But in that scenario, the GOP vote would likely be split in the general election, giving Brindisi an easier path to victory.